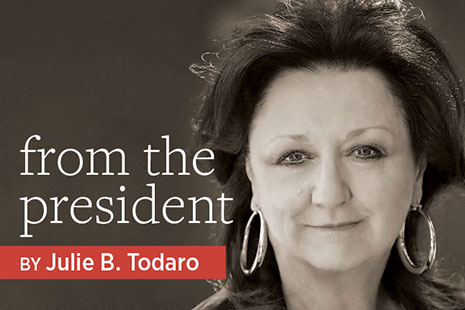 An entire year of service as a professional association president may seem daunting to some. And at ALA, it is actually a three-year commitment: a prepresidential year of learning and preparation; a year as president; and finally, a year as past president.
These three years are obviously a very busy time for any association president devoted to learning and speaking about a myriad of professional issues in order to both honorably serve the membership as well as create and implement presidential initiatives. With such a short timeframe to make a difference, I believe presidential initiatives are best chosen as projects that will build and strengthen existing ALA messages, ideas, and successes rather than to start new projects.
With this in mind, I challenged myself to not only build on ideas and successes within the Association and the profession but also reinforce themes I have focused on throughout my career. All the work on presidential initiatives is coordinated with teams of member experts as well as Association employee experts.
Thus, Libraries Transform: The Expert in the Library was born. It will further the success of the Libraries Transform public awareness campaign that was launched last year by marshalling teams from all sectors of the library world: academic, public, school, and special libraries. It will also include advocacy, management, and leadership expert members as they work together to find and create the best materials to design a 21st-century human resources playbook.
This future-driven human resources content—developed from a mix of existing materials and new materials—will be available for managers in all types and sizes of libraries and will be housed on the Office for Human Resource Development and Recruitment (HRDR) website.
The human resources playbook will include value statements; core competencies; job descriptions and job titles; competencies for multiple levels of positions; recommended competencies matched to training and continuing education; dispositions; a series of "What makes an expert?" questions that will be answered by patrons/users, managers and leaders, and other librarians; and content for background on and the use of measurement tools and library professional assessment.
Other aspects of Libraries Transform: The Expert in the Library include:
an innovation environment at 2017 Midwinter Meeting & Exhibits
a special emphasis on book clubs with content that will be available on ala.org and in various programs at the 2017 Annual Conference and Exhibition
developed profiles of library professionals for today and for the future, through the Center for the Future of Libraries
In addition, staffers at ALA headquarters and the ALA Washington Office, members of the Committee on Legislation, other ALA members, and a political consultant will be working together to position ALA and the profession in general for the transition to the next US president and Congress. This expert team will identify and create content on what we as library professionals do and who we are, to assist us now and in the first days of the new administration and Congress and in each state's political infrastructures.
I look forward to our expert year as we continue to promote how and why our libraries and library professionals transform our constituents, our communities, and our organizations.