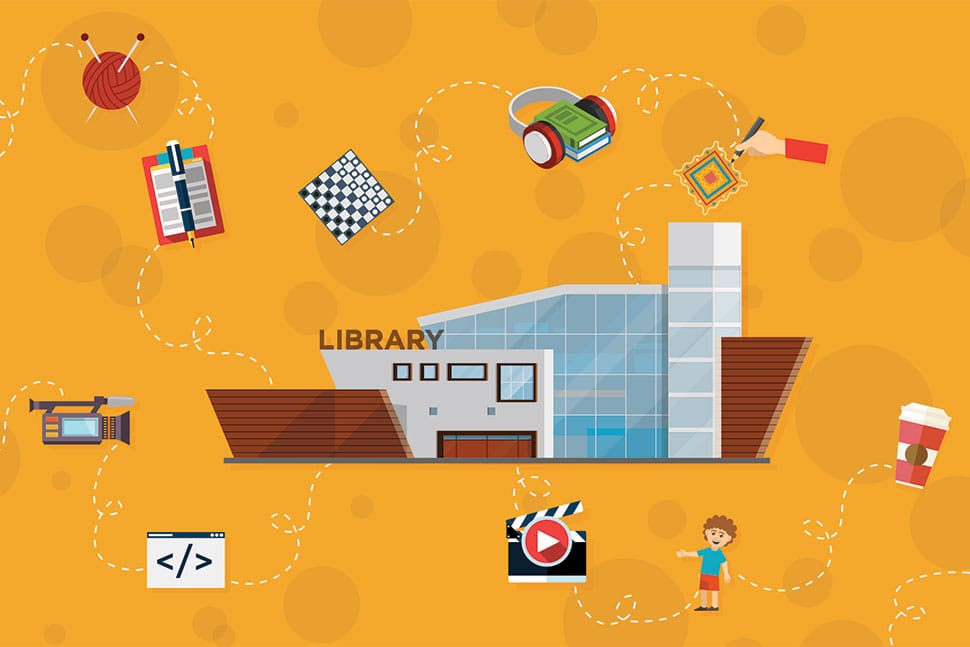 This is an excerpt from The Purpose-Based Library: Finding Your Path to Survival, Success, and Growth by John J. Huber and Steven V. Potter (ALA Editions, 2015).
"The most meaningful way to differentiate your company from your competitors, the best way to put distance between you and the crowd is to do an outstanding job with information. How you gather, manage, and use information will determine whether you win or lose." —Bill Gates
Bill Gates's quote should have you, as a member of the library profession, doing backflips. Librarians are specifically trained to gather, manage, and use information. If we take Gates's words at face value, libraries should be the most competitive organizations on the planet.
Some of you would argue that your library is a nonprofit organization and is not competing with anyone. We beg to differ. Every customer has a choice and chooses whether to go to the library website or Google's search bar, to either engage the library or order materials from Amazon. Amazon would much rather have its customers buy a book than borrow, and Google would much rather have information seekers search its website than seek out a reference or research librarian. There is no question that libraries compete head-to-head with these for-profit businesses.
Libraries are competing against the most successful businesses this planet has ever seen, and considering this competition, libraries have responded admirably. Embracing self-service technology, adopting one-field, deep-web database search engines, expanding ebook offerings, creating staffless libraries, and streamlining service-delivery chains are a few examples. However, libraries must face the reality that they have an uphill battle competing with these impressive and highly profit-driven companies. Google has for the most part won the "surface web" battle, as the role of the reference librarian has become a shell of itself. Amazon is winning the battle for ebooks, primarily because of its effective user interface, wealth of offerings, and easy-to-use digital delivery platform. Libraries are hanging in there and competing effectively, but for how long? They are surviving, but survival is not enough—success and growth have to be a part of libraries' survival strategies or they will eventually lose their relevance.
To successfully compete, libraries must embrace the words of Bill Gates. Libraries must gather, use, and manage information in a way that large for-profit companies cannot. So the question is: What competitive advantages do libraries have that these organizations do not? Let us count the ways:
Libraries have more locations across the country than any other organization.
Libraries have a personal presence in every community in the country.
Library staff interact with their customers face-to-face.
Library staff are trained and skilled to gather, archive, and manage information.
Library staff are well educated and motivated to make a difference.
And most important, libraries and their staff have a powerful, game-changing common purpose.
To go beyond survival, to succeed and grow, libraries must embrace and leverage these competitive advantages.
The dedicated profession
If you are reading this, you have dedicated much of your life to helping people. It is why you get up in the morning. You go to work because you know you are going to make a difference in someone's life. It may be as simple and subtle as preparing a new book for the hold shelf, suggesting a title someone may enjoy, helping someone sign on to the internet for the first time, making a child laugh during story hour, or perhaps even helping someone find a job. No matter the size of the task, you are making a difference to that individual and, as a result, to your community as a whole. Let me repeat that: You are making a difference to the community as a whole.
However, when we perused most library annual reports, we found cold, static numbers: circulation, gate counts, computer sessions, program hours, and attendance. These numbers are fine and important to track, but they do not go to the heart of the matter—that is, your heart. Circulation, gate count, and computer hours are not the reason you get up in the morning and go to work.
If these numbers do not get you excited, what makes you think your community will be any more excited? More to the point, if these static numbers do not motivate you as a librarian or a library staff member, how can you expect your library board, your city and county managers, and your community members to actively and excitedly support increased library funding?
The purpose-based library is not just about circulation, gate counts, and computer hours. It is about how you and your library affect people's lives and therefore the community as a whole. This is your most significant competitive advantage over Amazon, Google, and Netflix.
Living the mission
Many people who work in libraries have two common threads. First, they have a previous connection to other people who have worked in a public library. They understand that working in a public library is a "people business." They understand that it is not about getting to read all day—it is work that connects people and resources. They also know about the warm feeling librarians receive from the work that we do. Second, they have a desire to make a difference in the world around them. This can take on several faces. Sometimes it is about helping people create businesses and stand on their own. Sometimes it is about helping children or adults learn to read. Sometimes it is about providing information on the topics of the day to inform the citizenry.
While libraries exist to transform communities, they are on a path toward full automation, which will eliminate staffers' ability to have contact with their customers. It's a great paradox that lives within today's libraries. We propose that library staffs are too valuable of an asset to lose, for in our path to automation we lose the ability to seek, engage, and transform.
New York Public Library's (NYPL) mission statement reads:
"The mission of The New York Public Library is to inspire lifelong learning, advance knowledge, and strengthen our communities."
Our all-time favorite is from Pikes Peak Library District (PPLD) in Colorado:
"Provide resources and opportunities that change individual lives and build community. Seek. Engage. Transform."
"Seek, engage, transform." Wow. Simple and to the point. However, while the statement is inspiring, it does not often correlate with the primary services in which staffs actually spend their time. Rather than seek, engage, transform, the default mission of the modern library appears to be to build a self-serve organization that is quicker, faster, better. For libraries to survive, this path is correct, but therein lies the paradox. When you streamline your operations, move to more digital interfaces, and reduce the face-to-face time you have with your customers, where does the wonderful mission statement of "seek, engage, transform" truly fall in the future of libraries' priorities? How is your purpose fulfilled?
To survive, libraries must streamline their core operations, reduce clerical activities, increase self-service, embrace digital content and interfaces, and become quicker, faster, and better. However, to go beyond survival, to succeed and grow, libraries must become much more than just self-service, efficient suppliers and distributors of books and media. They must embrace the purpose behind their mission statements. NYPL's mission is to inspire and strengthen its communities, and PPLD's mission is to build and transform. These are both good. We believe most libraries embrace and pursue a similar mission. "Quicker, faster, better" is only the price of admission for survival.
What is the difference between a mission and a purpose? A mission is a direction and path to guide, while a purpose is the passion that you have within. An organizational purpose is a passion you share with others in your organization. A mission can be cold and static, and a purpose is always warm and dynamic. A mission has a start and an ending, but a purpose has no beginning and no ending; it just is. A mission is something you are told to do, while a purpose is something that you can't help but do. A mission drives an organization on a determined path; a purpose drives itself. You as a member of your organization have within you a self-based purpose to help people. However, you are only one person and you can only do so much, but as an organization, where all of your passions are combined, a powerful compounding effect occurs. A purpose-based organization can transform entire communities. What a great reason to get up in the morning. This common purpose is libraries' key to competitive differentiation with Google, Amazon, and Netflix.
Walmart is one of the most pervasive organizations in the US and, for that matter, the planet. It has around 4,350 supercenters, clubs, or retail stores throughout the country. Walmart also has a huge influence on US manufacturers' pricing policies and the products they offer, as well as what consumers buy. What other organization has a presence in nearly every community? You might think of the US Postal Service, which has around 31,606 locations throughout the US. However, this pales in comparison to the nearly 119,487 libraries throughout the country. No one even comes close to the geographical coverage that libraries possess.
Each of these 119,487 US libraries has one common purpose behind its mission: to build a healthy community. It is a powerful statement. No other organization has more potential to impact the overall health and well-being of our nation's communities than libraries. So what is the most powerful and influential organization in the US, Canada, and perhaps eventually the entire planet? The answer is libraries. And more to the point, a library with a purpose.
The geographical footprint libraries possess is one of the most important, powerful, and valuable strategic assets of any group, business, or industry. Add to the mix a highly educated workforce dedicated to serving the public, and you have the most valuable asset this nation possesses.
We cannot allow this asset to be gutted, marginalized, or left to die a slow death. Libraries must leverage their geographical footprint, fully utilize their purpose-based staff, embrace their mission, and create a partnership with their community that will be of such value that libraries' path to success and growth is assured and celebrated. Libraries are the right resource at the right time to recapture the purpose behind their mission and lead their communities toward a stronger, healthier state. Libraries are apolitical, they fight for the fairness of information access for all people, and most important, they are trusted. What other institution in today's broken society is better situated to make such a large impact in its local community?
What is your purpose?
There are more libraries in the US than McDonald's restaurants—a staggering statistic that should make libraries proud. Libraries should also be proud of our history when adopting new technology as a method of information access. It is surprising to people to learn how frequently libraries have been on the leading edge of technological adoption.
Mid-Continent Public Library (MCPL) in Independence, Missouri, launched its first website in 1995, the same year that most of the world "discovered" the internet. The whole idea of ordering through an online catalog and picking up your order at a local store (sometimes called "bricks and clicks," or what Walmart calls "site to store") actually sounds a lot like interlibrary loan service, and it is something MCPL has been doing in some fashion since the early 1990s. Libraries are in every community both physically and in cyberspace and in greater numbers than any other institution. We are everywhere, but do we really take advantage of that fact?
Too often, libraries become a checkmark on a list of public assets that supposedly lead to a great quality of life. Do we have a park? Check. Do we have accredited schools? Check. Do we have a public library? Check. Is it good enough just to have a public library in your community, or should your public library be purpose-based to truly earn that checkmark?
What is your library's purpose? Is it to check out books? Is it to be a jobs program? Is it to be publicly subsidized recreation for people who don't want to play sports? Is it to provide a spectacle so people can come and see what crazy thing is happening at the library this week? Libraries are ideally positioned, both physically and virtually, to make a great impact on nearly every community in this country. The question is what does your community need, and how can your library behave in a purposeful way to help achieve that community vision?