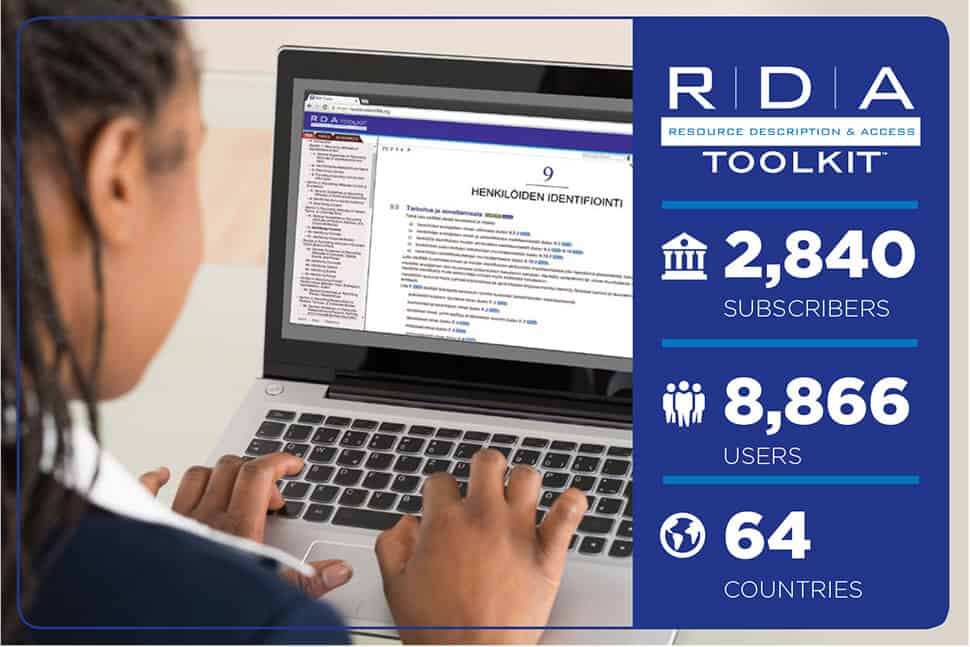 Since its inception, Resource Description and Access (RDA) has sought to establish itself as an international standard, a goal that was reaffirmed in a statement from the RDA Board (then known as the Committee of Principals) in June 2015. But what does this commitment to internationalization really mean, and how can we assess whether progress toward this goal has been made? For the board, the RDA Steering Committee (RSC), and the copublishers of RDA, internationalization is something that must be pursued at several different levels.
RDA Toolkit usage
RDA Toolkit subscriptions are an obvious method for assessing the growing internationalization of the standard. In 2015, the toolkit had 2,840 subscribers who purchased 8,866 users in 64 countries across six continents. That's good global coverage, but this topic calls for closer scrutiny.
RDA was developed by a collaborative group of representatives from Australia, Canada, the United Kingdom, and the United States—the same group responsible for RDA's predecessor, the Anglo-American Cataloging Rules (AACR). If we define internationalization as usage of the toolkit beyond these countries, then the other 60 nations include 744 subscribers and 2,509 users. That international group represents about 26% of subscribers and 28% of RDA Toolkit users. This modest but significant participation outside of the originating nations is encouraging, but there is plenty of room for growth.
Translations
Another important measurement of RDA international growth is translations and adaptation.
Interest in translating RDA has been steady since its online publication in 2010. There are several different types of translations associated with RDA: RDA Toolkit translations, print translations, translations for study, and RDA Reference translations.
RDA Toolkit translations are translations that are included in the online product. There are six versions: the original English and translations in Finnish, French, German, Italian, and Spanish. Catalan and Norwegian translations will be added by early 2017.
Print translations of RDA refer to translations that are not included in the RDA Toolkit but are available for purchase in a print format. The only available print translation is in Mandarin and is published by the National Library of China Publishing House; however, more are in the works, including Slovak and Vietnamese translations. In some cases, RDA has been translated "for study." In these instances, institutions have gained permission to translate the text to study and evaluate it for their use. These translations are not available for public distribution.
Last is the RDA Reference translation, which was introduced in the past year and will become a required piece of any translation agreement in the future.
RDA Reference refers to the collection of RDA elements and vocabularies, their definitions, and scope notes. Translations of this material will be added to the RDA Registry, where they can be used by developers to build online public access catalogs, integrated library systems, and other systems with language-specific interfaces. Currently the registry hosts Chinese, French, German, and Spanish translations. Translating only the RDA Reference material may be a cost-effective option for countries that are part of a smaller language community and have staff that is proficient in other languages (especially English).
In the coming months we expect to add RDA Reference translations in Catalan, Dutch, Finnish, Italian, Norwegian, Slovak, Swedish, and Vietnamese. Another opportunity that comes from RDA Reference translations has to do with restrictions within RDA Toolkit. The toolkit can host only a single translation of any language, but the RDA Reference translation in the registry can host dialect-specific translations, such as Mexican Spanish or Québécois French.
The varieties of translations are important, as a translation is essential to RDA's adoption in a nation. Any community interested in implementing RDA will have to explore translation options. Details on RDA translation guidelines and practices are available at rdatoolkit.org/translation.
Governance
In 2014, the RDA Board began a governance review to revise RDA-related processes. One of the major changes was restructuring the membership of the RDA Board that oversees the RDA project and the RSC that develops and maintains the standard.
During the AACR era and first years of RDA, the board and RSC (then known as the Committee of Principals and the Joint Steering Committee, respectively) included representatives from national libraries and professional associations in Australia, Canada, the UK, and the US. Since 2012, a representative from the Deutsche National-bibliothek has joined the group.
The governance review determined that a more global approach to RDA management and development was needed and that board and RSC representation must be more diverse. The new structure calls for representation from each of the six global regions recognized by the United Nations: Africa, Asia, Europe, North America, Oceania, and South America. At the RSC level, each region will establish collaborative groups similar to the European RDA Interest Group. These groups will meet online and in person to discuss RDA issues and put forward proposals to the RSC. At the RDA Board level, regional representation will contribute to the strategic planning and regional outreach. A full description of the new governance model can be found at rda-rsc.org.
The new governance structure has just begun to be implemented, and it will take a few years to complete. Despite the extended timeline, a more diverse and international representation in the development of RDA is essential to its success as a truly global standard.
Moving forward
In 2017 and 2018, RDA and RDA Toolkit will undergo a data restructure and a website redesign to improve work processes and enhance user experience. One of the focal points of this project is to improve translation tools and processes that expedite the publication of revisions to translated versions of RDA. By improving the value and currency of RDA Toolkit for non–English speakers, providing new tools to allow for easier exchange of RDA information, and expanding the involvement and input of groups from around the globe, the RDA Board, RDA's copublishers, and RSC know that RDA will be a standard that is both accessible to users worldwide and responsive to the needs of the language and cultural communities.