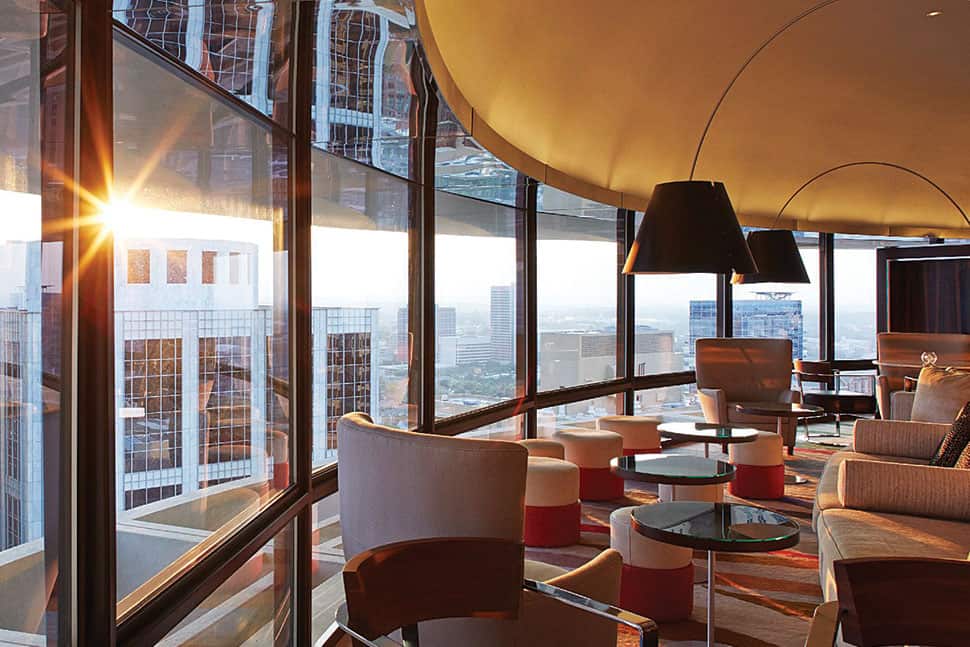 Atlanta is experiencing a culinary renaissance. Fine-dining restaurants now sidle up next to traditional Southern joints serving fried chicken, barbeque, and comfort food to create a vibrant food scene for the New South. The city's downtown, host to the American Library Association's 2017 Midwinter Meeting & Exhibits, is home to a bevy of new restaurants and old favorites, providing a variety of dining options for meeting attendees.
American Libraries teamed with Creative Loafing Atlanta, the city's weekly independent newspaper, to bring Midwinter guests a broad selection of restaurants to enjoy before and after their conference activities, all located within a reasonable distance from the Georgia World Congress Center in downtown Atlanta.
Downtown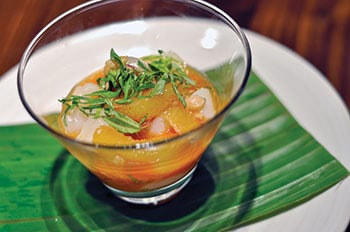 Alma Cocina
404-968-9662
191 Peachtree St. NE
Alma Cocina serves high-end Mexican fare, taking traditional dishes and refining them just enough to allow you to taste them afresh: braised heritage pork shank with roasted root veggies, chicharrón crumble, and dried fig mole negro ($30); roasted chicken mole Oaxaca with mashed plantains, grilled green beans, and sesame seeds ($21); fried avocado tacos with crispy queso Cotija, poblano pesto, and roasted tomatoes ($14). Don't forget the side of elotes, charred corn on the cob with garlic aioli, ancho chile powder, queso Cotija, and epazote ($5). L (M–F), D daily $$–$$$
Blossom Tree
404-223-7500
64 Peachtree St. NW
This Korean fusion restaurant switches things up, offering a varied selection of Korean tacos, including crispy fish, beef short rib, calamari, and chicken tacos (under $3.25), as well as kimchi rice dishes (under $7.95), curries (under $8.25), and bibimbap ($7.45–$7.95). L, D daily $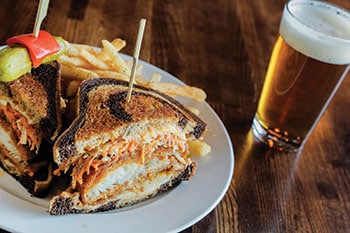 Dantanna's
404-522-8873
One CNN Ctr., Suite 269
The only sports bar in Atlanta with five-star restaurant quality, Dantanna's strives for culinary excellence. The "Freuben," a fish Reuben sandwich ($8), salmon BLT ($11), and crab cakes ($28) are faves. L, D daily $$–$$$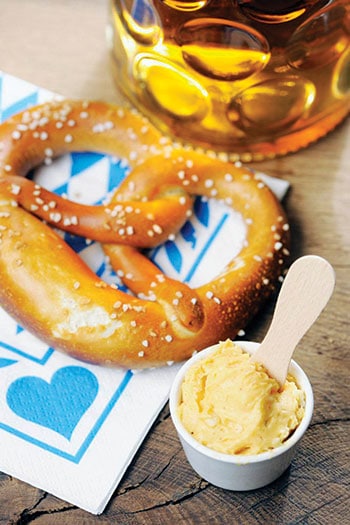 Der Biergarten
404-521-2728
300 Marietta St. NW
A true taste of German culture in downtown Atlanta, Der Biergarten balances an elegant, white-tablecloth dining room with foosball and shuffleboard offerings in the back. And don't forget the indoor and outdoor beer garden with family-style seating. The fare is traditional German, such as schnitzel ($24), bratwurst with sauerkraut ($9), rinderrouladen (slow cooked beef roulades, onions, bacon, and German pickles, served with gravy, mashed potatoes, red cabbage, $21), and käsespätzle (egg noodles, onions, and Emmentaler cheese, $12). L (Sat, Sun), D daily $–$$$
Ebrik Coffee Room
404-330-0119
16 Park Pl. SE
Perfect for an early morning and afternoon pick-me-up, Ebrik (pronounced "ay-breek") Coffee Room serves espresso drinks, pour-over coffee, an assortment of teas, and baked goods from local bakeries. B (M–F), L, D daily $
McCormick and Schmick's Seafood Restaurant
404-521-1236
190 Marietta St. NW
First-class seafood in a variety of styles, though with an emphasis on those of the Pacific Northwest and California coast. Despite the glass domes, privacy booths, snappy linens, heavy flatware, and list of 30–40 varieties of fresh seafood on offer daily, prices are moderate at this big-volume fish house serving fish and chips ($20), bronzed tilapia ($21), and Scottish salmon ($33), and a variety of plates suitable for sharing, including seafood-stuffed mushrooms ($13), steamed mussels ($14), and coconut shrimp ($13). Steaks and grilled items round out the menu. Reservations are encouraged. L (M–Sat), D daily $$–$$$$
Meehan's Public House
404-214-9821
200 Peachtree St.
This Irish pub and restaurant in the landmark 180 Peachtree building, formerly a Macy's department store, offers a taste of true Irish charm. All the staples are here—shepherd's pie ($15.25), bangers and mash ($14), and fish and chips ($15)—as well as truffled mac and cheese ($11), burgers, salads, and appetizers like deviled eggs ($6) and Reuben egg rolls ($10). L, D daily $–$$
Polaris
404-460-6425
265 Peachtree St. NE
Polaris sits atop the Hyatt Regency and rotates 360 degrees every 45 minutes. Executive Chef Thomas ​­McKeown serves a menu influenced by Southern cuisine, ranging from bacon popcorn ($4) and colossal shrimp ($14) to fried duck confit with hazelnut crust ($28) and roasted venison loin ($32). D (M–Sat) $$–$$$
Sidebar
404-588-1850
79 Poplar St. NW
This downtown spot is a sturdy after-work or pregame hangout. The agreeable menu features such offerings as Cuban sandwiches ($8), beer-battered onion rings ($8.50), burgers, soups, salads, and more. L, D (M–F) $
Stats
404-885-1472
300 Marietta St. NW
With five bars, including one on the rooftop deck, Stats is the ultimate sports bar. The food runs the gamut from barroom faves like wings ($14), shrimp and crab nachos ($13), and ribs ($13) to burgers ($12) and barbeque sandwiches ($11). Private rooms and several tables are stocked with Table Taps that allow you to pour your own brew while watching the game. L, D daily $$
The Sun Dial Restaurant, Bar, and View
404-589-7506
210 Peachtree St. NE
Take in a 360-degree revolving panoramic view of Atlanta while eating farm-to-table food at this city landmark. Enjoy butternut squash ravioli ($34), pan-seared duck breast ($38), and wood-roasted salmon ($40) from a perch 700 feet above Atlanta at the top of the Westin Peachtree Plaza hotel. Brunch (Sun), L, D daily $$$–$$$$
Ted's Montana Grill
404-521-9796
133 Luckie St. NW
The "Ted" in this chain bar and grill's name refers to its owner: media mogul and former Atlanta Braves owner Ted Turner. The fare is straightforward, hearty American: bison chili ($15), meatloaf sandwiches ($10), bison short ribs ($18), burgers ($10–$17), and steaks ($22–$32). L, D daily $$–$$$$
Trader Vic's
404-221-6339
255 Courtland St. NE
Feeling the need to escape to a tropical island? Trader Vic's, located in the Hilton Downtown Atlanta, is the next best thing, with its intensely tropical décor of palm fronds, tiki poles, and Polynesian longboats. Starters like the flower-shaped crab Rangoon ($8.50) tease the eyes as well as the tongue. And don't miss the fork-tender barbeque spare ribs ($13.50), prepared from an original 1972 recipe, and the Indonesian rack of lamb ($37.75). The cocktails continue the experience with snazzy garnishes and specialized glasses. D (Tue–Sat) $$–$$$$
Castleberry Hill
Bottle Rocket
404-574-5680
180 Walker St. SW
Bottle Rocket offers an interesting combo of sushi, burgers, and comfort cocktails. On top of the makimono, nigiri, and sashimi offerings, house specialties include the Black Angus Bottle Rocket burger ($12); the soft-shell crab sandwich (tempura-fried soft-shell crab with onion, avocado, and spicy aioli, $14), and the JFC (chicken karaage), a traditional Japanese bar recipe of thinly sliced chicken, marinated in a blend of herbs and spices, very lightly battered and fried, and served with either Japanese mustard, wasabi mayo, spicy aioli, or Thai sweet chili, $13.50. D daily $–$$
Elliott Street Deli and Pub
404-523-2174
51 Elliott St. SW
This tiny bar in a lovingly renovated old building in downtown's Castleberry Hill boasts an authentic neighborhood vibe with simple fare consisting of a wide variety of sandwiches—try the Dirty Bird in Blue ($7.75), mesquite wood-smoked turkey breast topped with swiss and bleu cheeses—and salads. Downstairs hosts a variety of low-key jazz, open mic jams, and experimental music nights for the sonically adventurous. L, D (Tue–Sat) $
Slice
404-917-1820
85 Poplar St. NW
A surprisingly fashionable pizza bar, Slice offers quality pizza loaded down with delicious toppings at relatively good prices, from $5.50–$6.75 for a slice to loaded baked potato (under $19.95) and Hawaiian barbeque (under $18.95) pizzas. The build-it-yourself calzones ($6.95) and sandwiches (under $8.75) aren't bad, but go for the pizza pie with the chewy golden crust. L, D (M–Sat) $–$$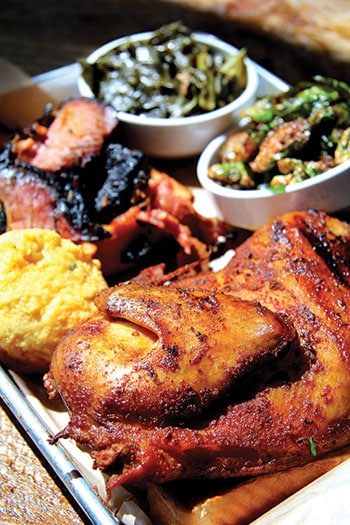 Smoke Ring
404-228-6377
309 Nelson St. SW
If you're a fan of good barbeque in rustic décor, this is a place you ought to know about: hardwoods everywhere, Edison bulbs, barstools, and chairs with a steampunk hint, approachable craft cocktails in Mason jars, and tasty grub that breaks the mold just enough to please traditionalists while intriguing the foodies—all presented in a chill, artsy atmosphere. The menu is a love letter to Southern cuisine but taken up the culinary ladder a few rungs. Heavenly apps include barbeque deviled eggs ($5), smoked and grilled artichokes ($11), and smoked and fried gator tail with chipotle sauce ($12). There are seven or so gussied-up sandwiches on the menu, sliders, and even a random burrito, but heaping plates of tasty meat are king, from pulled pork ($13), brisket ($15), and pork belly ($14) to half and full racks of ribs ($16–$27). L, D daily $–$$$
Midtown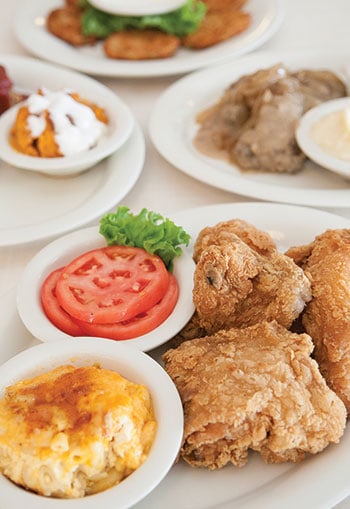 Mary Mac's Tea Room
404-876-1800
224 Ponce de Leon Ave. NE
Atlanta's best-known home for soul food, Mary Mac's delivers quality Southern favorites like fried chicken ($12.50–$14.50), chicken and dumplings ($13.50), roast pork ($13.50), slow-cooked beef pot roast ($16), collard greens ($3.50), Hoppin' John ($3.50), and fried okra ($3.50). Fried food is the order of the day so people with an aversion to crunchy, crispy goodness probably should find other places to be. L, D daily $–$$
Mellow Mushroom
404-577-1001
400 W. Peachtree St. NW
Atlanta-based chain restaurant Mellow Mushroom plays up a hippie vibe, serving pizzas, hoagies, and more, all aptly named with trippy monikers. Try the Magical Mystery Tour, a pizza with a pesto base topped with button and portobello mushrooms, feta and mozzarella cheeses, spinach, and jalapeños on a pesto-basted crust; the Mellowterranean, a pizza with an olive oil and garlic base with all natural grilled chicken, onions, roasted red peppers, black olives, chives, feta and mozzarella cheeses with a side of tzatziki sauce; or the signature veggie burger made from quinoa, kale, brown rice and roasted mushrooms. Seasoned with roasted garlic and shallots and finished with fresh avocado, cheddar cheese, garlic aioli, romaine lettuce, sliced tomato, and onion. L, D daily $–$$
Poor Calvin's
404-254-4051
510 Piedmont Ave. NE
Poor Calvin's offers a rare cuisine of Thai fusion with Southern influences. Originally from Vietnam but raised and classically trained in Germany, chef-owner Calvin Phan serves up an innovative blend of Eastern flavors and Western presentations, using fresh and flavorful ingredients to create pad thai tiger shrimp ($24), pecan-crusted trout Thai curry ($24), lobster fried rice ($18), and more delicious selections. L (Tue–Sun), D daily $$–$$$
---
Kick It at the Curb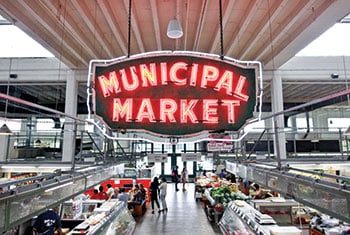 Sweet Auburn Curb Market
404-659-1665
209 Edgewood Ave. SE
The Great Atlanta Fire of 1917 spawned the creation of the open-air Municipal Market of Atlanta. However, African-American vendors weren't permitted to sell livestock or produce inside when its first permanent structure was constructed in 1924. Instead they were relegated to the curb outside, creating the Sweet Auburn Curb Market.
The market maintains a monopoly on rich culinary traditions, and a visit is a veritable field trip for all five senses. As soon as you step inside, the sweet nuttiness of Miss D's New Orleans Pralines meets your nose. Butcher cases treat turkey tails, hog maws, fatback, chitlins, oxtails, pork belly, pigs feet, and red hot links like Southern delicacies. Fresh collards, turnips, mustards, and kale line the aisles of produce vendors.
There are also plenty of mouth-watering places to dine, from soul food (Afrodish Restaurant, Metro Deli) to finger-lickin' food (Arepa Mia, Bell Street Burritos, Grindhouse Killer Burgers, Sweet Auburn BBQ, YumDiggity). Far from your faux-artisanal food court, this is where the moms and pops set up shop.
---
Ditch the Meat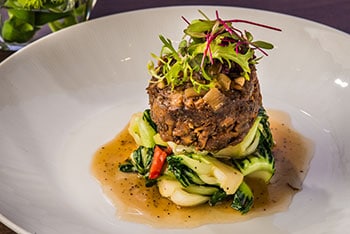 Looking for vegetarian and vegan alternatives? There are lots of healthy dining options for lunch and dinner in Atlanta and surrounding areas. For more ideas, visit connect.ala.org/node/256335.
Cafe Sunflower
404-352-8859
2140 Peachtree Rd. NW
Brunch (Sun), L, D (M–Sat)
Desta Ethiopian Kitchen
404-929-0011
3086 Briarcliff Rd. NE
L, D daily
Dulce Vegan Bakery and Café
404-624-7417
1994 Hosea L. Williams Dr. NE
B, L (W–Sun)
Go Vegetarian
404-481-5923
2179 Lawrenceville Hwy., Decatur
B, L, D (Tue–Sun)
Go Vinda's Café
404-907-4387
1146 A Euclid Ave. NE
L, D daily
Green Sprout Vegetarian Cuisine
404-874-7373
1529 Piedmont Ave. NE
L, D daily (closed W)
Harmony Vegetarian Chinese Restaurant
770-457–7288
4897 Buford Hwy. NE, Chamblee
L, D daily
Herban Fix Vegan Kitchen
404-815-8787
565-A Peachtree St. NE
L, D daily
Soul Vegetarian Restaurant, No. 2
404-875-0145
652 North Highland Ave. NE
L, D (Tue–Sun)
Viva La Vegan
404-951-2737
1265 Lee St. SW
L, D daily