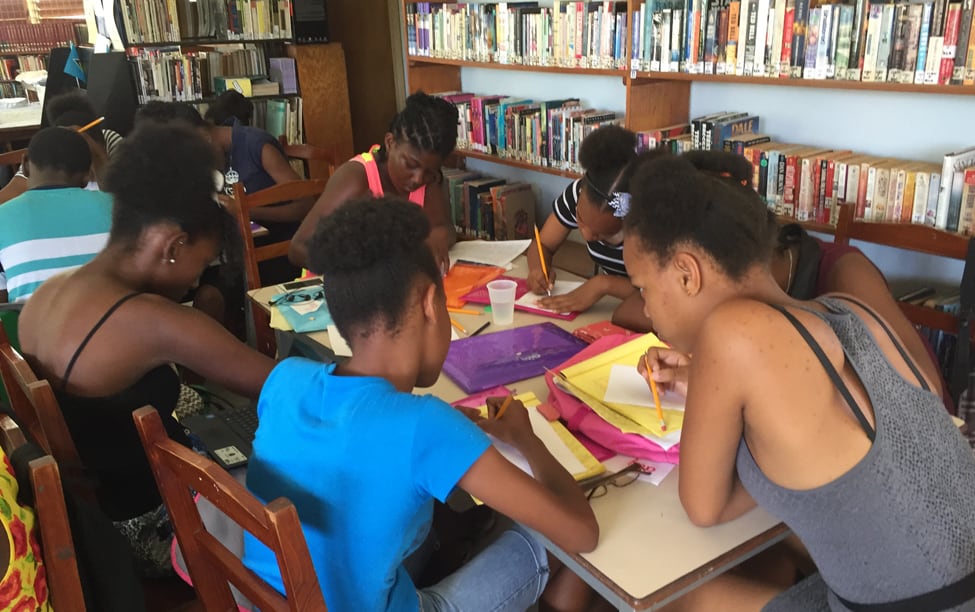 High school students on the tiny Caribbean island nation of St. Lucia are becoming published authors, thanks to the combined efforts of Soufrière (St. Lucia) Public Library, the regional Peace Corps, and local schools. And as these young writers build their literacy and writing skills, the schools and libraries in the west coast town of Soufrière are adding these culturally relevant, Creole-influenced children's books to their collections.
The Soufrière Young Authors project has published six books since its first workshop in April 2016. Its goal is to produce all of its students' books and distribute them widely on the 27-mile-long island.
Peace Corps volunteer Grace Kilbane and Soufrière Public Library Librarian Catherine Prospere developed the project as a way to increase literacy and community engagement with the public library. While culturally specific to this East Caribbean island, the project parallels US and global conversations about access to diverse books in diverse languages, the role of libraries in sharing community stories, and the power of collaborations.
"The local community of Soufrière and greater St. Lucian community have been extremely supportive and proud of the young authors as many parents, teachers, principals, librarians, news networks, and community members have been boasting about them and purchasing their books," Kilbane says. Many books, especially in school libraries, are donated from other countries, and few books for young readers are written for or by St. Lucians.
Eighteen students participated in the project, which began with a seven-day workshop on writing and editing and featured guidance from guest storytellers who served as experts on local Creole culture. After listening to the storytellers' memories and stories, students brainstormed ideas for the characters, settings, and conflicts of their stories. Students pitched their stories to peers and used feedback for further development, then created storyboards to plan the relationship between the illustrations and text. They then refined word choice and sentence structures for a young audience.
"The project was aligned to engage readers and writers to inspire the next generation with great literature," Prospere says.
"Our writing skills definitely improved. Our creativity skills definitely escalated to another level. Our confidence also improved," says young author Torry Adonis.
During phase two, the project's Literacy Team worked with the authors to finish their writing and with local youth to add illustrations.
The first six published books debuted in January during Nobel Laureate Month in St. Lucia—linking the young authors to a legacy that includes local laureate and poet Derek Walcott, who died in March—and were among the best sellers at the St. Lucia Book Fair.
The books cover aspects of local life and St. Lucia's Creole culture and traditions, including the history of St. Lucia freedom fighters, the meaning of the Jounen Kwéyòl festival, Christmas traditions, and its annual Carnival. At the back of each book are comprehension questions to further learning. One story, Defending the Wicket, was written about Daren Sammy, the World Cup–winning captain of the West Indies cricket team and the first St. Lucian to become team captain. Author Naima Joseph was able to present her book to him.
The remaining 12 stories are finished, and illustrations are being added. One of the workshop facilitators and a teacher at the secondary school wants to bring more young authors to the fore.
"I'm hoping we can get more writers or branch out into other genres—poetry, for example, or maybe drama—but keep documenting our traditions," said English and Caribbean history teacher Chrisentia Combie.
A set of the first six books can be purchased through the Soufrière Public Library for $60 Eastern Caribbean dollars (about $23 US). Purchases and donations will be applied to additional book printings.