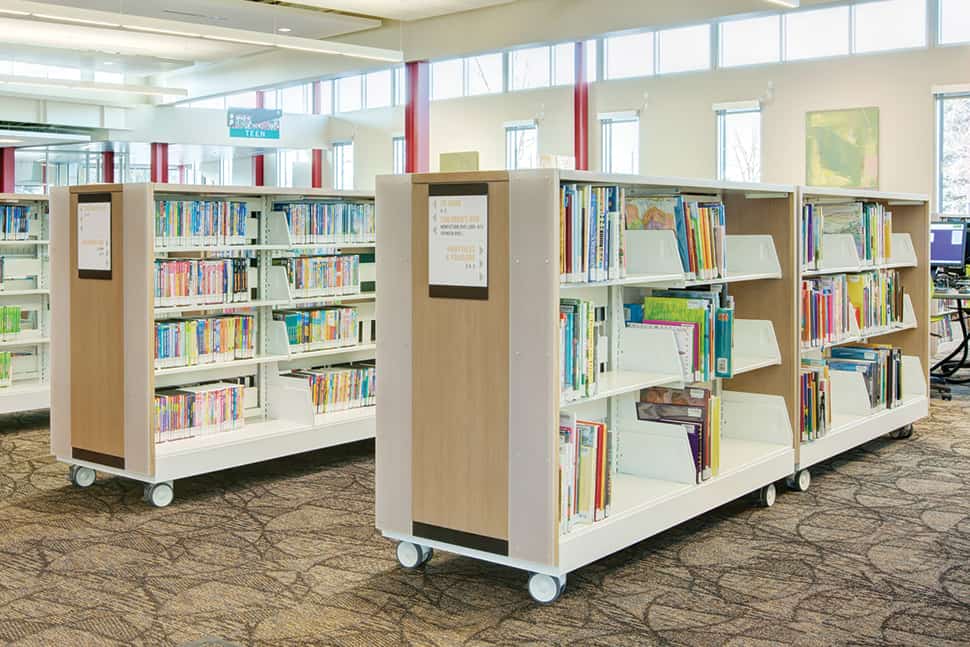 As libraries expand their services and adjust collections to current demands, flexible and adaptable spaces become increasingly important. While capacity and storage problems are most often addressed during remodeling, there are ways to distinguish your floor plan and highlight your collections on a smaller scale. These products can help expand and diversify your usable space and improve the overall feel of your library.
Spacesaver Cantilever Shelving
Spacesaver's cantilever library shelving has the ability to evolve with changing needs. It has a range of interchangeable accessories—pull-out shelves, media hangers, and slat-wall add-ons—and can also accommodate larger changes.
You can mount its shelving onto casters to make it easily movable to create open spaces for events or other library services. The new A-frame cantilever display shelving for media display units is a smaller, modular version of the full-sized shelving, and can can be adapted to store a variety of media in a user-friendly format or modified into a book cart.
As your storage needs grow, you can mount existing static shelving onto a compact mobile storage system. Spacesaver's compact mobile shelving has also been adapted for other types of library projects, such as the library store in Seattle's Central Library, which closes into a self-contained box when not in use, conserving space and protecting merchandise.
With recycled steel construction and end panels with recycled material options, Spacesaver shelving can also contribute to a building's LEED credits. Powder-coating is available in a range of colors, and end-panel materials and finishes are fully customizable.
Spacesaver also gives free space assessments, addressing Americans with Disabilities Act requirements, HVAC systems, fire codes, seismic regulations, and other concerns.
More information is available at bit.ly/spacesavershelves.
Cocoon Media Lounge
The Cocoon Media Lounge from BCI creates a room within a room. Lounges are designed to provide a semi-enclosed area where louder activities can take place without disturbing other library users, offering a place for children to play or watch TV, for people to play videogames, or for study groups to work.
The standard models include lounges for kids, computers, gaming, and work. The kid and computer lounges are available in large and extra large, with seating on one (large) or both (extra large) sides of the lounge. The gaming lounge includes a screen mount across from a bench seating area, and a box to store and lock gaming devices. The working lounge—available in two versions, premium and exclusive—includes a center table and integrated ceiling spots. The exclusive version also includes screen support, a cable plug-in, and a back wall for additional privacy. The smallest lounge measures roughly seven feet tall, eight feet wide, and six feet deep. Lounges can be customized for other functions, such as 3D printing.
Each lounge is built around a basic modular design and made of white melamine-coated particle board. Libraries can add custom graphics to the outside to advertise the space. The sound-dampening wool felt interior comes in three standard colors: purple, green, and gray, though other colors are available upon request. The interior can also be customized with upward lighting, various types of IT equipment, and LED spots.
The lounges are designed to integrate with BCI's Ratio shelving and browser systems, allowing the lounges to sit among and draw attention to collection materials.
Find more information on the Cocoon Media Lounge at bit.ly/bcicocoon.
Vode Highlights Libbie Mill Library
User: Jerry McKenna, library director, and Deborah Lammers, library manager; Libbie Mill Library, Henrico, Virginia
Product: Vode lighting
Details: Vode produces modular and linear architectural lighting for public and private buildings.
How does your library use Vode lighting?
We use Vode in two ways. Vode's WingRail Stack 117 provides direct lighting for materials throughout the library. It is integrated into all the freestanding A-frame shelving located in the adult and children's areas of the building and attached to the wall directly above wall-mounted shelving in the adult, teen, and periodicals areas.
In addition, Vode's BoxRail Ceiling Cable 107 provides ambient indirect lighting in large sections of the building.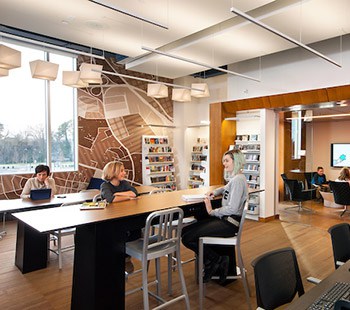 How does Vode lighting serve your library's needs?
Vode lighting serves two important purposes for us. First, shelf-mounted lighting is close to the materials, so it highlights the collection in a way that ceiling lights never could. This enables us to do more effective merchandizing and face-out display of materials. Combined with A-frame shelving, even materials on the bottom shelves are well-lit and easy for users to discover. We believe the improved lighting is one of the reasons circulation increased more than 63%.
Second, Vode lighting helps with energy conservation for the building. This design allows for the lighting to be closer to where it is needed. In addition, the lights are motion- and daylight-sensitive; when there isn't any use, the lights automatically shut off.
What are the main benefits?
We have received many compliments about the use of the integrated lighting and shelving throughout the building. The suspended ambient lighting is gentle on the eyes.  It creates a more pleasant environment for library users and is appreciated by library staff who work in it for many hours a day.
What would you like to see improved or added?
Careful attention must be paid to installation of the shelf-mounted lighting. When the library first opened, we received a couple of complaints from library users who felt it shined too directly into their eyes. The design architect noticed that the adjustable wings of the lights were not installed at the correct angle. After adjusting the angle, we received no further complaints.