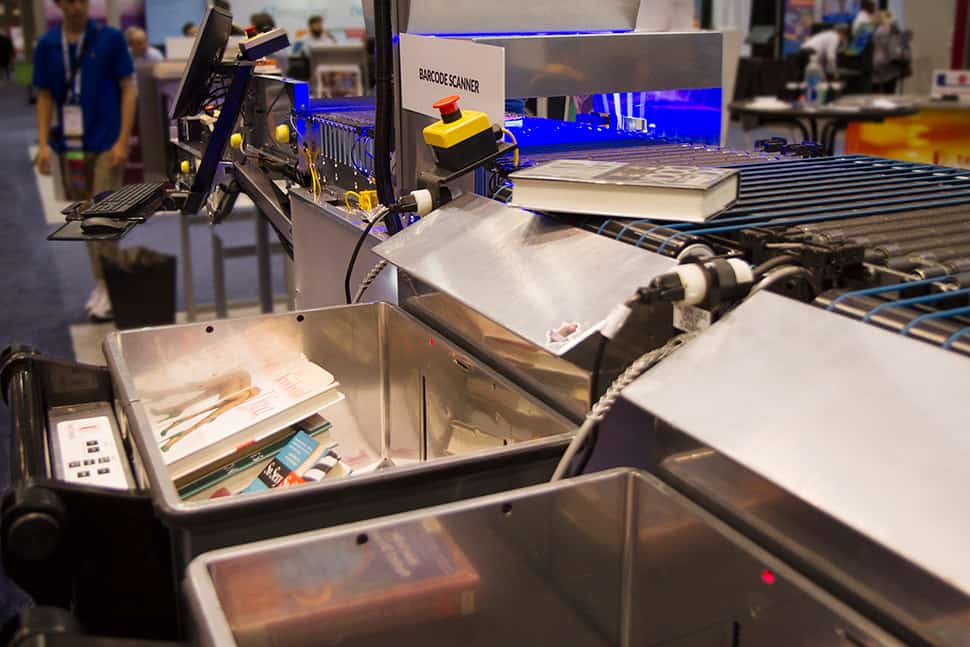 Staff time is a valuable resource, and automating certain tasks can allow staff members to focus on tasks that need a human touch. Automatic book sorting and self-checkout are not new ideas, but innovations in these areas continue, providing new ways for libraries to maximize their return on donated and discarded books, minimize the footprint of self-checkout, and maintain their collections—and save staff time.
ValueIT
Selling donated and weeded materials can be an important revenue stream for libraries, but it is often limited by the staff or volunteer time required to properly sort, price, and sell items. Tech Logic's new ValueIT software automates the process of sorting and pricing donated and discarded books, turning a new or existing automated system for handling materials into a part-time book sale volunteer.
After the system scans a book's barcode, the software queries a copy of Amazon's book pricing database—updated twice daily—to determine its value. Based on a library's parameters, high-value books can be boxed and shipped to Amazon for sale online through an account owned by the library or Friends group, allowing for a quick return on the book. When materials are sold online, Amazon deducts all shipping, handling, and fees and deposits the proceeds directly into the library's or Friends' account.
The ValueIT software also monitors and adjusts the price of books being sold online to keep them competitive, maximizing the return on used materials. They are priced so that 50% of library materials will sell within 30 days, and 90% will sell over the life of the listing.
Tech Logic can assist in the set up of ValueIT processing. The specific sorting equipment configuration and purchase price depends on library requirements. The equipment may be purchased outright or leased, with payment built into the software commission fee.
More information on ValueIT is available at tech-logic.com.
MeeScan
Self-checkout is an established way to save staff time, but it often comes with a large investment in hardware and software. Bintec Library Services has introduced meeScan, a mobile-based self-checkout system.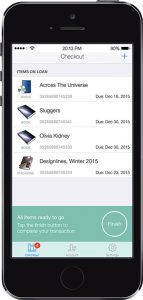 Patrons download an app (available for iOS, Android, and BlackBerry) onto their smartphone that, based on geolocation, identifies the library branch they are in. After scanning or entering their library card information, patrons scan an item's barcode to check it out from anywhere in the library.
For libraries with RFID or electromagnetic security systems, meeScan stations can be purchased or leased. The stations sync with the app through a secure cloud interface to desensitize only items that have been checked out. MeeScan offers 24/7 monitoring of the system and web-based technical support. Once installed, the software is configured remotely, so no onsite technician is needed. MeeScan software works with any integrated library system that supports SIP2 protocol, which includes the most common systems; free system compatibility testing is also available.
MeeScan queries the library's ILS for all decision making and processing. For added security, patron transactions are sent over a secure connection and are not stored, according to the company. Anonymized reporting information provided by the software includes transactions per month, items processed per month, and a histogram of items checked out per hour for each day over one month.
Pricing starts at $250 per month and is based on library type and size. For more information, visit meescan.com.
Baker & Taylor Customized Library Solutions
User: Robert Moffett, division chief of access services, Gail Borden Public Library District, Elgin, Illinois
Product: Baker & Taylor Customized Library Services
Details: The Customized Library Services are a suite of technical services solutions including collection development and analysis, cataloging, and processing.
How does your library use Baker & Taylor's Customized Library Services (CLS)?
Gail Borden Public Library District (GBPLD) uses the full CLS suite, which includes extensive collection development assistance from Baker & Taylor librarians and fully cataloged and processed items.
How does Baker & Taylor's CLS serve your library's needs?
The main beneficiaries of CLS are GBPLD library cardholders. They receive books faster than before. Books arrive fully cataloged and processed and are shelved immediately after invoicing. CLS staff have become an extension of library staff and the library relies on them to help serve customers better.
What are the main benefits?
Using outsourced services like Baker & Taylor's CLS was considered at Gail Borden only after staff defined clear goals for how CLS would affect staffing and time management within the whole library. Those goals included increasing staffing levels in the newly formed Division of Community Services and Program Development, building a home for a burgeoning digitized collection, creating new partnerships with community groups, and shortening wait times at all service desks.
GBPLD forged a partnership with Baker & Taylor and learned that it could maintain high professional standards, allowing other services throughout the library to benefit. Fast forward, and GBPLD's CLS experiment has been paying dividends for the constituents of the library district by helping the library save $220,000 over four years without reducing staff.
What would you like to see improved or added?
Baker & Taylor recently launched a new version of its online ordering product, Title Source 360, and, as with any new system, the library has seen some hiccups. Staff have continued our open dialogue with Baker & Taylor, and the company is listening, with enhancements forthcoming. And a free Title Source 360 is always on the wish list; the ordering tools of other vendors are free and comparable in functionality.