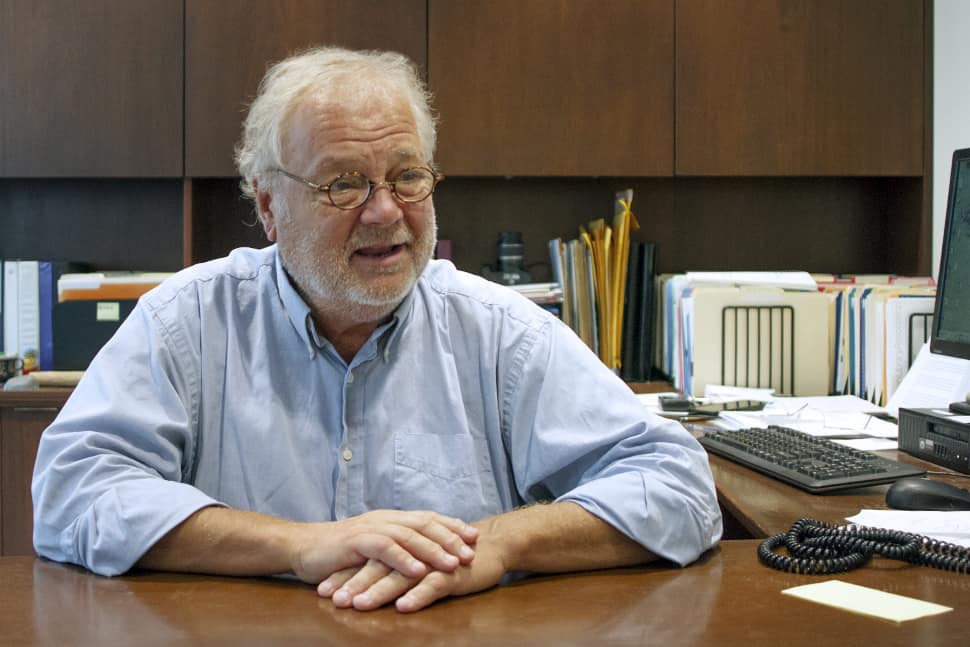 Keith Michael Fiels will retire as executive director of the American Library Association on July 31 after 15 years at the helm. He sat down with American Libraries Editor and Publisher Laurie Borman on July 27 to talk about his future plans, how he got into librarianship, and how he would like to be remembered.
What plans do you have for retirement?
My game plan is to get a studio and do some painting. I have put this aside for many years—maybe since grad school. Lately I've been doing a little bit of work in en plein air oils. I like to have an easel in the back of my car and just see Illinois and other places. I've got a lot of ideas. Also, I have eight novels either started or finished. The ones that are started need to be finished; the ones that are finished need to be started. I'm going to spend September in France. I have rented an apartment in Paris and a house in the Dordogne, and I'll be staying with French friends in Brittany. I look forward to knowing that I don't have to worry about coming back to work. There's something special about that.
What drew you to librarianship?
Books figure prominently in how I came to be the person I am. We had a small library when I was a kid. I read everything. My mother had everything from Gone With the Wind to Andersen's fairy tales. My grandfather was an ambulance driver, and people would call him up and donate their libraries to the veteran's hospital. The librarian would take things that veterans were interested in reading, and then my grandfather was sent to the garbage dump with ambulances full of books. On three or four occasions he pulled up in front of our house, and I just dragged out boxes and boxes of books. A lot of these were a generation out of date, so I didn't read Nancy Drew. I read Tom Swift. Much of my approach to life is based on old library collections. My interest in books was something that came early.
I ended up going to college when I was 16 and graduated with a degree in philosophy and absolutely no prospects of getting a job. I bumped into a guy named Wild Bill Rosenberg who had shoulder-length hair and a buckskin jacket and came from Long Island. He said, "There's money in library science, dude." So I dutifully got a national defense fellowship, and the rest is history. I've been a school librarian, then went to a public library, then back to graduate school for a year of post-master's study. Then came back east again and worked at the New York State Library, the New Jersey State Library as a regional system consultant, and then ultimately as director of the Massachusetts Board of Library Commissioners. I spent about 25 years in library development at state agencies or as a system director. They weren't hierarchical staff positions; they were primarily consultative consensus-building jobs. Clearly that was something that was helpful in trying to work within the ALA structure.
What advice would you give the new ED?
Above all, be kind. We're surrounded by members who are giving their time because they care deeply about what we're trying to do. Having a deep respect for the work of librarians, the work of the members, and the work of ALA staff is a great starting point. It's a complex environment, and trying to build consensus is not necessarily a skill you're born with, but I think it's critical in this job.
Of the many accomplishments you've had over the years, can you name one or two you're most proud of?
The Office for Library Advocacy, which really expanded our ability to help people at the state and local levels as they were trying to build stronger libraries.
Strong support for the Washington Office. What we've managed to accomplish just within the last six months is a tremendous testimony to the network that we've built. The threat of total elimination of library funding is frightening. The fact that we were as successful as we have been to date is something I'm proud of.
The Center for the Future of Libraries is a great accomplishment, and it's just at the beginning, There's so much potential in using it as a think tank to foster innovation. Over time it will grow to be more and more useful.
I certainly wish we were doing better financially, because the money helps us to accomplish our mission. But many other associations did not come through the recession as strong as they started.
What part of the job are you going to miss most?
The ability to be involved in so many things at the national level that are so important. I get to work with the best and brightest. The quality of the colleagues who I work with is awesome, both at the staff level and at the leadership level.
ALA has had a succession of great presidents, each one different. Helping to negotiate their individual visions into moving us forward within our overall strategic directions has been intellectually and emotionally satisfying.
When I travel outside of the United States and realize the awe and respect with which people hold ALA, it's very moving. The degree to which some overseas librarians aspire to what we have is very touching. One of the greatest frustrations is the inability to do more and make more happen.
Thing you'll miss least?
ALA is a truly vibrant democracy. If you get 100 librarians in a room, you've got at least 120 opinions. People are passionate, and we spend a lot of time arguing among ourselves. Ultimately the results have always been good, but you're dealing with people who care deeply and are frustrated because they want to see more happen, they want to do more, they want us to do more, they want to see the impact, and they want to see it right away. We have to do a lot of things, and we have to do them well. That is a broad mission. And one of the frustrations is that you've got to be ready for the next development, the next crisis, the next challenge.
When I travel outside of the United States and realize the awe and respect with which people hold ALA, it's very moving.
What do you know now that you wish you'd known in your early days as ED?
I've gotten much better at realizing that so much of what moves ALA forward involves aligning different pieces of the organization. You generally do not have everything within your direct control because ALA is very decentralized—thousands of committees, tens of thousands of members, offices, divisions, round tables. Any time you're confronted with a problem, you have to say I'm going to take one from column A, and then I'll take this from column B and this from column C, then line them up so I can actually move this forward. The ability to look at how to link resources together to move things forward takes a long time. That ability to align resources is something that has taken me a long time to get down, and I think I'm better at it now than I was 15 years ago.
How has your management style changed over the years?
The job of manager is to create a clear framework within which people can work to accomplish things. What you're trying to do is get the people who can do the work aligned with a clear understanding of what the work is. Part of my management style is to create a sane and rational environment within which people can go and get the job done. I do believe in working as much as possible with consensus. Almost every project requires consultation with multiple groups of people to be successful.
How would you like to be remembered?
As somebody who did well by ALA, did well by libraries, helped to advance our mission. We've had a strong collaborative planning process as we've moved through now three iterations of strategic planning that has helped to make us a stronger Association because we've always used the best thinking as we develop plans to actually direct activities.
What's the famous Yogi Berra quote? "If you don't know where you're going, anywhere you're going is just fine?" I care deeply and was able to translate that into positive action. We have a big, big job and sometimes it's maddeningly difficult to move forward, but I think that we have been able to do that. I've always tried to be supportive of ALA staff and members and respectful of the work and effort they put in. I think people will say I was very approachable and that I was a good listener who then tried to do something.