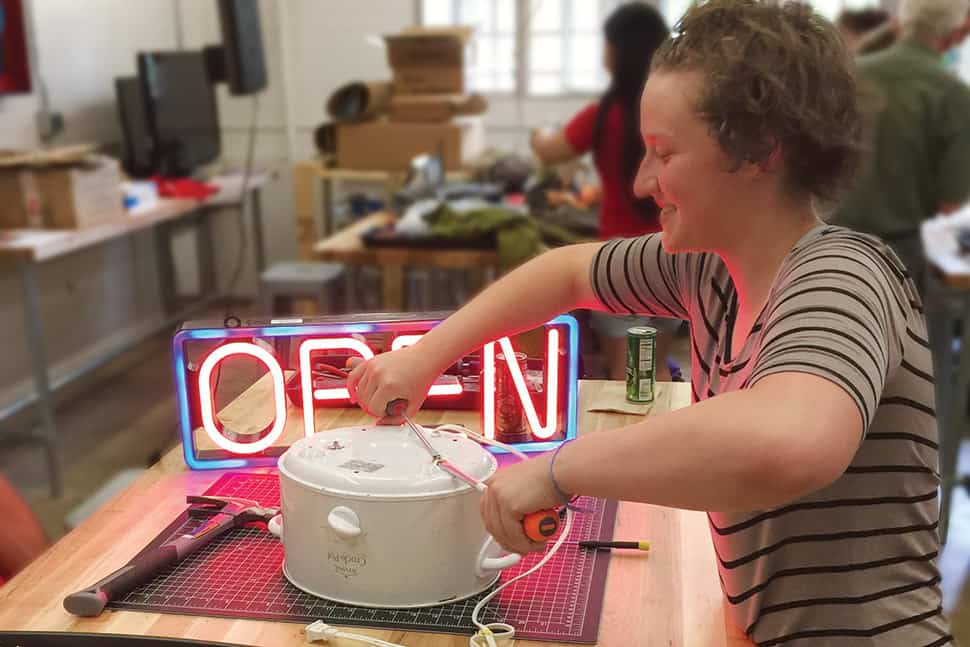 Wayne Seltzer remembers the day a middle-school student named Rebecca Bloom walked into the U-Fix-It Clinic at Boulder (Colo.) Public Library's (BPL) makerspace, BLDG 61, carrying her broken electric scooter.
"She told me she got it for her birthday and it was a lot of fun, but one day, it just stopped working," says Seltzer, an MIT-trained engineer and the U-Fix-It Clinic coordinator. "We took it apart together, and we were able to fix it. Pretty soon she was zipping around the parking lot on her scooter again."
But that wasn't the last time Seltzer saw Bloom.
"She's now in high school and tells me every time she sees me that she wants to be an engineer," says Seltzer. "A lot of people don't realize they might be interested in the technology that's all around them because they just don't know what's inside."
And that's the goal of the U-Fix-It Clinic—allowing people to repair broken items instead of throwing them away, but also inspiring them to learn more about the products they consume and how they work. The event is part of a larger movement across the globe working to help keep broken items out of landfills and revive the lost art of repair.
And Seltzer says libraries are a perfect partner in that movement.
"One day, we did a tutorial on how to repair a lamp, and an 8-year-old kid got it and went crazy helping everyone fix their lamps," says Seltzer. "That's a library moment. A person comes into the library and discovers something that they didn't know about themselves. They have access to resources they didn't know existed."
Repairing a throwaway society
Debbie Hurst-Rodriguez walked into the main branch of the Long Beach (Calif.) Public Library (LBPL) with a necklace that had been lying in her jewelry box for years.
"The bezel wasn't high enough, and the stone kept falling out," says Hurst-Rodriguez. "I knew it wasn't a $20 fix, and I had been procrastinating repairing it due to the time it would have taken to get quotes."
Luckily, jeweler Jurate Brown was volunteering at the Long Beach Time Exchange's Repair Café that day.
"It took her over an hour to solder the bezel, and she noticed other repairs that could be made to avoid losing stones, so she fixed those too," says Hurst-Rodriguez. "It was a fabulous experience seeing everyone work together to repair things, sharing their talents while connecting and helping neighbors."
Repair Café and Fixit Clinic are both names for events that are popping up at libraries and other locations all over the country. Repair Café originally started in Amsterdam, while Fixit Clinic originated in Berkeley, California. LBPL has held two cafés so far, with more than 200 attendees bringing in their broken items. The city of Vancouver, Washington, recently held its third Repair Café event, partially sponsored by the Fort Vancouver Regional Library. Jamie Bair, experimental learning librarian at Fort Vancouver, says the repairs run the gamut from tuning up bikes and sharpening hedge trimmers to putting new zippers in clothing and repairing small appliances.
"People were so surprised at the kinds of things that can be fixed and that there's a resource in the community to help you fix your stuff," says Bair. "It meets our library's goal of being that community space where people can come together and learn, whatever that learning takes."
BPL's Creative Technologist Janet Hollingsworth says the repair events have another great side effect: bringing in new patrons.
"These clinics have brought in more than 70% new patrons to our space—young and old—and nearly everyone has come back to other programs, usually with friends and family," says Hollingsworth.
The events also tap into a greater mission, says Hollingsworth: building a sustainable society. Just as libraries allow patrons to share materials like books and movies, repair events allow people to share skills, reuse materials and tools, and bring a broken item back to life.
"We live in a throwaway society, and I think it takes explicit effort to strike a conversation addressing this," says Hollingsworth. "The public library should be at the center of conversations like this and provide a call to action."
Seltzer says libraries and librarians offer something special to these events: a space where everyone feels welcome and experiences dealing with a wide variety of people. Seltzer says he was grateful to have that experience on his side when a homeless patron brought in a pair of broken headphones.
"I wasn't sure what to do, but I listened to his story," he says.
The man explained he had gotten the headphones for $2 at a hardware store several years back, and while he knew how to fix the broken wire that was likely inside, he didn't own or have a place to keep a soldering iron. Seltzer and the patron were able to fix the headphones, and the man was appreciative.
"A few days later, I got the most beautiful thank-you email from him," says Seltzer. "Here's a guy who probably wouldn't have shown up at the hipster art co-op. But at the library, he felt comfortable."