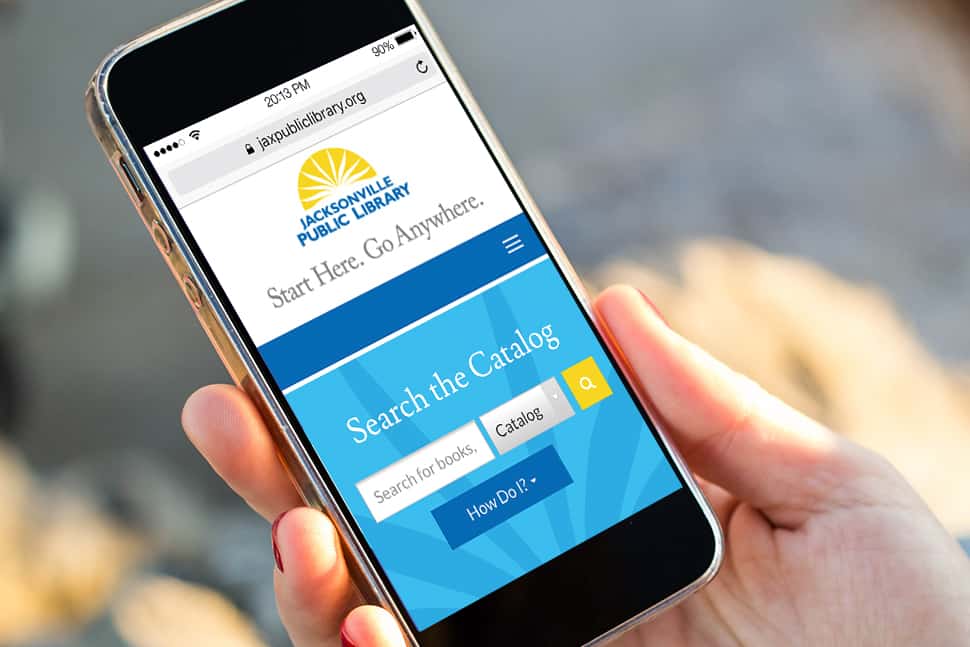 Getting information on the go is now an everyday reality for most people in the US. According to the Pew Research Center, 77% of Americans own a smartphone, and 50% own a tablet. If your library's website looks good only on a wide desktop monitor, you could be frustrating an increasingly large swath of patrons.
The profusion of mobile devices means that half of public library users who visit library websites do so from their mobile device. This proportion is likely to keep increasing. But just because patrons can access a library website on a mobile device does not guarantee that the site is easy to use. Sites that were developed several years ago were often built with laptops and desktops in mind, which can lead to text that disappears off the edge of a phone screen, or to a lot of inconvenient squinting and scrolling on a tablet. For this reason the large majority of libraries have now made some effort to make their websites mobile friendly. At least two-thirds of public libraries serving communities with smaller populations had built a mobile-friendly website, and more than 90% of public libraries that serve at least 500,000 patrons had done the same, according to a 2014 Library Research Service report.
Building a responsive design
Even though the concept of a mobile-friendly site is not set, it is important to understand the vocabulary. A mobile-responsive site determines which device someone is using (such as an iPhone or Android) and uses that information to resize the site's content so that it can be easily read. In addition, it can shift seamlessly between landscape and portrait mode. The overall goal is to enable a pleasant and productive user experience.
Today building automatically mobile-responsive websites is a straightforward process. As library web usability expert Nicole Hennig notes, "There are so many mobile-responsive themes available." For example, WordPress and Squarespace—two of the leading web content management systems on the market—both offer mobile-responsive themes. These themes handle all of the coding elements so that libraries can focus on content.
If you are building a new website, finding a mobile-responsive theme is a great place to start. Hennig points out that it is also vital to consider the accessibility of your library website (see "Library Websites for All," June) so that all users can benefit from it. To this end the World Wide Web Consortium's Web Content Accessibility Guidelines 2.0 includes standards for making sites compliant with the Americans with Disabilities Act. While a mobile-friendly theme will simplify the design process, it is still necessary to pay explicit attention to making your site accessible.
Designing a standalone mobile site
When building a new site from scratch is not an option, a thoughtful redesign can be an opportunity to improve the navigation of the library's website across all devices. A mobile version of a library website does not need all the content and features available on the desktop version, according to Rachel Vacek, head of design and discovery at University of Michigan and past president of the American Library Association's Library and Information Technology Association. She was extensively involved in designing the new mobile site at her previous employer, the University of Houston.
Vacek points out that patrons may use a mobile device merely to look up their account or check library hours. Based on her experience in Houston, she says the mobile version of the library website should emphasize these types of functions. A built-for-purpose mobile site usually has a smaller range of functions than the desktop version. Like Hennig, Vacek also stresses the importance of web accessibility. "If a site is accessible, it is easy to make it mobile friendly, too."
Starting with patron engagement
In response to patron requests, Jacksonville (Fla.) Public Library (JPL) redesigned its website in 2016 to become more mobile friendly. JPL provided an opportunity for patrons to make comments on prototypes of the new mobile site before it launched and also conducted focus groups to better understand patron needs. The result is a mobile-responsive site that makes searching the catalog easier. JPL also conducted extensive outreach to inform patrons that a more mobile-friendly site was coming, including hosting a launch party for the new site. JPL's E-Services and Digital Access Manager Karen Walker says early reactions to the new site have been very positive.
JPL's success points to the critical importance of patron engagement. If you are looking for more ideas about how to build a mobile-friendly website, a wealth of information is available through Google Developers, WordPress, and other online resources. Any library can build or improve a mobile-friendly website, and your patrons will be glad you did