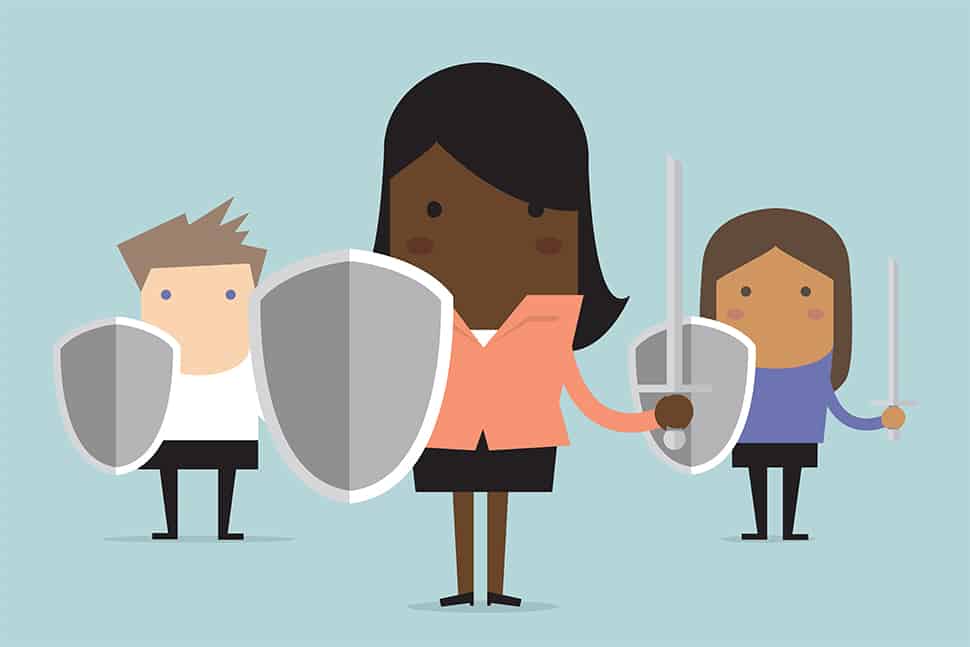 There was a time when Katie McLain, reference assistant at the Waukegan (Ill.) Public Library, had no idea what to say to patrons who acted inappropriately toward her. That time is over.
"I've been in the middle of a normal library transaction and had the person say something about asking me out," McLain says. "I look that person in the eye and say, 'That's inappropriate,' and go back to what I was doing. If they do it again, I say, 'That's inappropriate, and I need you to stop.' I like to make eye contact and use a slightly lower, quieter voice with a firm tone so they know I'm serious. And if they argue with me, I say, 'I'm happy to find a manager or a member of our safety team to discuss this with you.'"
How has McLain become so comfortable speaking up against sexual harassment? By working with her colleague Amanda Civitello, marketing and communications manager, and their administration to make their library a place where such harassment isn't tolerated, and where those who experience it are supported rather than ignored or recriminated against.
"Our administration takes this stuff really seriously," Civitello says. "But that's not the case everywhere." That's why she and McLain surveyed 173 librarians this year about their experiences with on-the-job sexual harassment and reported the results during a presentation, "It's Not Just Part of the Job: Breaking the Silence on Sexual Harassment in the Library," at the ALA Annual Conference and Exhibition in Chicago in June. "We hope that by bringing the conversation to a bigger forum, we can help people spark that discussion with their directors: 'Look, there are other people experiencing this,'" she says.
As Civitello and McLain recounted in their standing-room-only presentation, most survey respondents were women working in public-facing roles in public libraries, and nearly two-thirds of respondents reported having been the target of sexual harassment from members of the public while on the job. Respondents were also given the chance to anonymously share stories of harassment, which included tales of being asked on dates, called "sweetie," cornered alone in the stacks, told sexually charged jokes, or patted on the derrière, among other examples.
One reason sexual harassment from patrons is often overlooked or minimized in the library setting, McLain and Civitello say, is that many people mistakenly believe that unwelcome behavior that is not extreme or not physical does not count as harassment.
"In actuality, there are a lot of different behaviors that may make us uncomfortable," McLain says. "They may not be serious enough to warrant contacting a security member or the police, but it can be something as minor as a male patron walking up to a female librarian and telling her to smile, or someone repeatedly making comments about what a particular staff member is wearing that day. We wanted to emphasize: You can stand up and say something. It's okay." McLain and Civitello emphasize, too, that sexual harassment is not limited to women and that people of color and LGBTQ people experience higher rates of harassment.
Ingrid Abrams, an elementary school librarian in New York City, can attest to how stressful and unpleasant sexual harassment can make a workplace, especially when administration is not supportive. In a previous position in a public library, a patron repeatedly approached her when she was alone at the desk and attempted to run his fingers through her hair. When Abrams informed her boss, she was told that the next time it happened, she should yell for security—a suggestion Abrams found unhelpful.
"I worked in the children's section. I wasn't going to start screaming at the top of my lungs," she says. "I said that I wanted a security guard closer to me and that I wanted security to know what this person looked like because maybe he was doing it to someone else, too. Nope. I was just told, 'Scream for security.' It was not going to happen."
In contrast, a supportive administration can help determine the best course of action. When a librarian in Vancouver, British Columbia (who prefers to remain anonymous) began receiving unwelcome and inappropriate notes from a patron, she told her supervisor, who helped her decide that the patron needed to be told directly to stop his behavior. The supervisor even offered to tell the patron on the librarian's behalf.
"I decided to do it myself," the librarian recalls, "and I still remember how I was shaking as I told the patron not to leave me any more letters, that I wasn't interested, and it wasn't appropriate. I'll never forget the way his face went cold and hard; he said, 'Okay,' and fled the department. Later he saw me through the front window. He slapped his hand against the glass and made a face at me before walking off. It was very frightening. But I don't think I ever saw him again."
As her experience attests, confronting a harasser can be difficult and nerve-racking, even with support. That's why McLain suggests coming up with scripts ahead of time (see sidebar) and practicing them. For example, simply putting a hand up and saying, "Please stop. You're being inappropriate" can be highly effective.
As for administrators, Civitello encourages them to research and understand their libraries' board-approved policies regarding sexual harassment. "Understanding that these policies are in place and that they can be enforced is really important," she says. "And if there isn't a method for enforcing them, put one in place so that these policies are doing what they're supposed to do: Create a safe space."