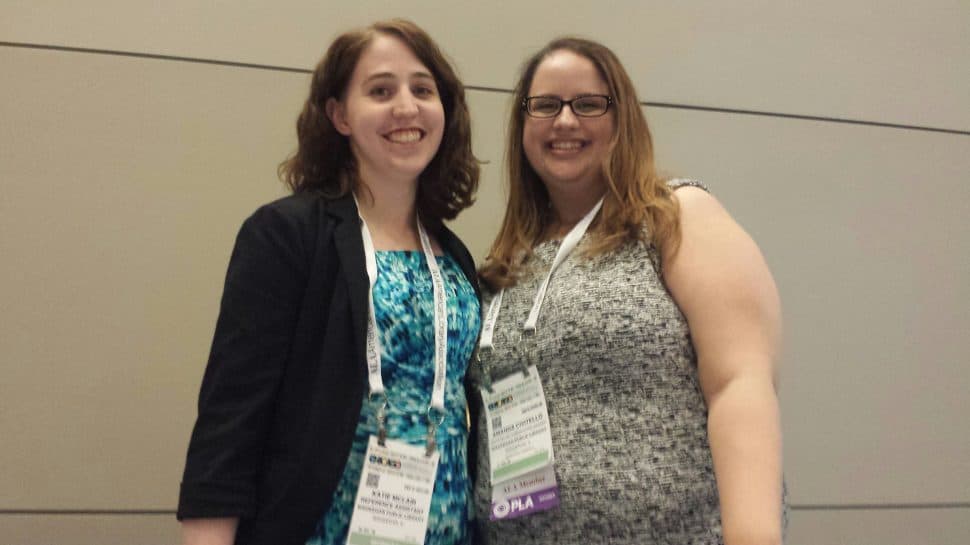 Katie McLain, reference assistant at Waukegan (Ill.) Public Library (WPL), was telling some non-librarian friends about the treatment she received from a few patrons—unwanted attention, inappropriate personal questions—and how it was affecting her life outside of work when one friend stopped her and said, "You don't have to put up with this."
That's when she decided to say something.
In the session "It's Not Just 'Part of the Job': Breaking the Silence on Sexual Harassment in the Library," McLain and her colleague Amanda Civitello, marketing and communications manager at WPL, defined sexual harassment, identified the behaviors associated with it, discussed how libraries can empower staff, and offered resources for what to do next.
McLain went to her manager, and together they came up with a plan for addressing harassment from patrons. But she and Civitello did more research—participating in a Twitter chat on the topic with other librarians, reviewing literature on the topic—and came up with few resources or best practices. The problem definitely existed, but few people, it seemed, talked about it much less knew how to stop it.
They found the definition from the United Nations Entity for Gender Equality and Empowerment was the most complete and accurate, although they stressed that sexual harassment is not limited to women, and that people of color and LGBTQ people experience higher rates of harassment, often combined with racism, homophobia, or transphobia.
Underage staff and volunteers are also at particular risk. Civitello said that WPL recently got inappropriate Facebook messages about their "hot" new teen worker. Harassment may also come from teen peers, including sexual rumors and behavior that carries over from school. Be on the lookout for distracted performance, behavior that is out of character for them, a sudden drop in self-esteem, psychosomatic symptoms like headaches or stomach aches, or sudden negative emotions like anxiety or depression. Teens may feel more comfortable talking to librarians about harassment than to their teachers.
Communication is important. Staff members may not be aware that what is happening to them is considered harassment. For example, McLain said a patron once told her, in some detail, that she would look good with breast implants. When she told coworkers later, they said she could have had him kicked out of the library, which surprised her. "He didn't touch me, he didn't invade my personal space. But it was still was unwanted," she said.
"We're trained to be helpful, but that's putting us in uncomfortable, sometimes dangerous situations," McLain said.
Civitello displayed a list—from touching, asking out, following them around the library or out to a car, taking photos, asking about marital status, comments about their bodies—and asked attendees if they had experienced any of these behaviors from patrons. Nearly everyone in the room raised a hand.
McLain and Civitello surveyed 173 librarians about their experiences with sexual harassment on the job. Most respondents identified as female, work in public libraries, and have public-facing roles. Nearly two-thirds said they have faced sexual harassment from members of the public, and nearly 40% said they manage someone who has. About 75% of respondents have five or more years of work experience, which McLain and Civitello said means that the problem has existed for a long time and has only recently started to be discussed. About two-thirds said they believed their manager took the problem seriously, but many individual responses said they don't feel supported by management or felt they had no recourse.
The presenters listed several best practices for fighting harassment from patrons and creating a supportive environment for staff, including:
Have an antiharassment policy. Train your staff on it and enforce it.
Talk with your staff about what behavior is not allowed from either internal (staff, board, volunteers) or external (patrons, vendors) individuals.
Assure employees you will act on complaints.
Have a clear complaint process in place.
Having staff members feel empowered to be able to say to a patron that certain language or topics are inappropriate and getting the conversation back to the library transaction has cut down on incidents of harassment at WPL.
Update: Corrected the spelling of Katie McLain's name, June 28, 2017.