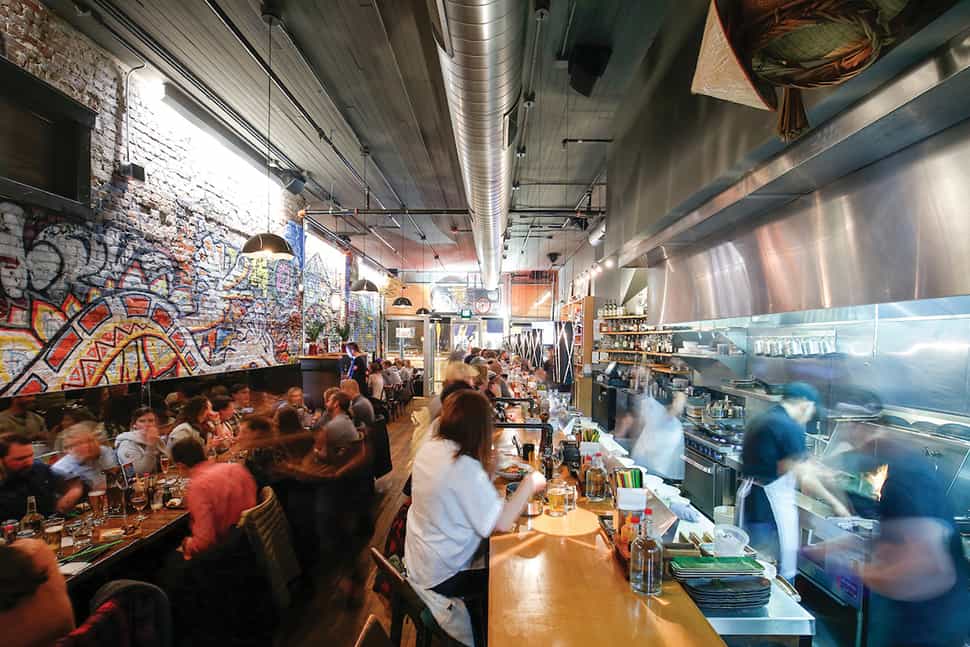 Not too long ago, Denver was considered a meat-and-potatoes town with a few good Western steakhouses and diners but not much else. What a difference a few decades make.
The Mile High City has emerged as a hot spot for chef-driven, farm-to-table restaurants. Numerous standout eateries have hung a shingle and earned one rave review after another.
As author of the Frommer's EasyGuide to Colorado, I was lucky enough to take my taste buds on a tour of Denver's rising restaurants and enjoy every cuisine, from vegan to wild game. It's a remarkably vibrant and dynamic community that continues to grow and evolve, and I'm happy to be your guide to its flavors.
Downtown
Biker Jim's Gourmet Dogs
2148 Larimer St.
720-746-9355
bikerjimsdogs.com
Jim Pittenger, aka Biker Jim, got his start selling hot dogs from a cart on the 16th Street Mall. Not just any hot dogs: wild boar hot dogs, elk hot dogs, pheasant, buffalo, rattlesnake ($7.50), you name it. Pittenger still has the cart (and a food truck), but he also opened permanent digs on Larimer, serving his trademark dogs, overflowing with all manner of toppings (wasabi aioli, pinto beans, cactus, and cream cheese among them), as well as guilty-pleasure side dishes like fried mac and cheese ($4.50), charred cauliflower ($5), and Biker Jim's transcendent baked beans ($4.50). The formula is working: Pittenger's earned a fiercely loyal following, as well as praise from Anthony Bourdain and many critics. There is a full bar. L, D daily $
Buckhorn Exchange
1000 Osage St.
303-534-9505
buckhorn.com
No restaurant in Denver has the historic cachet of the Buckhorn Exchange. Open since 1893, the place earned its name for cashing the checks of miners and others fresh off the adjacent railroad. Buffalo Bill drank here, and it has the first electric beer sign on the planet in the bar upstairs. The dining room, its walls populated with trophy heads of every description, is just the spot for carnivores. The Buckhorn has made its name on succulent steaks and savory game dishes. Of the former, some are meant for the table—weighing up to four pounds and costing up to $215—and the latter includes elk, venison, and buffalo as well as exotic specials like yak and rattlesnake. Reservations recommended. L (M–F), D daily $$$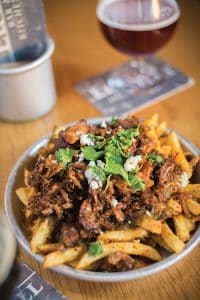 Euclid Hall
1317 14th St.
303-595-4255
euclidhall.com
Plating up the best in comfort foods from the owners of Rioja (p. 58), Euclid Hall is a bustling two-story restaurant off Larimer Square that balances a casual—and often loud—atmosphere with delectable fare. Housemade pickles, sausages, and poutines are complemented by chicken and waffles ($13.50), pad thai pig ears ($9), and gourmet sandwiches. The beer menu is impressive, with a dozen on tap and many more in cans and bottles, and there is an emphasis on beer pairings. L, D daily $–$$
The Kitchen Denver
1530 16th St.
303-623-3127
thekitchenbistros.com
The Kitchen is the younger sister restaurant of the original Kitchen in Boulder that's now part of the burgeoning group of national community-centric restaurants from Kimbal Musk, brother of entrepreneur extraordinaire Elon Musk. The menus showcase fresh and often local ingredients in a wide range of dishes inspired by Mediterranean influences and other traditions, like artichoke capellini ($18) and pan-seared branzino with ratatouille and basil ($29). L, D daily $$–$$$
Panzano
909 17th St.
303-296-3525
panzano-denver.com
Located in Hotel Monaco, Panzano is one of the best Italian spots in the city and a terrific pick for a downtown dinner that balances a casual, contemporary atmosphere with inventive fare inspired by the cuisine of Northern Italy. Seared sea scallops (market price), fried Brussels sprouts ($14), and Caesar salad ($10) set the stage for dishes like breaded eggplant ($22), lamb and polenta ravioli ($28), and braised rabbit ($28). Reservations recommended. B, L, D daily $$–$$$
Red Square Euro Bistro and Vodka Bar
1512 Larimer St.
303-595-8600
redsquarebistro.com
Tucked in the back of Writer Square, Red Square elevates Russian standards with a dollop of contemporary world cuisine. That means the menu has Russian standards like golubtsi (a cabbage roll stuffed with ground beef; $6) and stroganoff ($30), but also schnitzel ($24) and smoked duck ($24). The vodka list is a regional standout, sporting infusions made in-house like beet, pineapple, and horseradish, as well as labels from England, Iceland, Poland, Russia, Sweden, and even El Salvador lining the back bar. D daily $$–$$$
Rioja
1431 Larimer St.
303-820-2282
riojadenver.com
Rioja chef-owner Jennifer Jasinski took top honors for best chef in the Southwest at the 2013 James Beard Awards. It's easy to see why when you visit the sleek Larimer Square spot, with a menu brimming with creativity and unexpected flavors. The Mediterranean serves as a culinary launching point, but the food often veers through other traditions en route to the finish line. You might get serrano-wrapped octopus ($29), foie gras mousse ($16.50), or braised beef cheeks spaetzle ($19). Jasinski changes the menu on a regular basis, but you can count on tantalizing tastes and impeccable service. Reservations recommended. Brunch (Sat, Sun), L (W–Sun), D daily $$
TAG
1441 Larimer St.
303-996-9985
tag-restaurant.com
Chef-owner Troy Guard is one of Denver's most prolific restaurateurs. He's also one of the best. His flagship TAG—open since 2009 and named for his initials—is a brick-laden, contemporary space that meshes Guard's experience under the legendary Roy Yamaguchi in Hawaii and his love for local Colorado ingredients. The results are stunning, from charred Spanish octopus ($16) to inventive sushi rolls to larger plates like Colorado hanger steak with local fingerling potatoes ($30). Reservations recommended. L (M–F), D daily $$–$$$
Wynkoop Brewing Company
1634 18th St.
303-297-2700
wynkoop.com
This is ground zero for the amazing revitalization of Lower Downtown, aka LoDo. The 1888 warehouse was converted into one of the best brewpubs anywhere, and the place has now been pouring first-rate suds and plating up an eclectic menu of inventive pub grub for 30 years. Get asiago-cheddar mac and cheese ($11), beer-battered fish and chips ($13), or buffalo meatloaf ($17), and wash it down with the flagship Railyard Ale or—my favorite—Patty's Chile Beer, which sports a spicy kick. They also make a wide array of small-batch beers, including a zany Rocky Mountain Oyster Stout that debuted in 2012. Then you have the political connections: In 2010, founder John Hickenlooper became the nation's first brewer-governor since Sam Adams left office in Massachusetts in 1797. L, D daily $–$$
Rise and Shine
Denver has a number of great breakfast and lunch spots downtown. Snooze, 2262 Larimer St. and other locations (including Union Station), 303-297-0700, snoozeeatery.com, serves delicacies like pineapple upside-down pancakes ($8) and a pulled-pork Benedict ($12). Established in 1942, Pete's Kitchen, 1962 E. Colfax Ave., 303-321-3139, petesrestaurants.com, is a prototypical urban diner with checkerboard floors, a breakfast bar, booths, plenty of local color, and killer breakfast burritos.
Highlands
Jack-N-Grill
2524 N. Federal Blvd.
303-964-9544
jackngrill.com
There is a credo that Jack Martinez, proprietor of Jack-N-Grill, lives by: "Comida sin chile, no es comida," meaning "A meal without chile is not a meal." This means few options are lacking this key ingredient, roasted on the premises every September during harvest season and stocked in a freezer to last the year. Served in a dining room decorated with jacks of all kinds—from Nicholson to the jack of hearts—hearty Mexican options like burritos and rellenos are complemented by less expected items such as stuffed sopa­pillas ($12.50) and posole ($9). The burgers are also some of the biggest and best in Denver. B, L, D daily $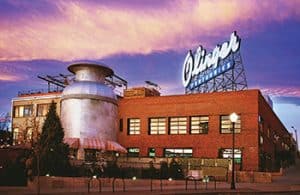 Linger
2030 W. 30th Ave.
303-993-3120
lingerdenver.com
In the historic Olinger Mortuary, Linger is known for several superlatives: the city views, especially from the rooftop patio; the creative and ever-changing menu of "globally inspired street food," ranging from tuna tacos ($14) to Wagyu sliders ($16) to sweet-and-sour crickets ($16); and the slick décor, equal parts industrial chic and speakeasy. Dinner reservations are hard to come by—make them at least two weeks in advance—but lunch is easy for walk-ins. Skip dessert and head to Little Man Ice Cream (littleman
icecream.com), shaped like a 28-foot-tall milk can, in the adjacent plaza. Reservations recommended. Brunch (Sat, Sun), L (Tue–F), D daily $$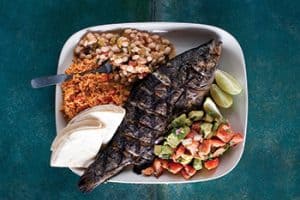 Lola
1575 Boulder St.
720-570-8686
loladenver.com
Lola planted its flag in the Lower Highlands neighborhood in 2007 and has emerged as one of the best places for a meal or just a margarita with a city view. Start off with guacamole, prepared fresh tableside, and then take your pick of one of the delectable specialties—lobster-shrimp tamales ($9), redfish tacos ($19), and seasonal fresh fish dinners. Landlubbers will appreciate pork, beef, and vegetarian options. But it's the cocktails that make the place shine, with seven margaritas and unique drinks like the Fuego Verde—yes, green fire—with tequila, muddled jalapeños, and fresh lime. Brunch (Sat, Sun), D daily $$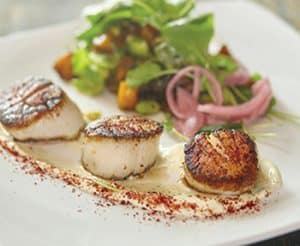 Root Down
1600 W. 33rd Ave.
303-993-4200
rootdowndenver.com
What was until recently an abandoned garage is now one of the best food spots in Denver. Perched on an off-the-beaten path Highlands location, Root Down is colorful inside and out but perhaps best defined by a single hue: green. This is one of the most sustainable restaurants I've ever encountered, from the reverse-osmosis water system to the local foods to the recycled materials throughout. Featuring a number of meat and vegetarian selections, the fare is healthy and utterly distinctive, from sliders made of veggies and Colorado lamb ($15–$17) to tofu panzanella ($24) to roast chicken with cucumber salad and tahini yogurt ($27). There is also a Root Down at Denver International Airport in Concourse C (rootdowndia.com). Brunch (F–Sun), D daily $–$$
River North (RiNo)
Acorn
3350 Brighton Blvd.
720-542-3721
denveracorn.com
At popular food hall the Source, Acorn was among the culinary pioneers in RiNo, the booming industrial-turned-hip art district northeast of downtown. The kitchen takes its cues from an eclectic array of culinary traditions, focusing on shareable small plates and a few creative entrées. Look for tantalizing bites like housemade gnocchi ($15.50), Wagyu beef tartare toast ($14.50), and coal-roasted beets ($14.50). L (M–Sat), D daily $$–$$$
Nocturne
1330 27th St.
303-295-3333
nocturnejazz.com
A supper club that pairs live jazz with delectable dishes and craft cocktails, Nocturne is a throwback. It's also one of the most creative dining establishments in Denver, with Cubano sandwiches ($17), rockfish ceviche ($16), and rotating selections from five-course menus inspired by classic albums like Radiohead's OK Computer and Sonny Rollins's Way Out West. D (Tue–Sat) $$–$$$
Uptown
SAME Café
2023 E. Colfax Ave.
720-530-6853
soallmayeat.org
There is perhaps no more remarkable values-oriented restaurant than the nonprofit SAME Café, which has no cash register: Customers pay donations of their own choosing for a healthy lunch from an ever-changing menu that often includes sweet corn risotto soup; eggplant, bacon, and parmesan pizza; and homemade fresh herb focaccia. The socially conscious proprietors are committed to alleviating hunger and promoting healthy eating for all. L (M–Sat) $
Watercourse Foods
837 E. 17th Ave.
303-832-7313
watercoursefoods.com
Serving a 100% vegan menu, Watercourse is a Denver institution. The bright and cheery space, bedecked with original art depicting rabbits and bison on an idyllic prairie, is perfect for the superlative food. Breakfast burritos are available with tofu ($12), the Croque Madame ($13) features shaved seitan, and there are also a few Mexican specialties like black bean tacos ($6). Besides the healthy and tasty vittles, what makes Watercourse a local favorite—whether that local is vegan or not—are its draft microbrews, bar and table seating, and a friendly tattooed staff. B, L, D daily $
Speer
Fruition
1313 E. 6th Ave.
303-831-1962
fruitionrestaurant.com
Alex Seidel has been on the front end of the farm-to-table charge since opening Fruition in 2010. He raises everything from bees to lamb at Fruition Farms in Larkspur, about 40 miles south of Denver, and sources a wide range of local produce. While the menus change by the month, Seidel lets the ingredients shine in dishes like seared scallops with sunchoke crema ($31), grilled pork chops with squash purée and quince marmalade ($31), and pan-roasted Icelandic cod with shrimp-stuffed squash blossom ($29). Seidel also makes superlative cheeses and other dairy products at his farm, and you will find plenty of them on the menu. Reservations recommended. D (Tue–Sun) $$–$$$
Mizuna
225 E. 7th Ave.
303-832-4778
mizunadenver.com
Mizuna is the apex of Frank Bonanno's ever-growing Denver restaurant empire, spanning no less than nine establishments. The small space turns out to be the perfect stage for some of the headiest fare in the West. He calls it "a food laboratory," and the menu—which changes monthly—reflects that ethos. A recent edition of the menu included Spanish octopus ($16), slow-roasted Alaskan halibut ($39), and an escargot tart ($17). The ambiance is romantic but simple with a "wine library" and an open kitchen. Reservations recommended. D (Tue–Sat) $$$
Baker
Cho77
42 S. Broadway
303-638-8179
cho77.com
After making his mark with ChoLon, Lon Symensma opened this casual restaurant two miles south of downtown on Broadway that focuses on Asian street food. Symensma drew from the food carts and markets of Thailand, Vietnam, and Singapore, crafting a lineup of salads, dumplings, buns, and bowls with an emphasis on freshness and flavor. L (Sat, Sun), D daily $$
Beatrice & Woodsley
38 S. Broadway
303-777-3505
beatriceandwoodsley.com
This is one of the most quirky and creative restaurants you are going to find, and the food is uniformly excellent. Aspen trees sprout from the floor in the front of the room as part of a wilderness-meets-city motif; the bathrooms are perplexingly camouflaged marvels of design; and the aesthetic is hyper-contemporary-meets-fun. The fare incorporates plenty of local and organic ingredients into inventive dishes like crawfish beignets ($12), braised pork shank ($35), and avocado salad ($13). The small plates, cocktails, and desserts are similarly superlative, worth a stop for happy hour or late at night. The wine list is short but excellent. Reservations recommended. Brunch (Sat, Sun), D daily $$–$$$
Cherry Creek
Elway's
2500 E. 1st Ave.
303-399-5353
elways.com
Former Denver Broncos quarterback John Elway worked wonders with a pigskin, but he also knows how to make a restaurant score with his eponymous Cherry Creek steakhouse. This is just the place to see and be seen, with a focus squarely on top-quality beef and fresh seafood as well as comfort foods like creamed corn ($9.50), brussels sprout hash ($10), and broccoli and cheese ($10.50). Beyond the flagship location in Cherry Creek, you'll also find an Elway's Downtown in the Ritz-Carlton Denver, 1881 Curtis St. (303-312-3107), as well as in Denver International Airport's Concourse B. L, D daily $$$
Platt Park
Sushi Den
1487 S. Pearl St.
303-777-0826
sushiden.net
Brothers Toshi and Yasu Kizaki are the masterminds behind the best sushi joint in the Mile High City, if not the West. The key is fresh fish, flown in daily from Fukuoka, Japan, complemented by fresh greens from the Den Farm north of the city. With these ingredients in hand, the chefs show off their skills with sushi, sashimi, tempura, and other Japanese dishes. Fish-averse types need not stay away, however: The menu includes short ribs ($16) and beef carpaccio ($14) for carnivores and vegetarian sushi for vegetarians. The Kizakis' Izakaya Den (izakayaden.net) next door is a contemporary spot that focuses on Asian-inspired small plates.
L (M–F), D daily $$–$$$
Morrison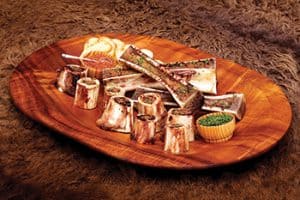 The Fort
19192 Highway 8
303-697-4771
thefort.com
The grande dame of Colorado's wild game restaurants, this replica of Bent's Fort near Red Rocks Amphitheatre in Morrison opened its doors in 1963 and has been on Denver's shortlist ever since. Known for elk, quail, and buffalo (the kitchen plates some 80,000 dishes of the latter annually), the Fort is a Colorado original, thanks in large part to the legacy of late founder Sam Arnold, whose vision still guides the menu today. Appetizers venture into uncharted territory of roast bison marrow bones ($18) and jalapeños escabèche stuffed with peanut butter ($6), and the game is matched by a number of beef, pork, and poultry dishes. Once dessert rolls around—if you still have room—the triple-layer chocolate chile bourbon cake ($7) is a spectacularly decadent closer. Reservations recommended. D daily $$$
---
A Good City for Green Chile
Green chile is a fiery-sweet stew made of chile peppers and other ingredients, often but not always including chunks of pork, tomato, and onion. Denver's restaurants serve bowl after bowl of good green chile, stuff that ranges from merely spicy to flat-out nuclear. If you have a serious weakness for a bowl of green (as I do), here are five hot spots in the Mile High City: