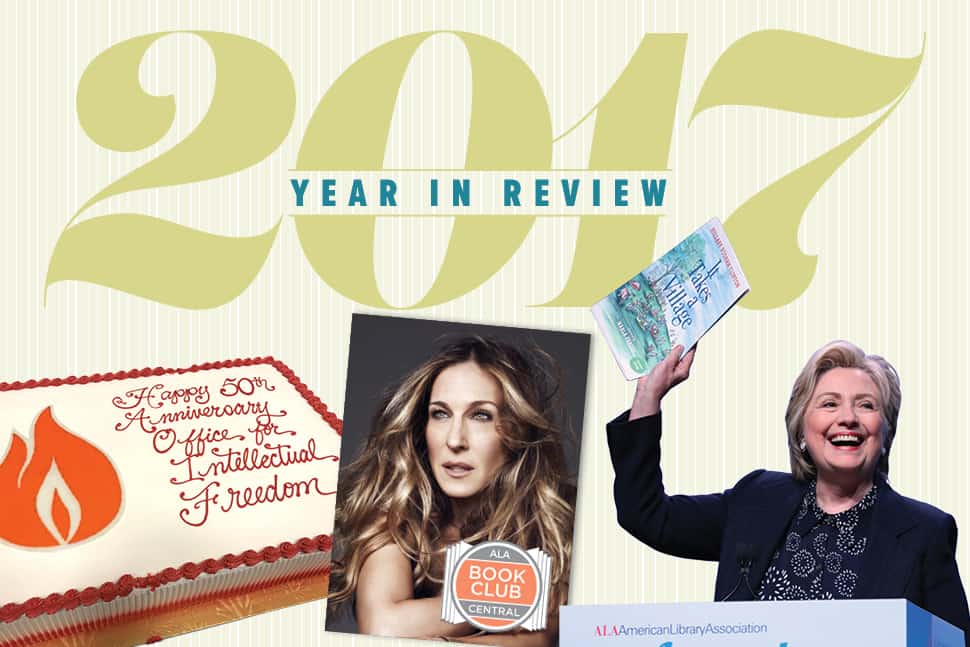 Saving Federal Funding
Thanks to extensive grassroots efforts by ALA members, in September the Senate Appropriations Committee approved an increase of $4 million in funding for the Institute of Museum and Library Services, all of which would go to the formula-based Grants to States program. The bill also included increased funding in FY2018 for a number of other library-related programs.
---
ALA Retirements
Keith Michael Fiels, ALA's executive director for more than 15 years, retired in July. The search for his successor continues. Emily Sheketoff, executive director of ALA's Washington Office, retired in May after 17 years with the Association. Kathi Kromer was appointed to replace her.
---
Deadly Hurricane Season Devastates Libraries
Hurricanes swept through the Southern US, Virgin Islands, and Puerto Rico, severely damaging public, school, special, and academic libraries. Hurricane Harvey forced several public libraries in Texas to close, Irma knocked out a branch in Daytona Beach, Florida, and Maria's barrage in Puerto Rico caused widespread flooding, damaging library buildings like the ones on the University of Puerto Rico campuses at Humacao and Bayamón (see p. 20). ALA's Disaster Relief Fund is assisting.
---
Dealing with Hate Speech
Incidents of anti-Muslim, anti-Semitic, and anti-immigrant threats in libraries are on the rise, especially in public and academic libraries. ALA's Office for Intellectual Freedom (OIF) logged 40 hate crime incidents between November 2016 and October 2017. A free workshop informing immigrants of their rights was canceled at Arlington Heights (Ill.) Library in September because of threats, while swastika graffiti was found in January 2017 at Northbrook (Ill.) Public Library and Melrose (Mass.) Public Library.
---
The Opioid Crisis
A recent spike in drug overdoses has put public libraries on the front lines of a national crisis. In just three years, deaths from fentanyl, a type of opioid, have risen 540% in the United States, and the epidemic is expected to worsen. As a result, library workers are contending with discarded needles, drug use within facilities, and overdoses and fatalities. Many are making Narcan—a drug that reverses the effects of opiate overdose—available and are training staff in its use.
---
Fighting Fake News
"Fake news" brought media literacy into the national conversation, and libraries embraced this teachable moment. ALA's Public Programs Office and the Center for News Literacy partnered to train public librarians to teach adults news literacy through Media Literacy @ Your Library, which also aims to create an online learning series in 2018.
---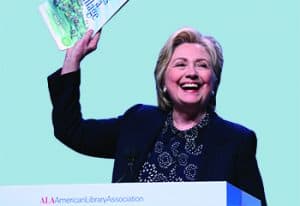 Hillary Clinton at Annual
An estimated 3,200 people packed Chicago's McCormick Place to hear former Secretary of State Hillary Rodham Clinton deliver the closing speech at the ALA Annual Conference and Exhibition. Clinton touched on topics from fake news to literacy to censorship. She told attendees, "Libraries and democracy go hand in hand."
---
The Trial of the "Laughing Librarian"
Desirée Fairooz, a children's librarian turned Code Pink activist, faced jail time and fines after her arrest at the January confirmation hearing of Attorney General Jeff Sessions. She was found guilty on May 3 of disorderly and disruptive conduct, and obstructing and impeding passage on US Capitol grounds, but the judge declared a mistrial at sentencing in July. A new trial was expected to begin in November.
---
ALA Opposes Trump Rules
ALA stood in opposition to the Trump administration's announcement that it will end the Deferred Action to Childhood Arrivals program, which protects nearly 800,000 undocumented youth from deportation. The Association also rebuked the Trump's decision to revoke important protections for transgender students, affirming that it will not hold ALA meetings in states where "bathroom bills" have been passed.
---
Gun Violence and Libraries
ALA Council passed the Resolution on Gun Violence Affecting Libraries, Library Workers, and Library Patrons at the 2017 Midwinter Meeting in Atlanta. The ALA Library launched a LibGuide called Gun Violence and Libraries in June, with links to resources, statistics, laws, and policies. But gun violence hit the library community on August 28, when Clovis-Carver (N.Mex.) Public Library Youth Services Librarian Krissie Carter and Circulation Assistant Wanda Walters were killed and four others were injured when a teenaged assailant shot them in an apparently random act of violence.
---
Sexual Harassment in Libraries
The number of respondents who said they have experienced on-the-job sexual harassment, according to a 2017 survey of 173 librarians, conducted by Katie McLain and Amanda Civitello. McLain is reference assistant at Waukegan (Ill.) Public Library and Civitello is marketing and communications manager there. Most of the respondents identified as female and as working in public libraries.
---
Happy Birthday, Harry!
On June 26, libraries everywhere celebrated the 20th anniversary of Harry Potter and the Philosopher's Stone—the first book in J. K. Rowling's megahit series—with themed parties, exhibits, and activities such as Quidditch games, scavenger hunts, and potions classes.
---
OIF Turns 50
December marked 50 years since ALA established OIF to help champion free speech and combat censorship.
---
Book Club Central Debuts
Honorary chair Sarah Jessica Parker kicked off Book Club Central at the ALA Annual Conference and Exhibition in Chicago. Created in partnership between ALA, Booklist, and United for Libraries, Book Club Central provides reading resources—recommendations, expert book lists, author interviews, and other content—to support book clubs and their readers.
---
Dark Sky Brightens Libraries
August 21 marked the first time since 1918 that a total solar eclipse passed over the US from coast to coast. Libraries celebrated the cosmic event by hosting NASA-sponsored fairs and outer-space-themed educational programs.