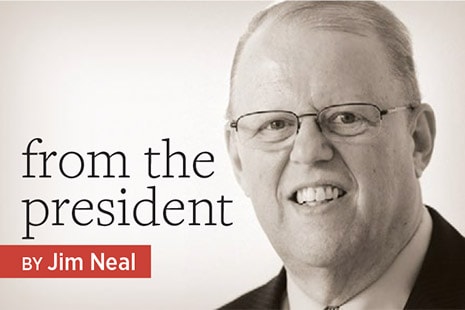 Libraries constitute an ecology of educational, research, and community services. In this environment of inter­dependency, we, as a family of libraries, must embrace advocacy for school libraries as foundational to the success of our collective work for students who love to read, as we prepare them for college, career, and life.
We must all fight the closing of school libraries, the reductions in professional staffing, the erosion of budgets for resources and technology, and the consequent weakening of the librarian–teacher partnership in the classroom. We must advocate for the federal funding that supports network access in schools. We must continue to document and demonstrate the powerful link between student success, educational enrichment, and well-supported school libraries.
We all want students who know how to look for information, evaluate sources, organize research results, present ideas and conclusions, and document their work. These are lifelong skills. They strengthen communities and promote civic engagement. They enrich lives. They transform learning. They enable public libraries and academic libraries to be more effective.
School libraries are about reading and understanding, about critical thinking and problem solving. They are about research and writing, the ability to evaluate sources, and the exploration of diverse perspectives and experiences.
School libraries are about active learning, the ability to analyze, synthesize, and work collaboratively. They are about information skills in context and about a shared information vocabulary. They are about working online, using technology appropriately, and making good choices.
School libraries are about innovative technologies and creative spaces. Through school libraries, students understand issues like privacy, confidentiality, intellectual freedom, open access, fair use, and how these relate to their work as learners. Students view libraries as a positive and essential part of their lives.
The American Library Association's American Association of School Librarians (AASL) National School Library Standards for Learners, School Librarians, and School Libraries provides integrated frameworks essential to these and other core competencies. The Common Beliefs are:
The school library is a unique and essential part of a learning community.
Qualified school librarians lead effective school libraries.
Learners should be prepared for college, career, and life.
Reading is the core of personal and academic competency.
Intellectual freedom is every learner's right.
Information technologies must be appropriately integrated and equitably available.
Steven Yates, 2017–2018 AASL president, in his January/February column for AASL's journal Knowledge Quest, calls for expanded and robust collaboration to advance and enrich the work of school libraries, including strengthening relationships with other ALA divisions that work with children and youth, as well as working more closely with the ALA Washington Office. As Yates writes, "these partnerships are built on the belief that we can change the world every day."
I propose to convene a meeting in Chicago of representatives from across the school, public, and academic library communities, as well as teachers, school administrators, and students. The focus will be on the state of school libraries, the work to demonstrate value and impact, and an outline to expand strategy that builds community-wide articulation, investment, and advocacy.
I am interested in your comments. ­Contact me at jneal0@columbia.edu.