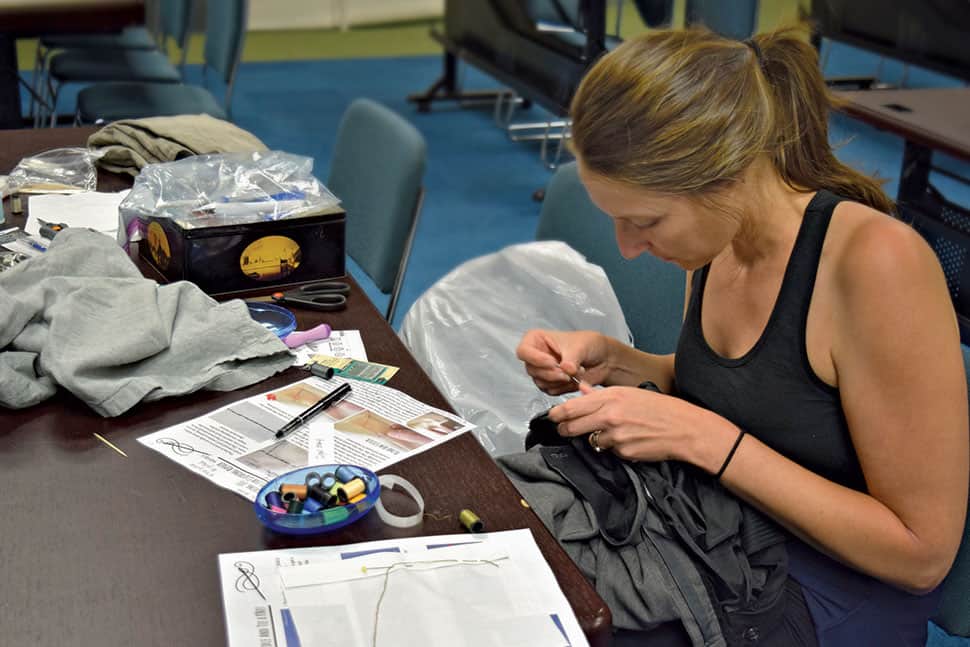 When Teresa Lucas decided to teach basic life skills to young adults via an "Adulting 101" library program series last year, she was not expecting a media onslaught. But that's what she got.
"We had tens of thousands of Facebook hits, of calls, of emails. It was crazy," says Lucas, who is assistant director of library services at North Bend (Oreg.) Public Library (NBPL). "Other libraries were saying: 'Oh, tell me more, tell me more!' At one point, I could barely keep up."
The frenzy reached its zenith on March 29, when Kelly Ripa, cohost of the nationally syndicated morning talk show Live with Kelly (now Live with Kelly and Ryan), said to much applause from the live audience, "They should offer this everywhere, not just at the North Bend Public Library."
The good news for Ripa and those who agree with her: NBPL is just one of many that have launched classes aimed at teaching young adults how to balance a checkbook, cook a meal, sew on a button, shop for auto insurance, and perform other necessities of life. Libraries in Birmingham, Alabama; Bozeman, Montana; Los Angeles; New York City; Pittsburgh; Tucson, Arizona, and many other locations are offering these classes, which vary in their content but which are almost always marketed as Adulting 101 or a variant thereof.
Lucas herself got the idea for an Adulting 101 series after seeing the concept pop up on several Facebook library programming groups. "I used to work in the school district, and I know all about teaching to the test," she says. "I know kids miss a lot of things that are important to real-life experience."
Lucas partnered with another staffer, library assistant Clara Piazzola, to create a monthly series of six programs focused on cooking, finances, job hunting, news literacy, apartment living, and miscellaneous topics such as cleaning an oven and checking engine oil. Expenses were virtually zero: "For the first one [on cooking], we went to the dollar store and bought aluminum foil, tortillas, cheese, and PAM cooking spray. I think we spent $4," Lucas says. She and Piazzola taught nearly all the classes themselves, except for the session on finances, which a local banker volunteered to teach.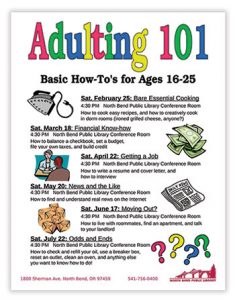 Though the series was advertised for ages 16–25, most of the 20-some people who attended were teenagers and their parents. That doesn't bother Lucas, but she does wish that attendance numbers better reflected the media enthusiasm the series received. In hindsight, she says she would have held the classes at a different time and perhaps in a different location.
"It was on a Saturday, and oftentimes teens don't want to give up their Saturdays, especially to learn something," she says. "And our library is not near the school; kids have to make a big effort to get here."
Another library that offered an Adulting 101 series—Forsyth County Public Library (FCPL) in Cumming, Georgia—had some surprises as well. Information Specialist Jennifer Forbes got the idea for the program after hearing "a lot of people complain that they didn't learn how to do this in school, or their parents didn't show them, or they didn't have a good relationship with their parents, or they were in foster care and didn't have anybody available to show them," she says. "So I thought anyone who missed out on some of this might benefit."
Attendance was high—but while Forbes had aimed the series at adults 18–30, she found that most of the attendees were either teenagers or older adults, even senior citizens. "One of the older adults was a widower who said that his wife had done some of these things," such as sewing, couponing, and meal planning, she says. "After she passed away, he wasn't 100% sure how to do all of them, so he was learning as well, and he felt comfortable enough to come and learn with the younger people."
FCPL's Adulting 101 series ran once a month last year from January to May and again from September to December. The most popular topics were health insurance, résumé/interview skills, and car maintenance and buying. A few attendees came to more than one program, but most people "picked what they needed to know and came to it," says Forbes. The least-attended program was the one on meal planning, though she's not sure if that's because of the topic or because it was held in holiday-heavy December.
Like its counterpart in North Bend, FCPL incurred minimal costs for Adulting 101. Local community members volunteered their time to teach, and few supplies were needed, apart from needles, thread, and hemming tape for the program on sewing basics. ("I actually went to that class myself and learned some stuff," Forbes says.)
In a time when millennials are often depicted as annoyingly helpless, did Lucas or Forbes encounter any resistance to the notion of teaching basic life skills to young adults?
"Oh, of course, because people don't like change," Lucas says. "But nobody was really against it. They just thought these things should have been taught in school or at home."
In contrast, Forbes says, she encountered no resistance at all. In fact, at her then-supervisor's suggestion, she offered an additional series as well: Retirement 101.