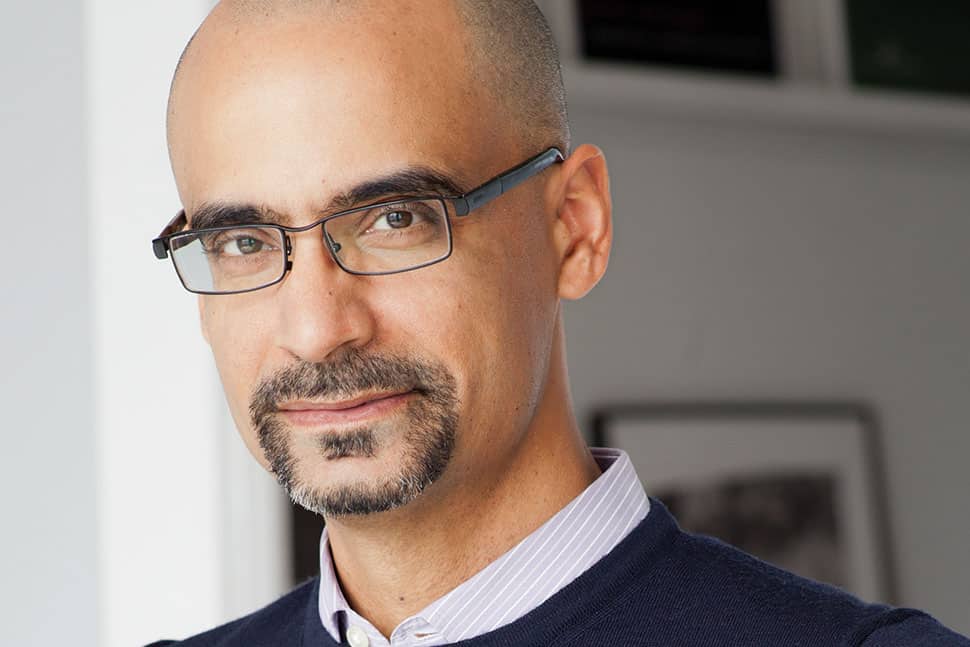 Junot Díaz, the Pulitzer Prize–winning author of The Brief Wondrous Life of Oscar Wao (Riverhead Books, 2007), has focused his unique storytelling gifts on a younger audience with his first picture book for kids, Islandborn (Dial Books, 2018). The story of a young girl from the Dominican Republic living in the US who interviews her neighbors about life in their home country, Islandborn finds Díaz exploring themes that run through his previous work—the immigrant experience, confronting fears, an embrace of life—through a child's eyes. American Libraries spoke with Díaz in February at the 2018 Midwinter Meeting & Exhibits in Denver about his new book and the role of libraries in his life.
Islandborn is your first book for kids. What was its inspiration? There were multiple inspirations. A lot of it was being a writer with godchildren, nephews, and nieces always saying, "Hey, will you write us a story?" And knowing that I should write them a story, because when I was growing up a kid of color in this country there was so little for us. There's more now, thank God, but still not enough. I also wanted to write something about what it means to come from families that survive horrors like dictatorship, and how those stories can be approached by children.

This book is full of energy, light, and music. But you don't shy away from darkness. Though not explicitly stated, the monster in the book appears to be a reference to former Dominican Republic dictator Rafael Trujillo. Was it important to depict an unvarnished reality for kids? I think anyone who works in this field has talked endlessly about how aware children are of the toughness of life. So for me, I just kind of jumped on the bandwagon of all these artists and writers who are being honest about what children already know best—that the world is tough—and try to do it in a way that keeps the magic alive and doesn't make a person reading the book feel more scared by encountering this scary monster. By the end, the point is to leave kids feeling more empowered and less scared. That's hopefully the trick inside the book. The little fear I induce reduces the greater fear of being a child.
The main character's life parallels the lives of hundreds of thousands of immigrant children in the US right now. Was writing this book an effort to reach those kids and let them know they're not alone? Yeah, it's a climate of anti-immigrant racism and rampant xenophobia. And I experienced that when I was a young person. It's not as if the current climate is an out-of-nowhere phenomenon. Of course, I wanted to speak to my experience and offer my take as a way for young people who've shared similar experiences to find themselves. But the book also offers somewhat of a methodology for young people. How do we think about living in two worlds? How do we think about dealing with secrets and silences that not even our parents want to face? A lot of young people come out of histories like mine where our parents were keeping silent, and we knew the silence was there but we couldn't figure out a way to approach it. Our parents weren't interested in talking about it. So in some ways Islandborn is a way of bearing witness. I think that's very important for children with backgrounds like mine.
You've spoken and written at length about the importance of the library in your life growing up as an immigrant. What role does the library play in your life now? I would say, "What role doesn't the library play in my life?" I've spent the last 14 years living exactly one block and some feet from the largest public library in our city. And I don't think that's an accident, given the fact that I had to walk so far to get to the library as a kid. If I had my druthers, I would be buried in a library or inside a coffin that resembled one—that's how I feel about them. I continue to patronize my local library; I continue to rely heavily on my university library. My librarians are partners in my art and will continue to be so.