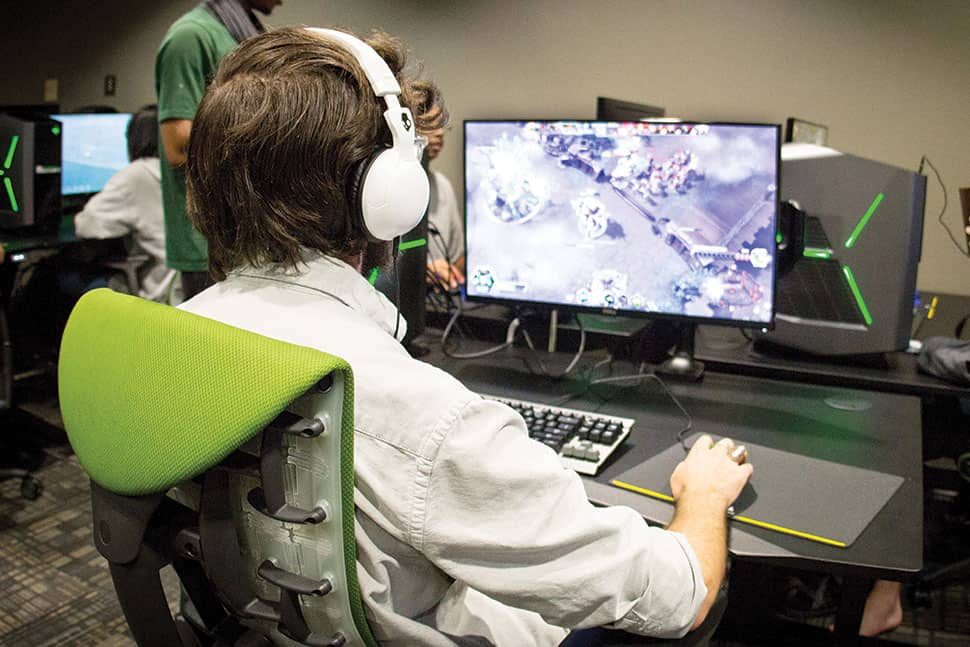 Online videogames and libraries: They might not seem like an obvious match. But public and university libraries are attracting a new generation of patrons and students by getting into the e-sports game.
The biggest competitions in the world of e-sports—of which the most popular include League of Legends, Super Smash Bros., and Overwatch—fetch top players millions of dollars in prizes, and in 2017 the industry is estimated to have earned $696 million in revenue. Universities across the country have established e-sports teams, and some of the top programs have partnered with libraries to create spaces for gamers.
Miami University in Oxford, Ohio, spent more than $100,000 on its new e-sports arena, located in the university's King Library, and University of North Texas (UNT), in Denton, opened e-sports facilities at two different campus libraries in 2017 at a cost of some $200,000.
A handful of public libraries also have taken notice of the online gaming trend, holding competitions and even setting up state-of-the-art computers with enough processing power to meet the needs of serious players.
Librarians and administrators say the gaming events are exposing new patrons to the library at the local level and getting university students out of dorm rooms and socializing.
Higher ed and e-sports
Diane Robson, a librarian at UNT Media Library and faculty advisor to the university's e-sports student group, says the school opened its two facilities, known as the Nests, in the late summer and fall of 2017. The main Nest, located at UNT Media Library, is equipped with 21 Dell Alienware Aurora VR-capable gaming PCs, while its smaller Nest at its Discovery Park Library has six more.
Robson says she gets "a lot of naysayers about games" but that student retention is the main motivation for e-sports at UNT.
"The university is not just a school; we have a lot of kids living in the dorms, so we want them to have a full life," she says. "Games are a part of that. Most universities are doing things to get (students) out and engaged and not hiding in their rooms." Recent studies have found that millennials are increasingly spending more time at home than previous generations. Streaming television and smartphone entertainment is slowly replacing real-life interaction with other people.
The e-sports program is a collaboration between the university library and UNT's student affairs and recreational sports departments.
Although the spaces were created at the request of members of UNT's e-sports student group for tournaments and practice, the Nests can be reserved by any student. That's one of the biggest differences between UNT's Nests and Miami University's e-sports arena, which is dedicated to the e-sports team.
Jerome U. Conley, dean and university librarian for Miami University Libraries, says he had never heard of e-sports a year and a half ago when he was approached by Glenn Platt, director of the university's Armstrong Institute for Interactive Media Studies, to establish the arena.
The space includes 16 computers, large screens around the perimeter of the room where games are broadcast, and gaming furniture in the school colors of red and black. "It looks like a set from Star Wars or Star Trek to some degree," Conley says.
He explains that gaming design is offered as a major at Miami University, and the facility is viewed more as a recruitment tool for prospective students than as a social outlet.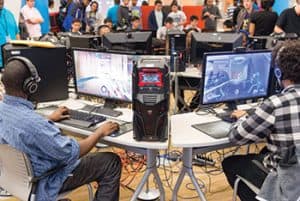 The arena, which Conley says cost the school "just over six figures," is prominently located on the first floor of the library, while the older gaming lab is located in the library's basement.
"We felt it was a good use of this space," he says, adding, "So far, it's knocking it out of the park in terms of usage."
Public libraries embrace gaming
University libraries with big budgets are not the only institutions embracing e-sports; public library systems are beginning to see the advantage online gaming brings in attracting patrons.
Perhaps the most sophisticated e-sports program in the country can be found at Cleveland Public Library (CPL), where users have access to 15 powerful computers equipped for online gaming and 15 game consoles by Nintendo, PlayStation, and Xbox.
Tristan Wheeler, the system's audiovisual and event planning specialist, says CPL has provided gaming consoles at the library for years but took the program to the next level last year with an internal grant of $4,800, which was used to purchase the first five PCs.
E-sports tournaments, which are now held six times a year at CPL, can draw as many as 200 patrons, Wheeler says.
"One of the aspects of our strategic plan was to allow Cleveland [residents] to reach out to outside cultures," he says. The e-sports events fulfill that by attracting a broad cross section of patrons of different ages, races, genders, and socioeconomic standing, Wheeler says. "It services a demographic that doesn't frequent the library; they're not necessarily able to afford PCs at home because they do cost so much money," he says.
Requests from young patrons have driven the e-sports program at East Brunswick (N.J.) Public Library, according to the system's teen librarian Jessica Schneider.
"I'm not a gamer at all," she says, adding that she was convinced by one of the library's information technology workers to install the popular game League of Legends on the teen space computers in 2013.
She says interest in e-sports ebbs and flows at the library, depending on the enthusiasm of young patrons. "I only do [e-sports tournaments] if I have a teen volunteer who wants to run them," Schneider says, noting that a couple of kids have recently asked the library to host one.
Unlike Cleveland's program, the East Brunswick e-sports program costs next to nothing, according to Schneider. Tournaments are hosted after hours at the library, where teens pay $5 for a seat at one of the library's 44 computers. The funds cover the cost of pizza, snacks, and prizes, she says.
Libraries interested in holding their own e-sports tournaments should make sure their computers have the most updated software to avoid lag times during the games, she suggests.
"After running into that problem a couple of times, we figured it out, and now IT makes sure to update the games overnight," Schneider says.