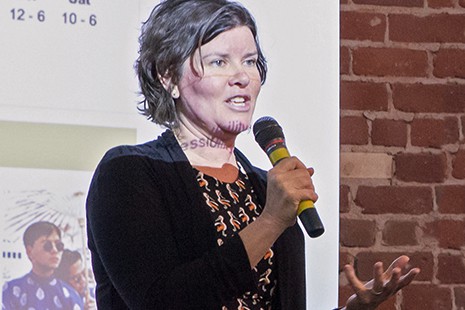 Merrilee Proffitt is senior program officer at OCLC Research. Among her projects is helping cultural heritage institutions develop better relationships with Wikipedia. Proffitt started exploring the connection between Wikipedia and libraries in 2011, and in 2012, she created OCLC's Wikipedian-in-Residence program. Her book, Leveraging Wikipedia: Connecting Communities of Knowledge (ALA Editions, 2018), was excerpted in the May 2018 issue of American Libraries. She spoke with AL about the book and its inspiration.
What made you want to work on this book?
I have been passionate about the links between Wikipedia and libraries for a long time. I have been editing Wikipedia pages since 2005 and deeply engaged with its community since 2012. Because of my day job, I could see so many possibilities for librarians to connect and contribute to Wikipedia. When I was approached by Patrick Hogan from ALA Editions about submitting a book proposal, I must have talked for 30 minutes straight about all the ways that librarians could find relevance with Wikipedia. I'm grateful he stuck with me after that conversation!
Why would American Library Association (ALA) members find it helpful?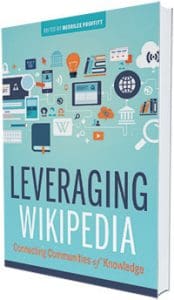 For some people, Wikipedia is mysterious. They see only the main space or the articles and don't notice the article history, the talk page, and the edit button that is there for everyone to use. But behind those things, there is a culture and ethos that matches the values that librarians hold dear. The vision statement of the Wikimedia Foundation is: "Imagine a world in which every single human being can freely share in the sum of all knowledge." That could be a tagline for librarians.
As my book illustrates, there is no one-size-fits-all model for participating with Wikimedia. For almost any ALA member, I would argue that engaging with Wikipedia, Wikidata, or Wikimedia Commons is aligned with their brand of librarianship.
What is the most surprising thing you discovered while working on this book?
I've worked almost exclusively with research libraries, so I was unaware of the Wikipedia-related activities in public libraries. Public libraries are amazing and do such innovative work, so I shouldn't have been surprised. My colleague Monika Sengul-Jones, a Wikipedian-in-Residence with OCLC's Wikipedia + Libraries: Better Together project, uncovered many public librarians who are working with Wikipedia. Her chapter in the book scratches the surface even more.
What are you reading now?
For a journal club at work, I've been reading, "On Not Looking: Economies of Visuality in Digital Museums," a chapter by Kimberly Christen in The International Handbooks of Museum Studies (John Wiley & Sons Limited, 2015). For a book club, I'm supposed to be reading Station Eleven (Knopf Doubleday Publishing Group, 2015) by Emily St. John Mandel.
What is your next project?
There's always a next project at OCLC Research. I am wrapping a survey on innovation and priorities for research libraries in Europe and hope to launch similar surveys in other parts of the world. I am also helping to plan meetings for the OCLC Research Library Partnership. There is potential for a follow up to Leveraging Wikipedia. The book doesn't really cover Wikimedia Commons or Wikisource, and it barely touches Wikidata. We will be reading more and more about Wikidata in the future. How librarians will make use of and contribute to that growing resource excites me.