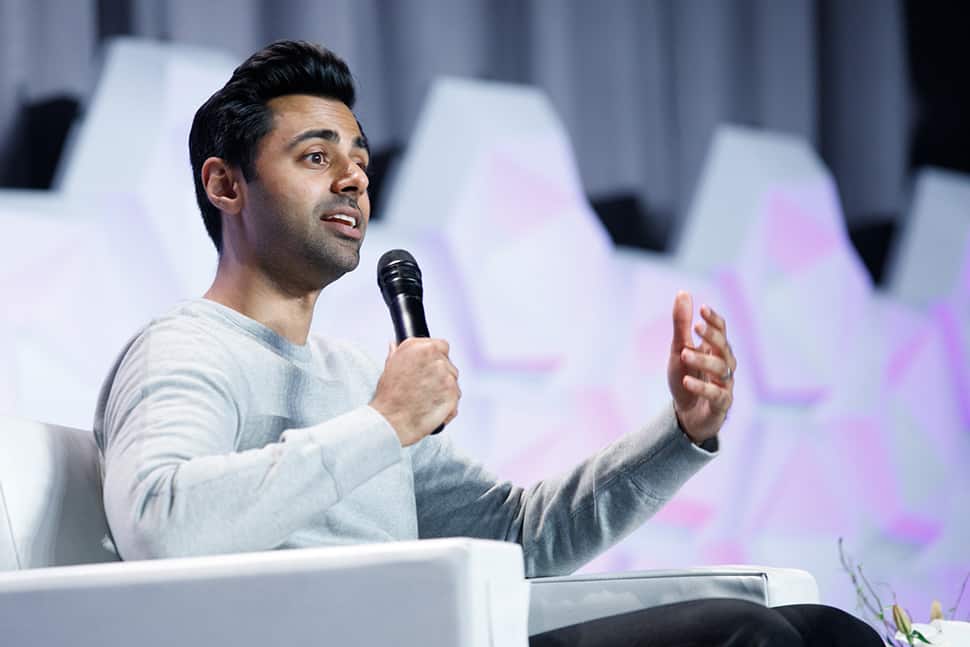 Comedian, actor, host, writer, and self-described "fake journalist" Hasan Minhaj is about to get even busier. Known for his correspondence work on The Daily Show with Trevor Noah and his comedy special Homecoming King, he's currently developing his own talk show for Netflix. American Libraries caught up with the multithreat Minhaj after his Closing Session speech at the Public Library Association Conference in Philadelphia in March.
You share some intensely personal experiences in Homecoming King about being the child of an immigrant. Was it hard deciding what to codify into comedy?
In a comedy special you have only 70 minutes, so a lot of times you're working with coffee and you need to boil it down to comedy espresso. I'm trying to explain what the immigrant experience is. I need to pick the perfect touchstones that I feel have shaped who I am and have shaped a lot of people and what they've been through. It was really tough.
When you hosted the White House Correspondents Dinner last year, you put considerable emphasis on the First Amendment and holding journalists accountable. Do you see librarians having a role in protecting speech and truth?
Librarians are such a great catalyst to [a person] learning and understanding the world. One of the things I love the most about libraries is that they're a place where information is free, which I think is a fundamental human right. Information should never have a paywall.
What role have libraries played in your life?
My parents brought me there because they worked a lot. The library was a safe place where they knew that I would be okay. It was a place where I was left to discover whatever I wanted.
In a weird way, my experiences at the library are similar to what I'm trying to do with comedy. You're in this information universe, and you don't realize you're learning because it's so fun. Maybe it adds something of value to your life or adds a perspective that you didn't consider before. That was something that I hope continues to be around for my children.
Are there any books or authors that have changed your way of thinking?
Junot Díaz was one. When I read The Brief Wondrous Life of Oscar Wao, that was a book for me that was like, man, specificity is okay. People will follow you and go with you on that journey. It also taught me that you shouldn't insult your audience. Don't think that they won't get it, because they're a lot smarter than you think.
Congratulations on your new Netflix talk show. Could you tell us what the format might look like?
The model that we live in is: When you do monologue jokes, those exist as a standing monologue. If you do a deep dive, you have to do it at a desk. When you do an interview, you have to sit in two chairs across from each other. Most late-night shows, it's either all desk or all Anthony Bourdain. What if it was all together?
I really want a new visual language and narrative tool. With data visualization, facts, or numbers, you kind of have to keep those out because it's too boring or it's too TED talk-y. But to me, those things matter. What if we could integrate it in such a way that it works and it translates? It's figuring out how to go information fracking, and then disseminating that information. How do I talk about these heavy issues, like refugees or criminal justice reform, that are nuanced and significantly deep?
We'd be remiss if we didn't ask on behalf of librarians: Do you have any plans to write a book?

It's something I definitely want to do at some point in my career. There are two avenues of artistic expression that I want to get into: one is writing a book, and the other is film. Both of those things live on for a really, really long time and can be revisited constantly. That's pretty powerful.