Four libraries have been awarded the 2018 American Library Association (ALA) Presidential Citation for Innovative International Library Projects. Presented by the International Relations Round Table (IRRT), the awards recognize services and projects that draw attention to the potential for library services to create positive change, demonstrate sustainability, and provide a model for others. The winners are:
Canadian Women for Women in Afghanistan, Canada
La Biblioteca Móvil, Guatemala
Suzhou Library, China
Inner Mongolia Library, China
The recipients were selected by a team of IRRT members in consultation with then–ALA President Jim Neal, who recognized them at the 2018 ALA Annual Conference and Exhibition in New Orleans during the IRRT International Librarians Reception on June 25.
The ALA Presidential Citation for Innovative International Library projects began as an initiative of 2007–2008 ALA President Loriene Roy. IRRT is an ALA round table with a mission to develop the interests of librarians in activities and problems in the field of international library relations.
Darakht-e Danesh Library
Canadian Women for Women in Afghanistan, Canada
The Darakht-e Danesh Library (DDL), launched in 2014 by the nonprofit Canadian Women for Women in Afghanistan, is an online repository of open access resources in English and local Afghan languages for Afghan educators, teacher trainers, literacy workers, and anyone working to support literacy and education in Afghanistan. DDL is currently being used in 300 schools across Afghanistan. The project is being recognized for:
creating a sustainable model of collaboration between a nongovernmental organization, librarians, volunteers, and teachers that can be replicated by other libraries
providing visibility to the project through its website
participating in the Open Education Global Conferences
raising the educational and ­literacy level of Afghan youth and adults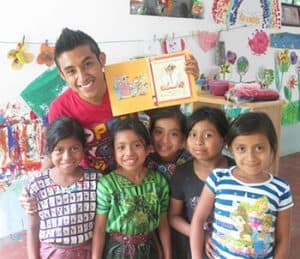 La Puerta Abierta Library and Learning Center
La Biblioteca Móvil, Guatemala
La Biblioteca Móvil (The Traveling Library) created La Puerta Abierta (The Open Door) Library and Learning Center as an outreach project in which a traveling librarian visits eight middle and high schools and a community center for the elderly in the Santiago Atitlán area of Sololá, Guatemala, on a weekly basis. The project is being recognized for:
promoting excitement about reading to children in areas with limited resources
offering a variety of books with longer loan periods and weekly classroom interactions with a librarian
providing training to teachers on how to incorporate literacy education into their curricula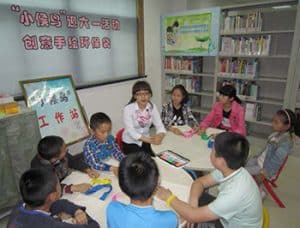 Little Migratory Birds Project
Suzhou Library, China
The Little Migratory Birds project, implemented in 2010 by Suzhou Library in cooperation with the town of Tongjing, aims to help the children of migrant workers living in the area by creating a positive environment where they can read, learn, and enjoy a sense of shared community. The project is being recognized for:
serving as a model for Chinese public libraries to expand services to populations with social and economic disadvantages
understanding the special needs of migrant children and their families and sustaining a project that serves a  dynamic population
working strategically with community centers to develop educational and cultural programs
Digital Culture Enters Mongolian Yurts
Inner Mongolia Library, China
Inner Mongolia Library's Digital Culture Enters Mongolian Yurts project was implemented in 2012 to help farmers and herdsmen in Inner Mongolia access the internet. The library built a network of digital service stations that connects people in remote areas to Wi-Fi using a three-tier relay system. The project is being recognized for:
providing online services to different generations, including young people eager to learn and use skills to improve themselves and their families
inspiring others and serving as a model for innovative digital services in China •