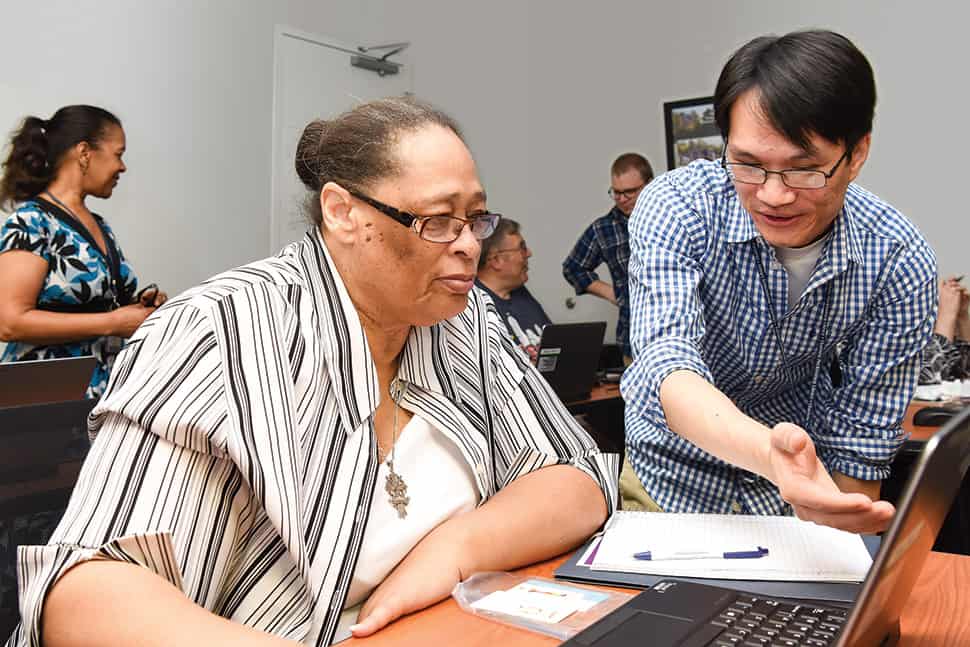 Libraries have long been on the front lines of the digital divide—the gap between those who have reliable access to high-speed internet and devices and those who do not. Now to help solve an old problem, many libraries are trying a new approach: forming alliances with public and private organizations to spur resource sharing and innovative programming.
In San Antonio, residents of affluent neighborhoods are four times more likely to have broadband access than residents of low-income neighborhoods. "There's definitely a need in the community," says Candelaria Mendoza, library services administrator at San Antonio Public Library (SAPL). "We understand it's not just about having the internet but having internet that's fast enough to achieve what you're trying to achieve."
The library recently became a founding member of the Digital Inclusion Alliance of San Antonio. Following the National Digital Inclusion Alliance's approach, SAPL plans to bridge inequities by providing devices, digital literacy training, and access to the internet at home. The goal is to help individuals and low-income populations with lower levels of literacy.
Through San Antonio's alliance, which adopted a strategic plan and framework in August 2017, the library has worked with such entities as the San Antonio Housing Authority (SAHA) and Goodwill Industries to further its inclusion goals. For instance, the library and SAHA collaborate on the Digital Literacy Passport program to offer computer training at SAPL and SAHA locations. Participants who complete seven classes—on such topics as email basics and Microsoft Word—are then eligible to receive refurbished digital devices provided by Goodwill. In tandem, SAHA has partnered with Sprint to bring Wi-Fi hotspots to some of the city's low-income high school students.
"These students now have the ability to keep up with their homework, improve their grades, and meet their educational goals," Mendoza says. "It was amazing to collaborate with other organizations to make a strong impact on these students' lives."
She recommends libraries look for stakeholders that currently align with the mission of digital inclusion and are "passionate about statistics and research, that can help articulate … what it is you're trying to accomplish."
It's not just about having the internet, but having internet that's fast enough to achieve what you're trying to achieve. Candelaria Mendoza, library services administrator at San Antonio Public Library
Kansas City (Mo.) Public Library (KCPL) has a head start in learning some of these lessons. The Kansas City Coalition for Digital Inclusion began with a small group of stakeholders, including library staffers, in 2012—the same year a Google study determined that 25% of Kansas City homes didn't have broadband. Today the coalition has more than 100 partners and participants, including city leaders, nonprofits, school and college administrators, and neighborhood groups.
"We've found there are many groups doing pieces of this work, but building connections and relationships leads to partnership programs that lift up the community," says Carrie Coogan, deputy director for public affairs and community engagement at KCPL.
The coalition has held two community-wide, daylong summits, as well as two Digital Inclusion Awareness days, where residents were invited to sign up for low-cost internet, computer classes, and affordable computers. KCPL is also working with the city's Parks and Recreation Department to provide ongoing computer classes and one-on-one tutoring.
Developing a core team of volunteers and designing programs that are engaging and relevant to patrons is important, says Coogan. She notes that surveys and community conversations can prompt ideas.
Dana Eure, associate director of lifelong learning at Charlotte Mecklenburg (N.C.) Library (CML), suggests looking for a library's natural partners—schools, senior centers, housing authorities, and workforce development organizations—to amplify your message and avoid duplicating efforts.
"Working together to find a solution to the problem extends resources in a way that one organization generally can't alone," Eure says.
Charlotte Digital Inclusion Alliance, of which CML became a founding member in 2015, aims to shrink the county's digital divide from 19% to 9% by 2026. In service to this goal, the Nonprofit Technology Network, with funding from Google Fiber and the nonprofit Knight Foundation, provided the library with digital inclusion fellows in 2015–2016 who helped develop its curriculum, recruit volunteers, and find partners.
Using Project Outcome, the Public Library Association's performance measurement toolkit, CML found it is heading in the right direction. This year the library scored a 4.6 out of 5 in positive responses for digital learning, compared with the state and national average of 4.5.
"Digital inclusion must continue to evolve, even as technology advances," says KCPL's Coogan. What her library and other coalition-builders have in common is their willingness to learn from partners, to find others as passionate about the issue as they are, and to balance short-term needs with long-term goals.
"We all need to care about and understand this issue," Coogan says. "It affects all of us, and it's not going away."