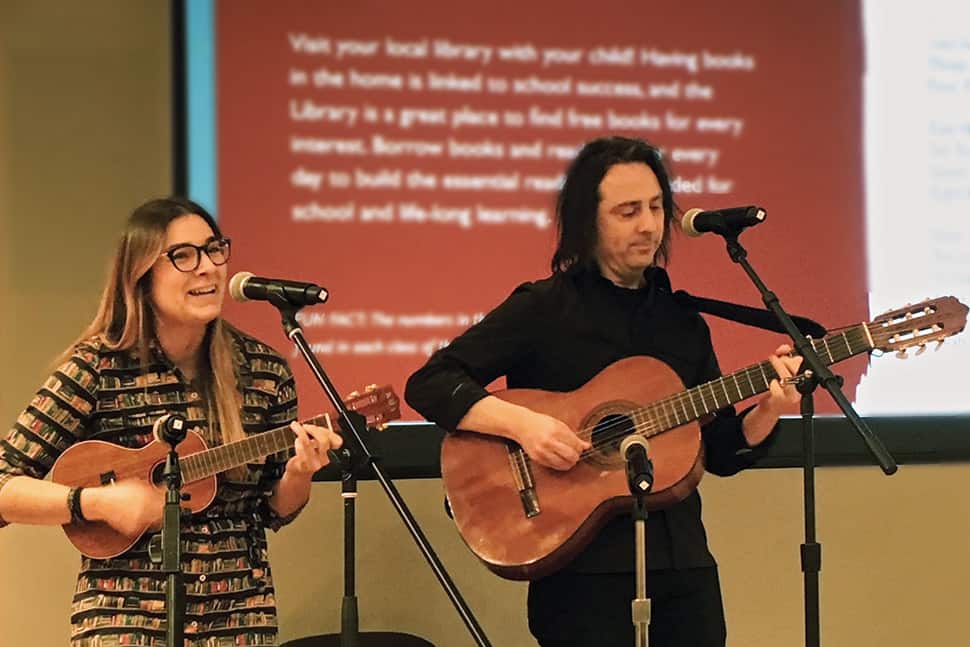 More than 40 current and former New York Public Library staffers and their friends helped create NYPL Sings! Songs for Our Children, an album that has found a ready audience in fellow librarians, early childhood educators, parents, and kids. Here, three of the album's chief contributors explain how this project came to be.
When New York Public Library (NYPL) solicited suggestions for its annual Innovation Project—which finances programming and ideas generated by library staffers and which is made possible with funding from the Charles H. Revson Foundation—Emily Elizabeth Lazio, then a children's librarian at Tompkins Square branch, envisioned tapping the multiple talents of NYPL staffers to make an original album of children's songs.
The idea came about after Lazio made a guest appearance on NYPL's podcast, The Librarian Is In, during which she performed "Grandpa's Farm," a children's song she wrote in tribute to her grandfather. She soon discovered that many of her colleagues at the library had similar musical tendencies.
Lazio's idea won support from the Innovation Project. As word got out about this fun endeavor, Maggie Jacobs, NYPL director of educational programs, asked to integrate the album into the library's Early Literacy initiative. Through its early literacy programming, NYPL encourages adults to engage in developmentally supportive activities with their children to successfully boost them into school. The educational programming team worked with Lazio to develop the project as a concept album in which each song represents a different practice that a caregiver can use to increase a child's curiosity, creativity, and comprehension. For example, among the songs on the album are "I Read Everywhere," "Dealing with Feelings," and "Play Song (Better with Two)."
Drawing from recent studies on child development, including brain development and language acquisition, each song focuses on a different research-based practice, such as engaging in serve-and-return interactions (responding to a young child's facial expressions and vocalizations to build brain capacity); asking open-ended questions during read-alouds (builds reading comprehension and critical thinking); and discussing diverse feelings (builds self-regulation and self-awareness).
The album aims to help caregivers, teachers, and librarians easily learn about children's developmental needs and respond in a way that helps kids develop into intrepid learners with a lifelong love of reading.
Once the plan was established, Lazio began recruiting 40-plus coworkers to write and perform. With her help, they created an array of songs with different styles and moods, all designed to encourage parents to sing with their children about the song's themes. Sean R. Ferguson, manager of NYPL's Chatham Square branch (as well as a working musician and composer), volunteered to arrange the songs and help with production elements.
Many others throughout NYPL lent their support, including a number of librarians who had formerly played in bands or orchestras. Jill Rothstein, library manager at NYPL's Andrew Heiskell Braille and Talking Book Library, offered the branch's recording facility as a studio. The small vocal booth accommodated only one artist at a time, resulting in some comical contortions with both the tuba and the upright bass. But watching staffers come out of their shells and showcase a hidden talent or try something they never before thought they could do was a delight, since for many it was their first time in a studio setting.
NYPL children's staffers are using the album during storytimes, family literacy workshops, and early childhood center outreach, as well as in the early-literacy kits they distribute as part of community outreach. Education staff created a guide to help librarians at NYPL and other library systems integrate the album into their early literacy programming.
In the end, one of the most special things about the album was that many of the contributors came from outside the ranks of children's librarians: network directors, branch managers, and adult librarians. It takes a whole library village to raise a child.
The album is available for free download at nypl.org/sings.