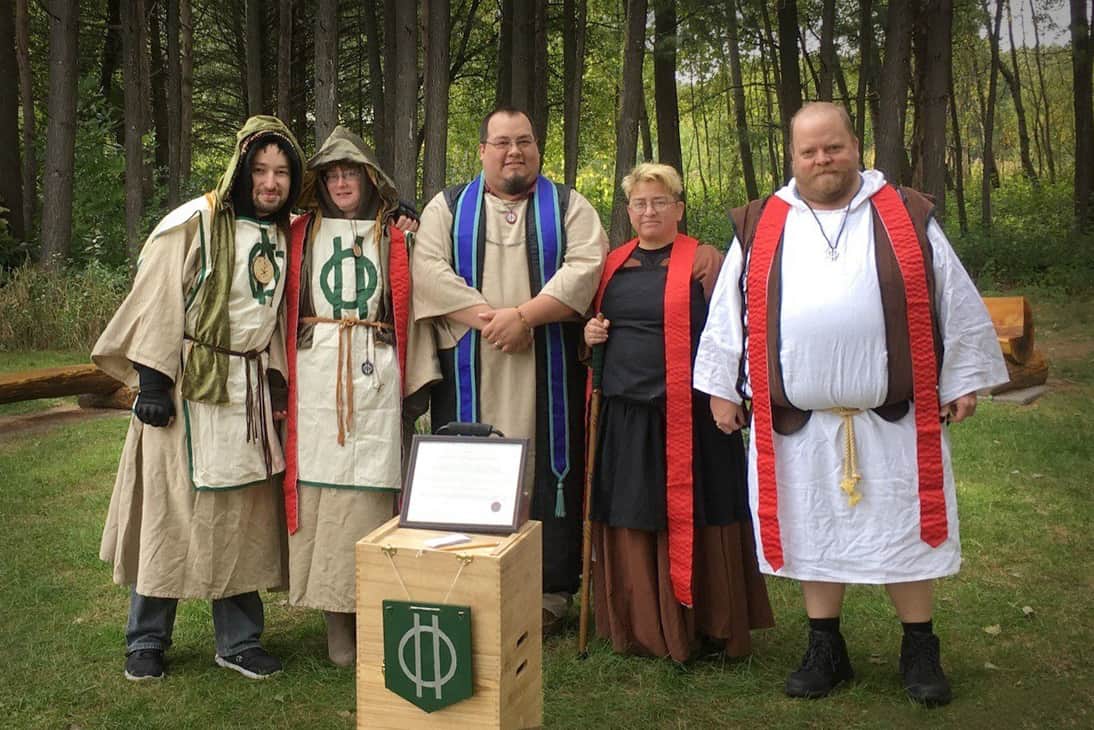 Neopaganism is the fastest-growing religious identification in the US, growing more rapidly than any other denomination in the last decade of the 20th century. Most neopagan populations are in California and the Great Lakes region, but every library should be aware of the best ways to serve its neopagan community.
Paganism is a broad term referring to any non-Abrahamic faith, including Hinduism and Buddhism, as well as certain modern groups. Some of the most common neopagan faiths are Druidry, which has some Celtic influence and promotes the worship of nature and the human spirit, and Heathenry, a revived worship of the Germanic gods. The largest neopagan faith, Wicca, was established in 20th-century England and involves worship of both a masculine and feminine divinity. Most neopagans believe in a reverence for nature as a manifestation of the divine, individual responsibility for all actions, and a spirit or soul that continues after death.
Most neopagans follow a cycle of eight holidays, occurring on the four equinoxes and solstices and four seasonal holidays. These are the Wiccan names, with approximate dates and reasons for the season:
Imbolc: February 1 (beginning of spring)
Ostara: March 19–22 (spring equinox)
Beltane: May 1 (beginning of summer, May Day)
Litha: June 19–22 (summer solstice, Midsummer)
Lughnasadh: August 1 (beginning of the harvest season)
Mabon: September 19–22 (fall equinox)
Samhain: October 31 (beginning of winter)
Yule: December 19–22 (winter solstice)
Libraries looking for neopagan books and resources to carry can consult the many pagan-run websites and blogs, such as the Reformed Druids of North America recommended pagan book page, the Pagan Federation booklist, or The Wild Hunt. Libraries can also check Huffington Post's list of the 27 essential pagan books, Questia, the Pagan Librarian blog, and Llewellyn publisher's catalog. Growing Paganism, the blog of author Kali Sara, features reviews of neopagan children's books.
Outreach and programming
Any large community will have local pagan events and conventions open to the general public, such as a Pagan Pride Day (dates vary). Your library can use these events to do outreach and promote your pagan collections.
Consider hosting an event at your library as well, perhaps tied to a neopagan holiday, and inviting speakers or neopagan leaders to educate your community. Gretna (Neb.) Public Library Assistant Director Rebecca McCorkindale provided children's Yule programming ideas on her blog, including crafts, songs, and storytimes. Nashville (Tenn.) Public Library offered historical information and craft and book recommendations to mark the summer solstice and Midsummer on its blog in 2016. The Dakota County (Minn.) Library System has hosted a series of lectures on religion and faith, including lesser-known faiths such as paganism.
In making your library a welcoming space for neopagans in your community, bear in mind that filtering software may affect them disproportionately. In 2013 Anaka Hunter, a Wiccan in Salem, Missouri, successfully sued Salem Public Library because its filter software blocked Wiccan-related websites because they were labeled "occult."
In a time of inclusivity and equality, it is important that all communities can find resources and do research at the public library. Educating themselves is the first step librarians can take toward providing books and other resources for the neopagan community.