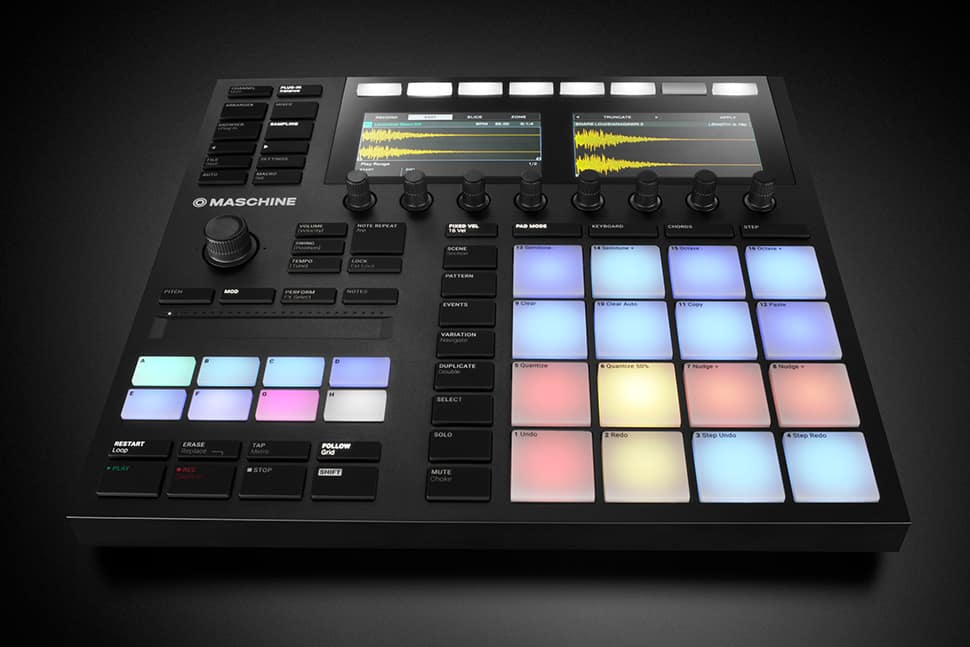 A growing number of libraries are offering audio production tools, either in studio spaces or on loan. By making these tools available to patrons, libraries can draw local artists and hobbyists and become part of the local music scene. The software and instrument options are numerous, but digital production platforms provide a solid introduction for newcomers as well as a unique resource for more experienced musicians.
Maschine
Maschine is a music controller and sequencing software package by Native Instruments that can be used for creating and performing musical arrangements. It includes 16 pressure-sensitive pads for live performance or sequencing, as well as a "smart strip" that enables slides and pitch bends.
The Maschine controller can function as a stand-alone device to record and modify samples, browse and preview sounds, and even mix and edit projects, making it a viable stand-in for many studio tools. While Native Instruments recommends use with its software and hardware, it's also compatible with all major digital audio workstations (including Ableton Live) as a virtual studio technology (VST) or Audio Units plugin.
The newest release, Maschine MK3, adds two color LCD screens—improving its ability to slice samples, edit notes, and browse synth sounds without reliance on a computer—and built-in line, MIDI, and mic inputs and outputs to the controller, allowing samples to be played directly into the device. The unit comes with the Komplete 11 Select production suite, which includes synths, piano, and percussion instruments, and compressor and delay effects.
Maschine has both outlet and USB power sources and can be made portable by installing its accompanying software on a laptop. While an internet connection is needed to install and activate the software, it is not required to operate Maschine. The minimum system requirements are Windows 7 or Mac OS 10.12, Intel Core i5 processor, and 4 gigs of RAM.
Maschine MK3 costs $599. Native Instruments offers educational discounts for libraries on related software add-ons. For more information, visit bit.ly/ALSolMaschine.
Pocket Operator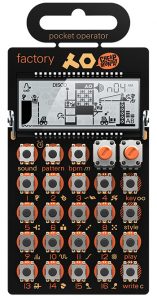 Pocket Operators are handheld synthesizers, about the size of a calculator, designed by Teenage Engineering. With a built-in speaker and audio-out, they are simple, self-contained music devices. While their features are limited, Pocket Operators can create complex patterns, sequences, and effects. Each has a 16-pad interface for step sequencing or live play and an array of effects buttons to adjust pitch and tempo and make other modifications.
Each of the Pocket Operator's nine models includes a unique sound library and a handful of distinct features. The most recent releases, in the 30 series, also include microphones for live sampling. Animated LCD screens display settings like beats per minute and volume but are largely taken up by whimsical animations, giving the synths a videogame feel.
Pocket Operators can be used alone, but their focus on complementary soundsets—drum machines, lead synths, bass, each with a gimmick, like office and arcade sounds—makes them ideal for collaborative production. They can be chained together with 3.5-millimeter audio cords, and will sync to each other so various sounds from each can be used on a single song.
Pocket Operators run on two AAA batteries, with an expected battery life of one month. Finished beats or songs can be exported via the audio cable, but there is no data backup for most models. While the PO-33 Tonic is designed as a stand-alone companion to the Microtonic VST software, none of the units requires a computer or other software to operate.
Pocket Operators range from $49 to $89, and optional cases for each unit cost $29–$39. Connector cords are $15 for three. For more information, visit bit.ly/ALSolPocketOp.
A Push for Music in King County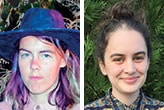 User: Coley Mixan and Kenza Abtouche, ideaX Public Services Assistants, King County (Wash.) Library System (KCLS)
Products: Ableton Push and Live
Description: Ableton Live is a digital audio workstation that integrates with Push, a MIDI controller, for live performances and audio production.
How do you use Ableton?
At our library we have both the Live software and its companion Push controllers, so patrons can experiment with everything from designing their own beats to recording and sampling audio tracks. That's what's so exciting about Ableton: Its uses are multifaceted depending on the musician's desires. We use Ableton in teen and adult programs. The Push has been a big hit, and many teens have started making their own beats and saving songs during drop-in time.
How does Ableton serve your library's needs?
Ableton's products help us serve patrons who want to experiment with sound and music production without the financial risk of investing in expensive equipment. It's a professional-level platform, which is very attractive to local musicians. The library system has hosted a lot of amazing local artists to teach workshops, allowing our community to develop its own unique language with this technology. With Ableton, patrons can use the equipment that some of their favorite artists use to make music. It's a win-win—local artists have a platform to share their passions, and community members can be inspired to discover their own.
What are the main benefits?
One of the main benefits of Ableton has been the platform's flexibility. KCLS serves a variety of communities—from small rural libraries to large urban spaces—so we need a product that will be of interest to and perform for diverse user needs. Ableton supports a large online learning community, so our patrons can continue learning (and connecting) outside of our library programs. Even though there are a variety of features, there is not a steep learning curve. At the same time, there are so many options for more advanced users. We think the biggest benefit of having Ableton is the possibility of creating cool music.
What would you like to see improved or added to the software or boards?
I would love to see more free sound packs and sound libraries from Ableton so users have more samples and sounds to play with.