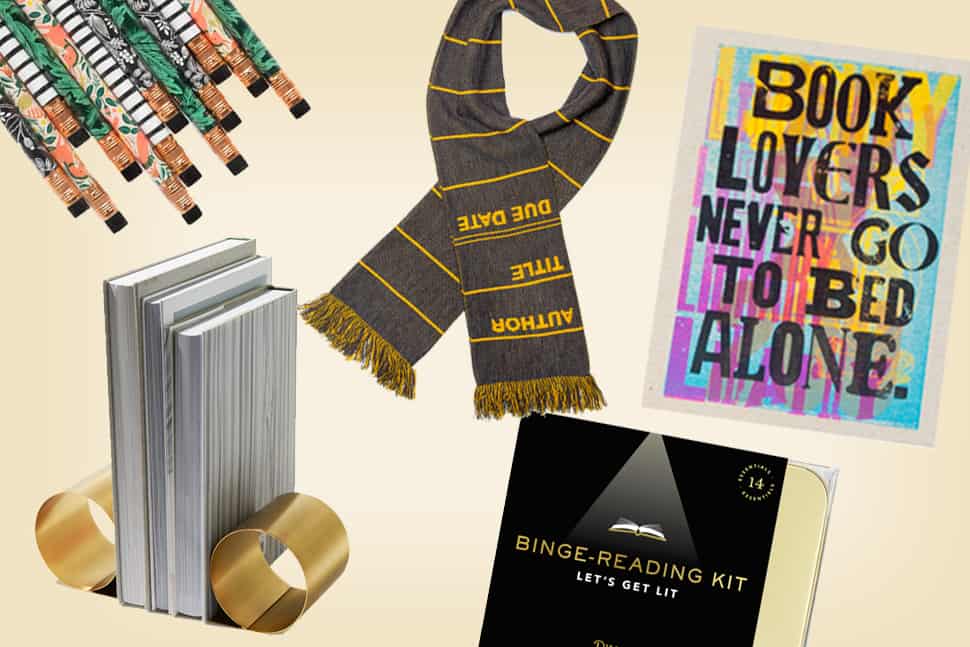 Books make wonderful gifts, but librarians and voracious readers often have daunting to-be-read piles already. This year, why not forego the obvious choices and give your favorite bibliophile something a little different? From bedside lamps and elegant bookends to writing implements, art, and even library-themed fashion accessories, you can show you care, whether you've got only a few dollars or are ready to splurge. You might even find something special just for you.
Gifts Under $10
Writersblok Black Bookmark Pen ($3)
This dual-purpose pen takes notes and keeps your place. The matte black exterior lies flat inside books and holds a brass ink cartridge—perfect for the moment inspiration strikes.
Bloom Bookmark Set ($5)
Bring some bright blooms to your bookshelf with this set of six floral bookmarks. Each two-by-six-inch bookmark features a different quote from a Romantic poet—Blake, Byron, Coleridge, Keats, Shelley, and Wordsworth—and each is printed on smooth, matte paper.
Love My Library Decal or Magnet ($5 each)
If you're not ready for permanent ink, proclaim your library love with this tattoo-style window decal or magnet from ALA Graphics, perfect for your car, fridge, or locker. Buy one or two at $5 each, or buy three or more for $4.50.
---
---
Gifts Under $20
I Support Public Libraries ($10)
Each of these "I Support Public Libraries" posters by Kennedy Prints is hand-printed and one-of-a-kind. Moreover, 100% of the proceeds from the sale of these eight-by-six-inch chipboard and oil-based ink works goes to support the Elmwood Park branch of the Detroit Public Library.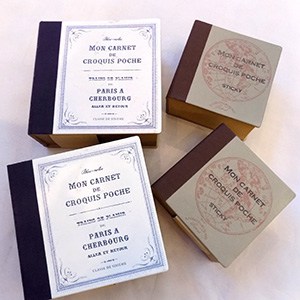 French Book Notepads and Sticky Pads ($12 each)
Make even the most routine note-taking tasks a little more fun with one of these book-shaped notepads or sticky notes. The notepad has 350 pages of kraft paper inside, and the sticky pad features 300 graph-printed sheets. Plus, retailer wit & whim donates a portion of its proceeds to a different charity each month.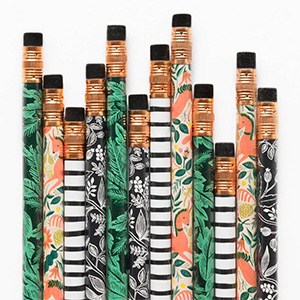 Everyday Assorted Writing Pencils in Folk ($12)
These presharpened folk-themed pencils are just the thing for stylishly filling out crossword puzzles or writing grocery lists. Each wood and graphite pencil features a full-color design and black eraser tip, and the set of 12 includes three of each pattern.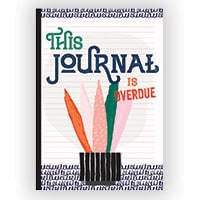 A Journal for Doodling and Writing ($17)
Make yourself the author of This Journal Is Overdue from ALA Editions, 140 pages of writing prompts to get your literary and creative juices flowing. Rewrite the ending of a novel, recount memories of the first time you read a favorite book from childhood, or sketch your superhero emblem.

Library Bamboo Cutting Board Set ($18.20)
Prep the snacks for your next book group meeting with this set of reversible, book-shaped bamboo cutting boards. The hand-washable boards by Sabatier fit in perfectly with any cookbook collection and feature three sizes per set, ranging from eight-by-eight to eight-by-twelve inches.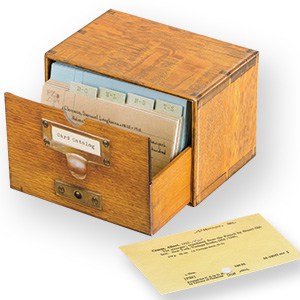 Card Catalog Notecards ($19.95)
Send a note that evokes the predigital era. Each of the 30 five-by-three-inch notecards inside this replica card catalog box features a different image from the Library of Congress collections.
---
Gifts Under $50
Binge-Reading Kit ($20)
Settle in and read for hours in uninterrupted comfort with this binge-reading kit from Pinch Provisions. Each box contains 14 essentials, such as bookmarks, a reading light, a thumb page holder, earplugs, and a microfiber cloth to clean your glasses.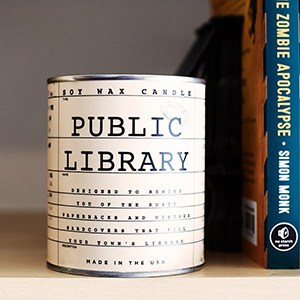 Public Library Candle ($20)
Keep the library flame alive with this 100% soy wax Public Library Candle. The 16-ounce candle has an 80-hour burn time, and its scent is reminiscent of vintage paper and rooms full of books.
Library Card Scarf ($22)
Cozy up and show some library love. This gray acrylic Library Card Scarf is inspired by old-school footballer scarves, and for every scarf purchased, retailer Out of Print will send a book to a community in need.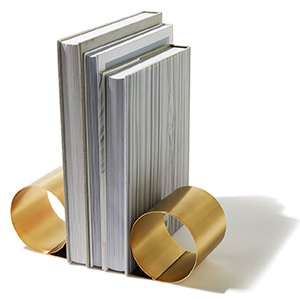 Brass Bookend ($30 each)
Like a stylized comma at the end of a phrase, these decorative bookends help corral books while adding a sleek, minimalist design touch. The 3.9-inch-high pieces can be used alone or in pairs and are made of 100% brass-plated metal.
---
Gifts Under $100
House-Shaped Reading Light ($60)
Perfect for bedside tables and book nooks, this LED lamp provides both a book rest and a soft reading light. Just under six inches tall, the lamp turns into a tiny house once you add your favorite reading material, and it holds your place until you're ready to pick up where you left off. Plus, the LED light source never gets hot.
Personalized Library Card Pillow ($65–$95)
Your home library isn't complete without this comfy Personalized Library Card Pillow. Designed by Rebecca Rodriguez and made in New Jersey, the 10-inch-by-14-inch cotton poly-filled pillow has space for up to seven "borrower" names and dates. Pick family members and birthdays, or use your imagination.