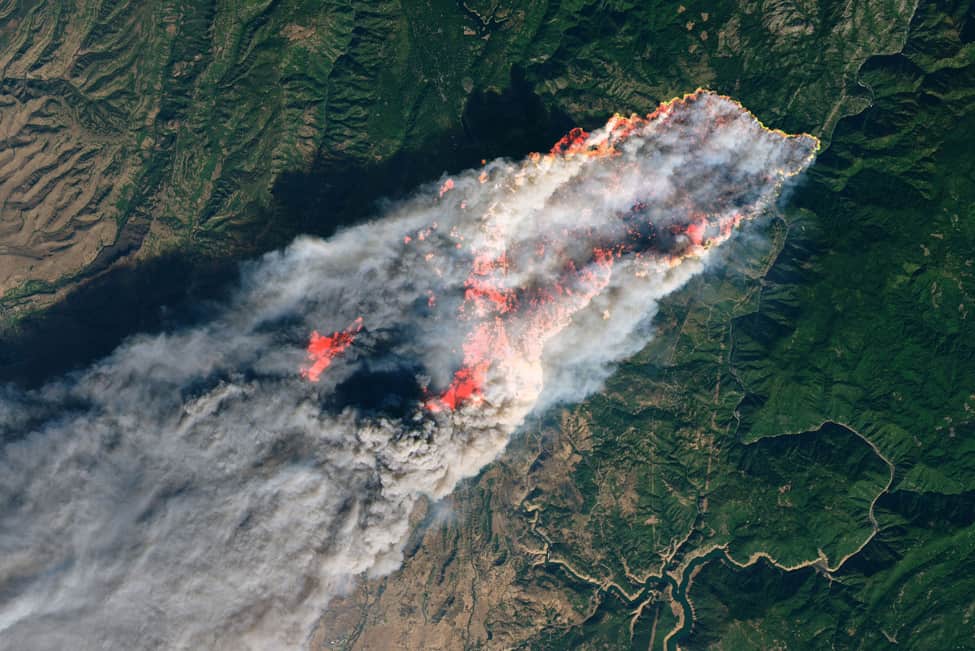 Public institutions across the country are rallying in support of displaced library employees and libraries devastated by wildfires in California—fires that have claimed more than 80 lives and resulted in the evacuation of tens of thousands of people.
"Miraculously, the Paradise branch of the Butte County Library system is still standing," says Butte County Library Director Melanie Lightbody, noting that it's one of the only remaining structures in town. While the library was not destroyed by the fire, the building and its contents have suffered extensive smoke damage.
The five other branches in the system remain operational and have become information centers, offering computers, Wi-Fi, and printers to help displaced residents contact insurance companies, the Federal Emergency Management Agency (FEMA), and other agencies.
"Right now, part of the biggest issue we have going on is [that] people have lost their technology," Lightbody says. Five of the library's 26 staff members have lost their homes to the fire, she adds.
"We have many people affected by the fire, so we are still in an urgent situation," she says. "We are just now starting to look at disaster recovery. One of the things I'm working on is trying to get into the [Paradise branch] building," where historical records and archives are located.
Michael Dowling, director of the American Library Association's (ALA) Chapter Relations Office, says ALA is connecting Butte County Library with preservation and conservation experts at the Library of Congress and the Heritage Emergency National Task Force, which is cosponsored by FEMA and the Smithsonian Institution.
"We're reaching out to find out what the situation is, what we can do, and what the needs of the library and the director are," Dowling says.
Lightbody says Sara Jones, director of Marin County (Calif.) Free Library, and the California Library Association have established a fundraiser for the smoke-damaged Paradise branch. "[They] have been instrumental in getting us in touch with resources as well as staff from the California State Library," Lightbody said in an email.
Despite all the chaos in Butte County, she says she is "blown away by the generosity of people not only within our state but outside our state."
Colusa, Glenn, Plumas, Sutter, and Tehama county libraries are helping evacuees, she says, adding, "I'm sure other libraries are assisting as well." Other institutions, such as Catlin Gabel School in Portland, Oregon, and the Harwood Foundation in Taos, New Mexico, have also contacted the library system to offer assistance.
The fire in Butte County was contained on November 25, according to the California Department of Forestry and Fire Protection.
Fires in the southern part of the state have caused the temporary closure of several libraries and, as in northern California, prompted at least one branch to serve as a crisis center for the public.
Yolanda De Ramus, chief deputy director at Los Angeles County Library (LACL), says that dozens of library employees have been directly impacted by the fires.
"We had about 45 staff members who were impacted or otherwise evacuated," she says. "We aren't aware of any staff members who lost their homes."
Los Angeles County libraries in Agoura Hills, Malibu, Topanga, and Westlake Village have experienced smoke damage but have not been directly affected by physical fire damage.
Jesse Walker-Lanz, assistant director of public services at LACL, says remediation has already begun at the smoke-damaged branches, which includes testing air quality for particulates to ensure employee and patron safety.
The Malibu and Topanga branches reopened November 17, and the remaining damaged branches followed on November 28.
As part of a Los Angeles County Department of Health Services–Human Resources task force, the Malibu branch is assisting FEMA's disaster assistance center, which is located in a courthouse adjacent to the library.
"The library is open and providing space in the [library] meeting room and the library's computers," Walker-Lanz says, noting that the computers are giving patrons access to various county departments, government forms, and applications for disaster-relief benefits.
It's also serving as a vaccination site for tetanus, diphtheria, and pertussis for recovery workers, De Ramus said in an email.
Lightbody says that although the community is devastated, the library's survival has meaning in the crisis: "We are more than just a library; [we are] a symbol of hope to the community and a community center, which we will be once again."
An earlier version of this story appeared at The Scoop.