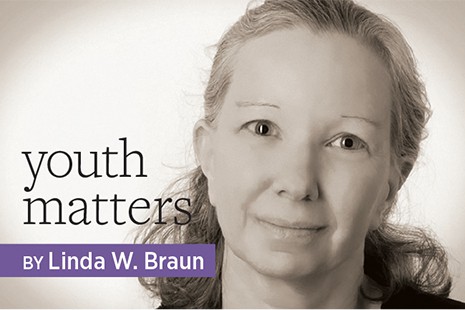 What does it take to prepare teens for career success after high school? Providence (R.I.) Public Library (PPL) has an answer.
"Our Teen Squad programs are driven by youth interests while focusing on work readiness and 21st-century skills development," says Kate Aubin, teen educator at PPL. "With our diverse community partners, we provide interactive and engaging competency-based programming that builds relationships and connects teens to workforce development opportunities."
One such offering under the umbrella of Teen Squad is PPL's summer internship program, My City, My Place. Funded by the City of Providence Office of Economic Opportunity and an Institute of Museum and Library Services grant, it is an example of how a library can implement a job-readiness internship that goes beyond traditional programming of this type.
In the internship, 40 teens earn wages by performing research about the history and tourism of Providence. They learn how to use PowerPoint and video, design, and creation tools to develop a product that promotes the city. They discover what it takes to work with others to conceptualize marketing plans and materials. Throughout the process, teens are mentored and coached by library staffers and communications professionals from a variety of local businesses. This instruction and support give them a chance to integrate feedback into their final products. Ultimately, the teens incorporate everything they learn into a pitch that they present to a panel of experts, including staffers from the City of Providence Office of Art, Culture, and Tourism; the Providence Warwick Convention and Visitors Bureau; the Providence Journal newspaper; and members of PPL's own marketing department.
Though the teens who participate in My City, My Place aren't in a library job where they shelve books or assist staffers with day-to-day operations, they are still in a role where they have to report to work on time, successfully collaborate with peers and supervisors, and behave professionally.
For teens to be truly job ready, libraries should provide services that support the soft skills valued in the workplace.
The on-the-job skills that are the foundation of PPL's internship program are also at the core of the "Traits of a Young Professional" framework developed by Denver Public Schools as part of its college and career readiness services. The traits—professionalism, communication, perseverance, self-direction, and collaboration—are what the school system sees as necessary to be prepared for the workplace.
The emphasis that PPL's My City, My Place puts on these attributes sets it in a different category from many other library-based youth job readiness programs, which often highlight such skills as résumé writing, interview preparation, and financial literacy. Yet there is evidence to suggest that those proficiencies may not truly result in on-the-job success.
Job Readiness Skills for Youth: A Clear and Actionable Definition, a report sponsored by the City of Seattle, Washington State's King County, and the Seattle Regional Partnership, accentuates the need to prepare youth for the workforce by focusing more specifically on soft skills. The report notes, "Although [résumé writing, career interest development, and outreach to prospective employers] help students build their writing, speaking, and analytical skills, we do not consider them to be job-readiness skills. For example, having a résumé serves as a demonstration of writing ability and critical thinking skills and is necessary to access many internship opportunities, but the act of creating a résumé does not mean a person is job ready."
For teens to be truly job ready, libraries should provide services that support the traits and soft skills valued in the workplace, in addition to technical knowledge and proficiencies. My City, My Place demonstrates that approaches can be combined to provide youth with a rich learning experience that better equips them for life after high school.