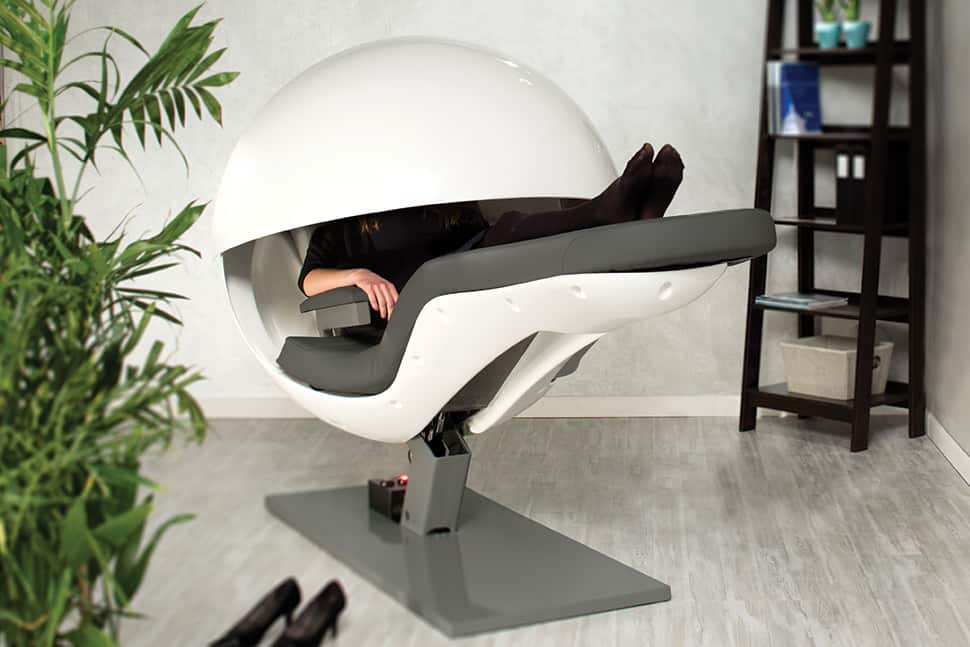 By the time your library's interior remodeling project is finished, patron demands may have changed. That's why many libraries are shifting to modular solutions. By providing private spaces for nursing mothers, exam-weary students, or frequent phone callers, libraries are creating flexible options for patrons without modifying their buildings—or breaking the bank.
MetroNaps EnergyPod
MetroNaps EnergyPods were designed for power-napping, and while they're most often seen in corporate offices, some academic libraries have adopted them for students.
The EnergyPod has a built-in timer that cycles through a 20-minute nap sequence, a length some sleep studies have shown to improve alertness and possibly benefit learning. Through the built-in speakers or a user's headphones, music created specifically for the EnergyPod guides the user through sleep induction, rest, and waking. Users can also choose guided relaxation audio from MetroNaps' partner Pzizz if they don't plan to doze.
When in use, the unit reclines, elevating the feet to reduce stress on the cardiovascular system and induce relaxation. A privacy visor slides across the top half of the pod when it's occupied, darkening the area around the user and minimizing distraction without completely enclosing them. Inside the visor privacy area are two storage spaces for personal items, each large enough for a backpack.
A status indicator on the outside of the pod lets others know when the pod is in use and how much time is remaining on the nap cycle.
The interior is gray synthetic leather upholstery, which can be wiped clean after each use. The outer visor is white and can be upgraded with custom colors and graphics for an additional cost.
EnergyPods are 58 inches tall, 48 inches wide, and 85.3 inches long. MetroNaps recommends placing the pods at least three feet apart, facing away from high-traffic areas. The pods need a standard outlet to function.
EnergyPods start at $10,750, plus installation. Visit metronaps.com for more information.
SnapCab Pod
SnapCab launched its series of standalone, movable privacy rooms in 2017. With enough room for one or two people in the small pod, or as many as six in the largest version, they're useful as study rooms, small meeting rooms, or phone booths.
The three pod sizes (small, medium, and large) come standard with white laminate panels and tempered glass doors and front wall. They can be upgraded with colored laminate, whiteboards, or panoramic images to coordinate with existing library interiors. Integrated tables and benches can be ordered with the pods, or libraries can install their own furniture, expanding the possibilities for use.
All pods are 91 inches tall, with the smallest on a 46-inch square base and the largest on a 77-inch square base. Modular construction allows the pods to be installed quickly. They are shipped preassembled, with only a small number of tools needed to complete installation.
The pods sit on caster wheels for easy movement. Leveling feet screw down to stabilize the pods after placement and also work to keep them straight on uneven flooring.
SnapCab Pods include a motion sensor that activates the integrated downlighting and ventilation, minimizing energy use. Optional LED backlights can also be installed. Acoustic panels help to reduce noise from inside the pods, though they are not completely soundproof. An electrical strip with three AC outlets is standard in each pod.
Small pods with basic features start at $13,000. Visit snapcab.com/pods for more information or contact Steelcase, the exclusive distributor of SnapCab Pods, for a full quote.
A Pod for New Moms
User: Diane Roche, director of marketing and communications, Milpitas Library, Santa Clara County (Calif.) Library District
Product: Mamava
Description: Mamava lactation suites are modular pods that give new mothers a private space to breast-feed or express milk.
How does your library use the Mamava lactation pod?
The Mamava is located at the entrance of the children's area. We keep it locked when not in use for safety and security. Nursing mothers can request the key at the circulation desk. In 2017, Santa Clara County Library District was the first public library in the country to offer the Mamava to our patrons.
How does the Mamava pod serve your library's needs?
Mamava is one way Santa Clara County Library District promotes a supportive environment for mothers and children. The library hosts approximately 1,800 visitors daily, and with many programs geared toward families with infants and young children, it was important to provide our new mothers with options for breast-feeding and pumping when visiting the library. Mamava provides the privacy and convenience some nursing mothers prefer when breast-feeding their babies and pumping milk.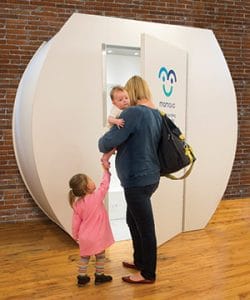 Our staff also benefits from having the Mamava. One staff member, a new mother returning to work, was concerned about finding a comfortable and private space to pump. "Luckily, the Mamava had been installed at the library, and that was one less worry on my plate as a working mother," she says. "I do not think I would have been able to comfortably pump as long as I did (over a year) had there not been a Mamava at the library."
What are the main benefits?
California mandates access to lactation stations for working women. The next step is to provide them with access to facilities in public spaces. Mamava is clean, safe, and private, and has room for additional young children and strollers. It also has AC power for pumping equipment.
What would you have liked to see improved or added to the pod?
The seating in the Mamava could be improved with easy-to-clean cushions or pillows. The interior would be more inviting with the addition of soft, welcoming colors that could produce a calming environment for both mother and baby. Finally, offering instructions in multiple languages would be helpful to members in diverse communities.