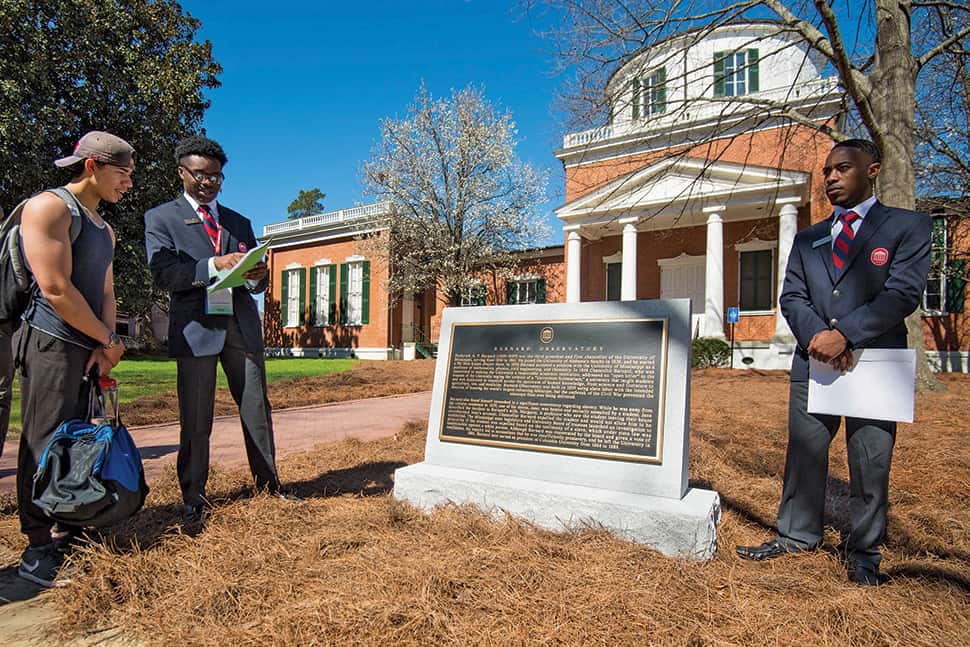 What should be done about university buildings named after controversial historical figures?
With the goal of reconciliation and justice, institutions across the US are increasingly undertaking formal measures to review who they've memorialized—evaluating names of buildings and monuments to determine connections to white supremacy and other forms of discrimination. Unsurprisingly, university librarians and archivists are finding a role in these discussions, providing historical materials on the buildings and individuals in question, and in many cases taking their involvement a step further by creating LibGuides, supporting community forums, and helping develop evaluation criteria.
"What does it mean for Oregon State University to value equity and inclusion if individuals after whom its buildings are named did not?" asks Natalia Fernández, curator at Oregon State University's (OSU) Special Collections and Archives Research Center (SCARC) and archivist of the Oregon Multicultural Archives and OSU Queer Archives. To help answer this question, she says, archivists and special collections librarians should be called upon to provide historical context. "We also have the opportunity to engage our communities in productive and transformative discourses," she adds.
Fernández and SCARC Director Larry Landis participated in OSU's nearly two-year review, which involved developing a name-evaluation process, carrying out research, and holding public meetings before deciding the fate of the names of five buildings on OSU's Corvallis campus: Arnold Dining Center, Avery Lodge, Benton Annex, Benton Hall, and Gill Coliseum.
In 2016, a committee that included Fernández and Landis drafted evaluation criteria that examined such factors as bigoted actions taken by a commemorated individual, the individual's public versus private persona, and whether or not the individual's exclusionary beliefs changed over his lifetime. In fall 2017, the university hosted six community engagement forums led by trained facilitators that asked alumni, faculty, students, and members of the public to weigh in on questions like "What do you think the difference is between remembering history and revering history?" and "What does reconciliation mean to you?"
Fernández says in the early stages of the review, archivists began preparing information for researchers—institutional records from the boards of trustees and regents, news articles, photographs, oral histories, and memorabilia—which was used and cited as a basis for dialogue in the forums' small-group discussions.
"I felt it was important to have archivists as part of the community engagement sessions because we are able to connect the conversation to historical information," Fernández says. Archivists also created a LibGuide to help contextualize the information.
Ultimately, the university chose to rename the buildings named after Joseph Avery, who was connected to a proslavery newspaper in the 1850s, and Thomas Hart Benton, a proslavery US senator from Missouri. Avery Lodge is now Champinefu Lodge—champinefu meaning "at the place of the blue elderberry"—to honor the language and historic contributions of the local Kalapuya tribe. Benton Hall is now Community Hall, while Benton Annex is now the Hattie Redmond Women and Gender Center, named for an African-American and Oregonian women's suffrage leader.
It's a tremendous opportunity to think carefully about the good and bad parts of American history. —Terrence McDonald, history professor and director of the Bentley Historical Library at University of Michigan
At University of Michigan, Terrence McDonald, history professor and director of the Bentley Historical Library (the campus archive), says he was among a group of faculty members asked by University President Mark Schlissel in 2016 to reflect on the topic of building names.
"[The review of building names] is happening all across the country," McDonald says. "The one commonality is, it's always a historical question, and that's what's great about the current moment. It's a tremendous opportunity to think carefully about the good and bad parts of American history."
In 2018, with input from the committee, the university's board of regents voted to change the names of two structures on campus: a science building named after Clarence Cook Little, a former university president who called for eugenics practices and anti-miscegenation laws, and a portion of a residence hall named after Alexander Winchell, a former university professor who published racist theories about the origins of mankind. The names have been removed but the buildings have not yet been renamed.
McDonald says the committee requested a "vast amount of information" to assist in the investigation of the two figures, and the Bentley Historical Library committed two employees to the task.
He says the evaluation process also prompted archivists and historians to ask who is not being commemorated. The archive is now tracking the history of African-American students at the university between 1853 and 1960. "Once it's done, it will be a tremendous resource for teaching," McDonald says.
At University of Mississippi, a historical reckoning has been ongoing for decades. Leigh McWhite, an archivist who began working at the University Archives and Special Collections in 1993, says students frequently request research papers and other materials on Confederate symbols connected to the university.
"I have often described it as the longest-running dialogue on Confederate symbols in the nation," she told the Society of American Archivists at a presentation last August.
Though the discussion on historical objects has long been part of the campus culture, it wasn't until 2017 that the Chancellor's Advisory Committee on History and Context recommended renaming Vardaman Hall, a building named after former Mississippi Gov. James K. Vardaman, a known white supremacist. Rather than rename eight other statues, memorials, and structures, the committee recommended installing plaques on campus to contextualize the individuals memorialized.
McWhite says that advisory committee members came to the archives to use resources for historical research, which provided the basis for recommendations. Also made available to the committee in its review of building names was a LibGuide created by McWhite and librarian Amy Gibson, "Contextualization at the University of Mississippi."
"The library tries to stay on top of what is [being discussed]," says McWhite. "This is a topic we could contribute to."