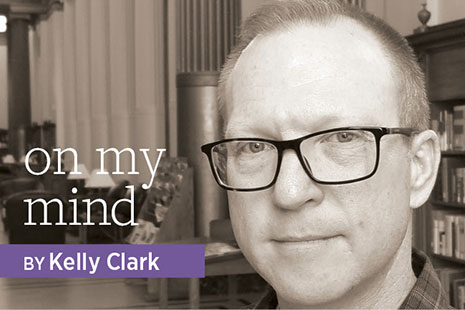 On the evening of December 11, 2018, my wife, Amber Fawn Clark, supervisor of the North Natomas branch of Sacramento (Calif.) Public Library (SPL), was fatally shot multiple times in the head while sitting in her car getting ready to drive home. Her alleged killer: a man she had banned from the library two months earlier for behaving aggressively toward staff and customers.
In the wake of Amber's murder, I have come to seriously reassess my own role as a public library employee. This month's release of Emilio Estevez's film The Public has led me to share my story—and Amber's—with others in the profession.
Amber was a fierce advocate for literacy and the underserved. Her entire professional life, she gave of herself for the betterment of her community—first as a teacher, then as a librarian. She had two bachelor's degrees and two master's degrees, demonstrative of her love for lifelong learning. In less than three years at SPL, she rose from teen librarian to branch supervisor. She spearheaded the AccessABILITY program, which works to add inclusive, dedicated services for people with disabilities at the library.
Knowing that I wanted a job where I could help my community in a meaningful way, Amber encouraged me to pursue an MLIS after I finished a lengthy career in the US Air Force. While getting that degree, I worked at a public library, where I found it especially rewarding to help library customers who were negatively affected by the digital divide—those without home access to broadband internet and those without the skills needed in a digital society. During that time I observed firsthand the information needs of many patrons, including Afghan refugees, low-income patrons, and people experiencing homelessness.
Before my wife's death, I had eagerly anticipated seeing The Public. The film appears to exemplify a tenet the library profession holds dear: that libraries are one of the few remaining places where underserved and marginalized populations are welcome.
The Public features a group of people experiencing homelessness who barricade themselves inside a library to seek refuge from a severe winter storm. Beginning as a nonviolent sit-in, the event transforms into a standoff with riot police. The trailer suggests that the film advocates for these individuals experiencing homelessness and highlights the lack of appropriate services available to them.
While I support the provision of library services to all, including the marginalized and unsheltered, the reality is that some public library patrons grapple with mental health issues, behavioral issues, and substance-abuse problems that at times can result in threats to the well-being of staff and other patrons.
Amber and I observed this phenomenon firsthand. We encountered customers who shouted at the top of their lungs, making violent threats to other patrons and employees before being escorted from the library by unarmed, minimally trained security staff. I've had to confront an inebriated patron who had been drinking on library property. I've also had to ask my supervisors to prevent an 18-year-old volunteer from being inappropriately physical with young girls.
Many public library staffers are reluctant to speak openly about their fears. If they do, their concerns may be dismissed as intolerant, exaggerated, or cost-prohibitive to address.
For her part, my wife once had to confront a patron who was masturbating to pornography. On another occasion, she interrupted a couple having sex in a library restroom in what appeared to be an exchange for narcotics. Just a month before she was killed, she was accosted by a group of teens who had been asked to control their loud and vulgar language; one of them verbally threatened her with physical harm.
Librarians at branches across the country have confided similar experiences and fears to me. Unfortunately, many public library staffers are reluctant to speak openly about their fears. If they do, their concerns may be dismissed as intolerant, exaggerated, or cost-prohibitive to address.
My wife's murder is far from the only recent violent incident at a public library:
That's six incidents or threats of violence—including five murders—in 17 months.
This type of dangerous behavior can no longer be tolerated in libraries. This issue requires serious data collection, investigation, and statistical analysis by law enforcement, as well as professional organizations like the American Library Association (ALA). It requires recommendations that go beyond what ALA's Resolution on Gun Violence Affecting Libraries, Library Workers, and Library Patrons states, in which librarians are asked to engage their communities to "defuse and deescalate a culture of violence based on hatred, discrimination, and bigotry." My hope is that such new findings can guide more pragmatic recommendations to curb violent occurrences.
Library directors must take a more serious look at security measures and consult experts in current workplace violence–prevention methodologies. Experts in this field often recommend noting specific behavioral clues and elevating them to authorities for risk assessment. While I don't think any of us wants our libraries to become heavily defended, foreboding places, as regrettable as it sounds, we must ask whether it is time to add metal detectors, X-ray machines, monitored video feeds, or armed guards. Our safety should not hinge on how a library staff member under duress phrases a reply or request to a library patron who is causing a disturbance.
Library employees can take action as well. The California Nurses Association union, for instance, has noted similar threats and lobbied for legislation that would require their employers to meet more stringent security measures in health care workplaces. Perhaps such legislation should expand to library professionals and other public sector employees.
Amber's interactions with aggressive customers had led her to doubt how effective she was at carrying out her mission: promoting literacy in public libraries. By constantly having to respond to disruptive outbursts and potentially violent visitors, she had begun to feel that that mission had become secondary.
Two weeks before she was killed, Amber had expressed to me her fear of being assaulted or shot at work. I urged her to quit and seek employment at an academic library, in a nonpublic-facing library management role, or something different. But she was reluctant to quit her position or the profession she loved without lining up other employment.
The man charged in Amber's murder was a former student at the University of Missouri–St. Louis, where he took part in a student work program. According to the St. Louis Post-Dispatch, his erratic and aggressive behavior apparently led to his firing from the program, and he was eventually escorted from campus by police officers following complaints. The Post-Dispatch reports that he later threatened library workers at Ferguson (Mo.) Municipal Public Library and Brentwood (Mo.) Public Library just months before he allegedly shot Amber.
I have lost the person most dear to me. No library staff members should have to fear for their lives or leave the profession to protect their safety. If you are a member of the LIS community and your experiences have led you to question your safety, make your voices heard. Tell the union that represents you. If you're not represented, demand that your leadership increase security and dedicate social services staff to your library. Do this in spite of those who would dismiss your concerns—and ensure that Amber and other victims did not die in vain.