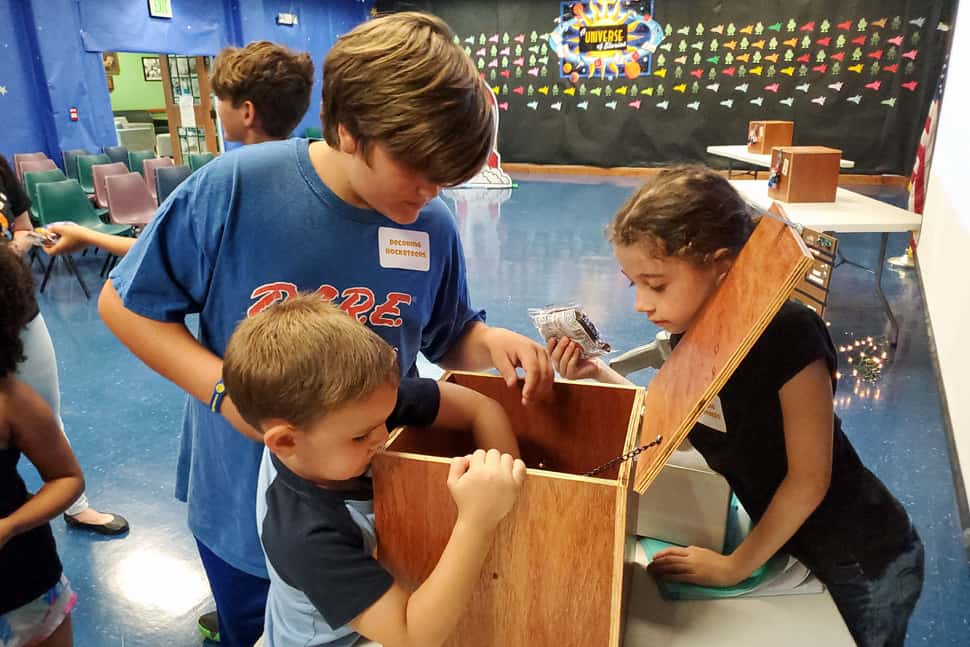 What do the following have in common: space-themed escape rooms, coding sessions with robot caterpillars, rocket workshops, and a phone call from astronauts in space?
They're some of the activities that thousands of libraries across the country are putting together to celebrate space exploration in their summer reading programs, with "A Universe of Stories" as the slogan.
And the sky's the limit.
The umbrella initiative, Summer of Space, is a partnership among NASA, the Collaborative Summer Learning Program consortium, and the Space Science Institute (SSI), and was formed to commemorate the 50th anniversary of the Apollo 11 moon landing on July 20 as well as encourage science, technology, engineering, and math (STEM) education.
More than 4,800 libraries from all 50 states have registered for Summer of Space, and organizers expect nearly 16,000 libraries are likely to participate independently.
Registered libraries were given access to 200 STEM activities through SSI's Science-Technology Activities and Resources for Libraries Network (STAR Net) website but also developed their own programs following the theme.
"The timing for 'A Universe of Stories' couldn't be any better," says Anne Holland, community engagement manager at SSI. "Thousands of libraries participated in the 2017 eclipse, some of them having never done programming before, let alone STEM programming. This year's summer learning theme was a logical next step for them to continue conducting STEM programs."
Phone home
When astronauts on the International Space Station call, 200 young space enthusiasts will answer at the Slover Library in Norfolk, Virginia. The library will host a live downlink event from the space station on August 9.
The downlink—a telecommunications signal from space to earth via a satellite or aircraft—will be streamed online to other libraries, where at least 20,000 kids are anticipated to join, according to Liz Powell, head librarian at Slover.
Students ages 8–12 will talk with astronauts Christina Koch and Andrew Morgan, who will be on Expedition 60, the 60th voyage to the International Space Station. Following the stint, Koch will be setting the record for the most consecutive days—328— a woman has been in space.
"I'm especially excited for the young girls who'll be watching because of Christina Koch," Powell says. "I hope they'll see that science is a possible career path for them, something attainable and open to them."
To encourage exploration, her colleagues in the youth services department have built a 10-by-25-foot inflatable dome as a makeshift planetarium. Kids can go inside and identify constellations or participate in space-themed storytimes to help "make space science real," Powell says. "There are probably lots of young scientists who are going to be a part of the audience who might be inspired to go to the first mission to Mars or go on to the second moon landing."
Exhibiting STEM skills
Westminster (Colo.) Public Library (WPL) has benefitted from its proximity to SSI, which is headquartered in Boulder, only 20 miles away. SSI selected the library to host its new space exhibit, "Explore Space," which features interactive displays and equipment to help patrons of all ages learn about gravity, space weather, and other elements of space exploration.
J. R. Clanton, WPL's library services manager, says SSI donated costumes, green screens, and toys with STEM or space themes and have been a big hit with kids and librarians alike.
"I've been down on the floor with two girls who I don't think have gotten the experience of coding very often at school or in their lives, and I was teaching them how to do different games," says Lauren Cockerill, youth services librarian at WPL.
She says the exhibit, combined with programming, has increased overall involvement at the library. "It has completely fleshed out the library," she says. "This has inspired us to think about next year and what we would do to bring in that interactive element that parents and kids can enjoy."
Clanton says the library is grateful for being selected to host the exhibit. "This exhibit is something we could've never afforded to put on ourselves," he says. "For these three months, it's going to be something special that we're going to have here."
Escape to summer learning
Lynette Fazio, programming administrator at Lafourche Parish (La.) Public Library (LPPL), says her library is participating in "A Universe of Stories" in a unique way: with space-themed escape rooms.
Escape rooms at LPPL feature locks, hidden objects, exploration through stacks, jigsaw puzzles, and more. Each of its nine branches offers a different escape room experience for patrons.
"I heard things like, 'best program ever!'" says Fazio. "The kids thought they might see aliens, they thought they were going to get to ride a rocket. Once they got the concept, they were off and running."
While the escape rooms were scheduled only for June, Fazio says they've been such a hit that LPPL is planning more for July.
"[Kids are] learning, thinking, working as a team," she says. "It was like they were at school, but they didn't know they were at school."
LPPL has complemented the learning with other activities, including creating alien slime and edible rockets, as well as developing opportunities to paint. Many of these ideas came from the STAR Net site.
"The activities are easy to replicate and do a great job at incorporating different substances, like the slime, to make STEM learning fun," Fazio says. "We decorated our libraries using the website. It's a super resource."
Partnering with communities
Birmingham (Ala.) Public Library (BPL) has 400 programs planned this summer across its 19 branches. Bessie Miller, head of the learning center at BPL, says the library is hosting four to five programs a day, including one called Critters and Constellations.
"Constellations resemble creatures," she says, "so we're teaching kids how to compare them by bringing actual animals into the library."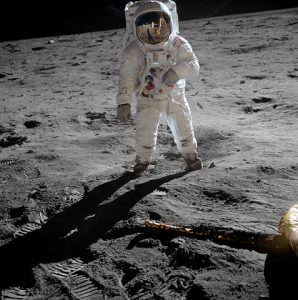 Interest in STEM learning at the library is sky-high year-round, Miller says, thanks to the nearby McWane Science Center (MSC) and the US Space and Rocket Center. As a result, BPL hosts STEM exposure throughout the school year, shifting to weeklong programs once summer break starts.
"Our STEM programs are all booked out," Miller says. "We've even had a program booked with 22 girls."
The weeklong programs include science, technology, engineering, art, and math (STEAM) camp where some participants practice coding, soldering, and robotics; and a robotics camp to allow kids to build robots and battle them in competition.
BPL will also partner with MSC to help highlight the 50th anniversary of the Apollo landing.
Similarly, at the King County (Wash.) Library System (KCLS), local STEM-related organizations will partner with the system's 50 libraries this summer for "A Universe of Stories." Some of the organizations include the Museum of Flight, Pacific Science Center, and the KidsQuest Children's Museum.
At one event, kids will learn about rockets and build their own Alka-Seltzer powered rocket. At another, they'll use spectroscopic glasses to analyze star gases and learn about stellar evolution and composition.
"Kids don't necessarily grow their love of reading in a vacuum," says Rekha Kuver, youth and family services manager at KCLS. "They're part of families and communities. We're really focused on having the library be a place where that kind of connection through reading can happen."