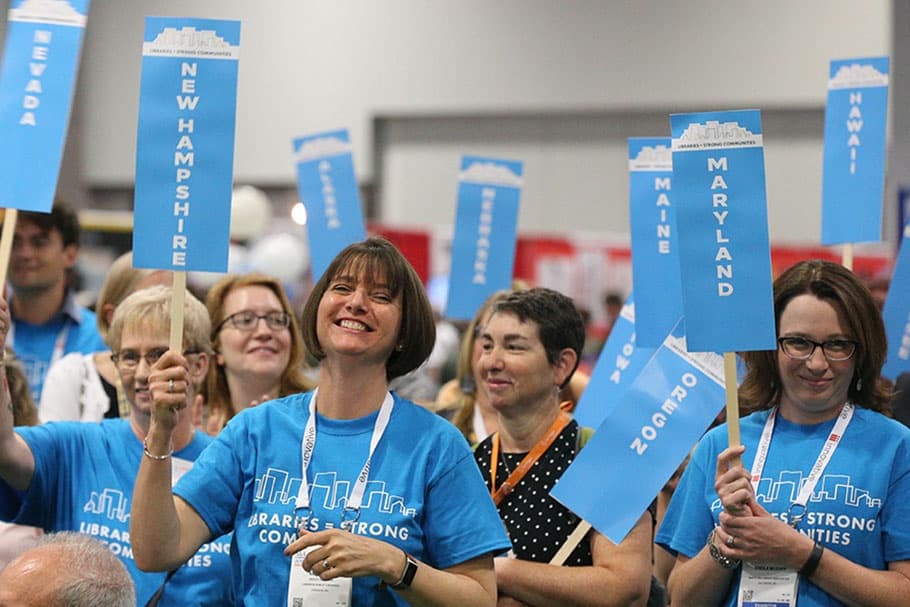 There was no shortage of laughter or conviviality among the more than 21,400 library workers and exhibitors who gathered for the American Library Association's (ALA) Annual Conference and Exhibition, held June 20–25 in Washington, D.C. But the subject matter commanded a sober tone, as speakers and panelists touched on some of the most complex and urgent issues facing the country in 2019.
One News You Can Use session, "Confronting White Nationalism in Libraries," was inspired by a toolkit published by the Western States Center, an advocacy organization focused on strengthening inclusive democracy, to help schools address the rise in racist extremism. Panel organizer Jarrett Dapier, young adult librarian at Skokie (Ill.) Public Library, applied its recommendations to libraries facing similar instances: anticipate potential forms of white nationalist activity, prepare for a proper legal response, and represent diverse perspectives across programs, collections, posters, and personnel in the library. Otherwise, he says, "On an unconscious level, you are saying that whiteness is all that matters, and it gives the impression that you are reinforcing systems of repression that only a small minority of your patrons might support."
The "Food for Thought" session addressed the scourges of hunger and food insecurity, presenting examples of libraries stepping in to connect patrons to food and resources. Amber Williams, managing librarian of strategic initiatives at Spokane County (Wash.) Library District, paraphrased a preschool parent she'd met: "My kid's homework isn't on my radar when I'm worried about having enough food for dinner." This exchange inspired the library's afternoon snack program for kids, which staff have linked to an overall reduction in behavioral issues.
"Scarcity is a myth we need to vanquish," said Erica Freudenberger, outreach consultant at Southern Adirondack Library System in Saratoga Springs, New York, which partners with the nonprofit Comfort Food Community in Greenwich to offer weekly deliveries of fresh produce at several of its libraries.
Freudenberger also presented a session on the New Americans Library Project, a yearlong exploration of library programs and services that support immigrant and refugee populations, driven by ALA's Public Programs Office. These programs often include English-language courses, financial literacy workshops, and opportunities for social inclusion and civic engagement—but a fraught political climate and dwindling resources pose significant challenges. "Moving forward we need to create services with, not for, new Americans, remembering that it's a complex community with varying needs," she said.
Several sessions addressed the plight of library patrons experiencing homelessness. Jerome Thomas, peer outreach specialist at D.C. Public Library, recommended the use of peer navigators to help these patrons meet life's challenges and obtain impor­tant documents like birth certificates and identification cards. "Customers want someone to listen and space for them to explain what they are going through," he said.
Libraries are also employing the peer navigator approach to support patrons affected by opioid addiction. Sharon Streams, director of OCLC's WebJunction, touched on various approaches by eight public libraries as she presented the findings of a study by OCLC, the Public Library Association, and the Institute of Museum and Library Services during a session. "Libraries are still overlooked when it comes to citywide responses," she said.
At Denver Public Library, for example, more than 500 community members have volunteered to be trained to administer the overdose-countering drug naloxone. "We know we've saved about 30 lives using naloxone over three years," said City Librarian Michelle Jeske. Other libraries offer public awareness campaigns and bystander training to help reduce the panic and stigma surrounding overdose events.
Reed Strege, director of library services at the Braille Institute of America, led "Best New Tech For Readers with Blindness, Visual Impairments, and Physical Disabilities." The National Library Service for the Blind and Physically Handicapped, for example, is developing interactive displays that link to smartphones and computers and convert text to Braille. The technology, to be circulated within three to five years, counters some of the logistical challenges of producing and maneuvering large Braille volumes. "This is a real potential game-changer, because if a person learns to read Braille and has some aptitude with these devices, what they'll have access to will increase exponentially," Strege said.
At a panel hosted by the Association for Library Service to Children called "The Urgency of History," Coretta Scott King Honor Book author Varian Johnson described historical events and the need for voices and stories from those who are affected by them, particularly voices that have been marginalized. "We are taught that Brown v. Board of Education was a great decision in the civil rights movement, and it was," he said. "But what happened to those kids who were moved to an integrated school?" He also dismissed misguided notions of "balance" as an overrated ideal: "I'm not interested in telling a both-sides story about slavery," he said.
Where do music and literature overlap? Randallstown (Md.) High School Librarian Joquetta Johnson (left) addressed this question as she presented her research project, "Lyrics as Literature: Using Hip-Hop to Amplify Student Voice and Social Justice." She argued that lyrics, including hip-hop and rap, should be viewed and taught as literature and windows into history. She pointed to Kanye West's "Blood on the Leaves," a song inspired by Billie Holiday's "Strange Fruit," which was drawn from a poem by Lewis Allan protesting the lynching of African Americans. When she gave the audience a series of verses, most couldn't identify whether they were written by modern hip-hop artists or William Shakespeare.
Anthony Chow, associate professor at the University of North Carolina at Greensboro's LIS department, and former ALA President Loriene Roy (2007–2008), professor at the University of Texas at Austin School of Information, presented findings from their study of literacy on the Blackfeet Reservation, home to members of the Blackfeet Nation in northwest Montana. "The magic number for one's home library is 80 books or more," Chow said, explaining that that's the number at which literacy levels significantly improve. Approximately three in four surveyed Blackfeet Nation members reported having fewer than 80 books in their home libraries.
Banned Books Week has grown into one of ALA's most successful public-awareness campaigns, but the issue of censorship in libraries encompasses more than just the books on their shelves. ALA's Office for Intellectual Freedom (OIF) Assistant Director Kristin Pekoll led a panel called "Censorship Beyond Books," named for her new book on the subject, citing 531 instances of nonbook resources that came under fire last year, from videogames to drag queen story hours and Black Lives Matter displays.
Another session focused specifically on considerations surrounding controversial speakers. Sukrit Goswami, director of Haverford Township Free Library in Havertown, Pennsylvania, recounted his library's experience hosting drag queen storytime. After an uneventful run last summer, the event this year drew national media attention, hundreds of complaints, and crowds of protesters and counterprotesters. Goswami spoke with OIF for advice, worked closely with police and fire marshals to ensure safety, and treated everyone with equal respect and attention, making a point to provide water to protesters and counterprotesters alike.
"Everyone needs to be seen and represented in the library, and we can't let one group who disagrees with another group prevent you from performing your duties as librarians in general," said Peter Coyl, director of Montclair (N.J.) Public Library and a member of ALA's Intellectual Freedom Committee.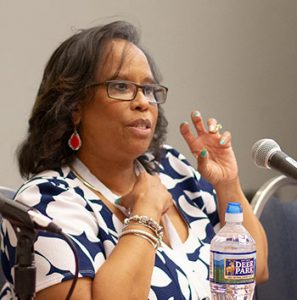 Reference and User Services Association President Ann Brown, instruction and outreach librarian at George Washington University in Washington, D.C., hosted a discussion on how library service decisions affect marginalized communities. Libraries uphold privilege by planning programs, services, and resources around assumptions about their users, said Nicole A. Cooke, program director for the University of Illinois at Urbana-Champaign MLIS program. Building relationships with community members can help break down biases and lead to more inclusive services.
It's also important for library staff to reflect a community's diversity, or potential users may feel that the library isn't their space, said Michelle Hamiel (right), chief operating officer for public services at Prince George's County (Md.) Memorial Library. One often-overlooked element is how outreach to certain groups is often left to minority staff members. "Emotional labor and fatigue come with being that person," Cooke said.
Spotlight on speakers
Award-winning YA author Jason Reynolds kicked off the conference with a stirring address, challenging librarians to facilitate understanding and empathy in their communities. "Maybe what librarians really are is architects, and your libraries are warehouses where we build human libraries," he said. "Imagine a generation of walking, talking libraries, with reference desks here and here," he added, gesturing to his head and heart. (Watch video clip of Jason Reynolds.)
The Auditorium Speaker Series drew big names from the worlds of literature, media, academia, and even the highest court in the land. US Supreme Court Justice Sonia Sotomayor spoke with her editor Jill Santopolo about how writing kept her grounded after her appointment to the Supreme Court.
Her autobiography My Beloved World was the result of thinking deeply about her life as she moved from a relatively anonymous job in New York to her highly visible role as an associate justice.
When she was a child, Sotomayor recalled, New York Public Library's Parkchester branch was a refuge after her father's death. "If I went to the library, I could escape the sadness in my house," she recalled. The books there also started her on the path toward studying law.

Today Show cohost Hoda Kotb—daughter of a longtime Library of Congress staffer—showered librarians with praise: "I can't tell you how much you matter and how much you mean to your communities, to your states, and to this country." She also shared how her 2-year-old daughter regularly pleads with her to read a story "just one more time," which taught her that kids crave books, even with nonstop access to the internet and other media. (Watch video clip of Hoda Kotb.)
Artist Frank Miller and screenwriter Tom Wheeler previewed Cursed, a forthcoming YA graphic novel and Netflix series that retells the King Arthur myth with a young girl named Nimue at its center. Interviewed by Young Adult Library Services Association President-Elect Todd Krueger during an Auditorium Speaker Series talk, Miller shared that his favorite childhood stories were Superman and Disney's The Sword in the Stone. To help inspire and empower young girls the way King Arthur inspired them, the creators made a point to hire women as writers, directors, and designers on the Netflix series.
When she was young, science fiction author Nnedi Okorafor found inspiration in the natural world. "From as far back as I can remember, I've loved bugs," she said in then–ALA President Loida Garcia-Febo's President's Program. "It was something about how within a small patch of grass, there was a whole world happening." That love of bugs was part of the inspiration for LaGuardia, her graphic novel about a Nigerian-American woman who goes through airport customs with a sentient alien plant.
Okorafor, who is working on an adaptation of writer Octavia Butler's The Wild Seed, addressed the need for diverse voices in speculative fiction. "Science fiction needs diversity because it is a global think tank," Okorafor said. "Technologies influenced by science fiction will be limited without diversity." (Watch video clip of Nnedi Okorafor.)
"I feel like I'm at a Star Trek convention," joked actor and activist George Takei as he took the stage for his talk. His tone shifted as he spoke about the four years he spent in internment camps for Japanese Americans as a child during World War II, which he details in his new YA graphic novel They Called Us Enemy. Even though he and his family were US citizens, he recalled, "Suddenly we were the enemy, because we looked like people who bombed Pearl Harbor."

Takei drew parallels between Japanese-American internment and the current conditions experienced by undocumented immigrants along the US border and Muslims facing the Trump administration's travel ban. "This is an American story," he said. "Our past is filled with chapters like mine. There's a continuing cycle of injustice." (Watch video clip of George Takei.)
During her session, author Tomi Adeyemi spoke with Rose Brock, professor of children's and young adult literature and library science at Sam Houston State University, about the importance of representation in art and literature. A huge influence on her novel Children of Blood and Bone involved a work of art she saw in Brazil depicting black gods and goddesses, showing her she could be "the god of her own universe." (Watch video clip of Tomi Adeyemi.)
MSNBC reporter Mariana Atencio danced into her presentation to the beat of "America" from West Side Story. The song—performed in the musical by Puerto Rican characters debating the benefits and drawbacks of life away from home—set the tone for her talk, which echoed themes from her new book Perfectly You, a memoir focused on authenticity in the face of adversity. "When you are a woman and an immigrant from a minority community, you don't feel like you have a glass ceiling over you, you feel like an entire concrete building sits atop your head," she said. "But sometimes, what you least expect or desire is exactly what will prompt you to do something so much bigger than yourself." (Watch video clip of Mariana Atencio.)
Journalist and entertainer Mo Rocca (right) closed the conference by sharing his fascination with obituaries, which he explores in his forthcoming book Mobituaries: Great Lives Worth Living and podcast of the same name. "To see a life distilled like that, you get the sweep and drama," he remarked. Even the "forgotten" presidents between Abraham Lincoln and Theodore Roosevelt have worthwhile stories, he said. Chester A. Arthur ("Who's probably from Canada, but that's another scandal," he quipped), defended an African-American woman named Elizabeth Jennings who had been kicked off a "whites-only" streetcar in New York City in 1854. He won the civil suit, leading to the integration of the city's public transportation more than 100 years before the Montgomery bus boycott.
Author insights
Author Grace Talusan, whose family fled a brutal dictatorship in the Philippines when she was 2 years old, addressed "When You Can't Go Home Again: Refugee and Exile Authors in the US."
"I learned to be afraid to tell stories and say the wrong thing, because something I say could impact a family member back in the Philippines, or even someone who shares one of my last names," she said. "I waited until a lot of those relatives died, and that's when I finally felt comfortable sharing my stories."
Syrian refugees face similar issues, said Karen Fisher, a professor at the University of Washington Information School and fellow panelist. Since 2014, Fisher has worked with the United Nations High Commissioner for Refugees to promote literacy in the Za'atari refugee camp for Syrians in Jordan. "One of the reasons you cannot find books by Syrian authors, it has to do with the consequences of the regime," she said. "There is so much censorship and oppression."
At "Wordy to Wordless: How Comics Writers Adapt to Different Genres, Ages, and Artists," comic and graphic novel writers Julia Billet (left), Amy Chu, Ezra Claytan Daniels, and Wilfrid Lupano talked about the inspiration for their stories and how they work with artists to bring them to life. Through a translator, Billet said the story in her graphic novel Catherine's War is actually her mother's story about surviving the Holocaust—with embellishments in parts. "My mother told me the story, but not the whole story," she said. After conducting research and talking to survivors, Billet reimagined her mother's story.
At the Association for Library Collections and Technical Services President's Program, Georgetown University Professor Marcia Chatelain spoke about the importance of fast-food corporations in African-American culture. Chapters of her upcoming book Franchise: The Golden Arches in Black America detail how students in Pine Bluff, Arkansas, used McDonald's to plan sit-ins at a time when African Americans were banned from other lunch counters, and how white flight led to McDonald's installing black franchise owners in black neighborhoods.
Chatelain also touched on the influence the McDonald's location in Ferguson, Missouri, had after Michael Brown was killed by police in 2014. "McDonald's was, in many ways, the epicenter of the crisis," she said, noting it's where the police refueled, protesters bought milk to soothe their tear-gassed eyes, and journalists used the Wi-Fi to file their news stories.
Practical magic
Success in budgeting talks starts early. That was the message of a panel focused on budgeting processes for libraries. "Talk to your councilpersons, talk to your town supervisors, and have that dialogue so they'll be able to make those decisions come budget season," said Koran Saines, Sterling district supervisor for Loudoun County (Va.) Board of Trustees Chair Mark Miller brought him a surprising idea: eliminating fines on overdue materials. When Miller explained how charges adversely and disproportionately affect lower-income people—many of whom are Saines's constituents—Saines then championed the proposal to the rest of the county board.
In the "Start Smart Salary Negotiations Workshop," presented by the American Association of University Women, panelists shared strategies for conversations surrounding compensation. Aliqae Geraci, assistant director of research and learning services at Catherwood Library at Cornell University in Ithaca, New York, and Shannon Farrell, natural resources librarian at the University of Minnesota in Minneapolis, gave four main tips: Know your value; know your target salary and benefits; know your strategy; and practice before entering a negotiation.
The session "Accessibility and Creation of Online Library Materials: Applying Universal Design for Learning" introduced attendees to a framework for improving and organizing learning experiences for all people, regardless of background or ability. Liz Johns, teaching and learning librarian at Goucher College in Towson, Maryland, urged the audience to recognize that when it comes to making libraries accessible, people are not problems. "There's no step-by-step guide," she said. "Taking a proactive and inclusive approach benefits all learners."
Alicia Lillich, emerging technologies specialist at the National Institutes of Health Library in Bethesda, Maryland, addressed the role of private citizens in scientific research at the "Citizen Science in Libraries" program. "Anyone can participate, all participants use the same protocols, the data retrieved helps scientists come to real conclusions, and a wide community of people share the data for the advancement of science and the public benefit." Librarians can find citizen science projects through sources like SciStarter, which lists more than 3,000 projects, she said. Libraries can also seek funding for citizen science programming from the National Network of Libraries of Medicine, the Foundation Center, state libraries, and government agencies.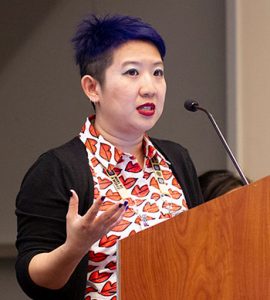 The dark web—the section of the internet that isn't indexed by search engines and requires specialized tools to access—has a negative reputation because of illegal activities that often take place there. The "Casting Light on the Dark Web" program highlighted the many legitimate resources and significant privacy benefits it offers. "The dark web really should be called something more like the hidden web," said Matt Beckstrom, systems librarian at Lewis and Clark Library in Helena, Montana.
"Are You Going to Tell My Parents?" was the name of a session focused on privacy rights for minors in the library. Interim OIF Director Deborah Caldwell-Stone reviewed relevant federal laws and urged librarians to research local library confidentiality statutes, which vary by state. "Ensuring library users' confidentiality frees them from fear of retaliation or intimidation as a result of reading a book, visiting a website, or consulting other library resources," said Candice Mack (right), senior YA services librarian at Los Angeles Public Library. "This is regardless of age."