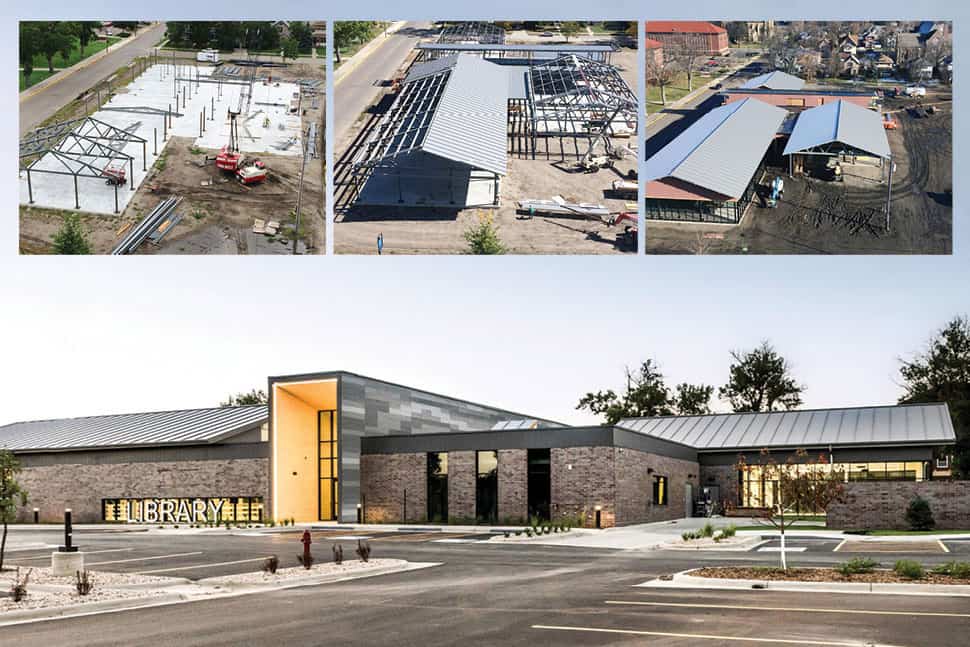 In its first nine months, Austin (Tex.) Public Library's new Central Library saw 1 million patrons come through its doors. Since cutting its ribbon in 2017, K. O. Lee Aberdeen (S.Dak.) Public Library has seen gains in cardholders, program attendance, meeting-room use, and computer use. And after opening to the public, Renton Highlands Library, a branch of the King County (Wash.) Library System (KCLS), saw circulation increase by 18%.
These libraries, each completed within the past three years, are now centerpieces of their communities. They have inspired awe and appreciation, increased user engagement, received architecture and design awards—and won over some of their critics. So how did these endeavors come together? How does a beautiful building become a reality?
We asked three administrators—who have had disparate experiences with costs, construction timelines, funding sources, and community priorities—for some nuts-and-bolts insights on how a new library gets made. Here's what they said.
Recognizing an opportunity
"The main problem with our previous Central Library building, which opened in 1979 to serve a population of several hundred thousand residents, was that it proved fairly quickly to be undersized as our city boomed," says John Gillum, facilities process manager for Austin Public Library (featured in last year's "Library Design Showcase," Sept./Oct. 2018, p. 28). "It must also be conceded that the designers of the building did not anticipate the computer age particularly well."
Gillum says that community conversations around the library's flagging conditions began as early as the late 1980s. "We were focused primarily on making the building work by whatever means [we] could devise," he states, "but we realized that a new library might be the solution when citizens began to lobby to put a funding proposition on an upcoming general obligation bond election ballot."
Renton Highlands Library and Aberdeen Public Library (featured in last year's Library Design Showcase) were also facing outdated and cramped confines.
Lack of space for materials and new technology, poor infrastructure, a collection kept "artificially low," a leaking roof, and bathrooms that were not compliant with the Americans with Disabilities Act were all needs the Aberdeen Public Library Foundation cited in its fundraising campaign. "After much consideration, building new was chosen as the solution," says Director Shirley Arment.
Civic buy-in
Renton Highlands Library's situation was unique: The city of Renton ran its own independent libraries until 2010, when residents voted to annex them into KCLS. As part of an interlocal agreement, the city would fund two libraries—a renovation of Renton Library and new construction for Renton Highlands Library—which KCLS would own, maintain, operate, and furnish.
While city officials in Renton and Aberdeen reacted positively to the library projects ("All wanted to see the problems solved, with questions about a cost-effective way to make it happen," says Arment), reaction to Austin Public Library's proposal was mixed. "While some city councilmembers, county commissioners, and educators immediately embraced the idea, there was pushback from many, including library commissioners who were convinced that building more branch libraries—not a central library—was the key to improving library services," says Gillum.
Community involvement
KCLS held public meetings to get input on Renton Highlands Library's proposed design. "The community was appreciative of the inclusive design process," says Gregory Smith, director of facilities and development for KCLS. "One of the chief desires was to have the library represent the airplane industry, as many residents work at the local Boeing plant."
Aberdeen residents also attended public meetings, and some community members sat on committees to choose the new library's location and contribute to the building's design. But perhaps the community's biggest showing of support was approving a tax levy to fund the library in 2015; it passed with 60% in favor.
Austin Public Library, too, hosted design charrettes across the city, allowing architects to get direct feedback from users—including a session that was especially popular among teens. Further, former Austin Mayor Kirk Watson appointed a citizen task force to study the needs of the library system. "The formal report of the task force noted that there was a clear need for a new Central Library, as well as a need to upgrade older branch libraries," Gillum says.

Bringing on consultants
Aberdeen Public Library hired two different consulting firms, one in 2008 and another in 2014. The first conducted a needs-and-costs assessment to determine whether the library should remodel its existing building or pursue new construction. The second firm came in with a goal to "plan and design the type of library that we needed and wanted in our community," says Arment.
Neither KCLS nor Austin Public Library, the two larger systems, hired building consultants because that role was assumed by in-house planners and project managers. "We were fortunate to have staff who were experienced in library planning, site acquisition, and design and construction," says Gillum.
The community was appreciative of the inclusive design process. —Gregory Smith, director of facilities and development for King County (Wash.) Library System
Hiring architects
Austin Public Library's call for architects received international attention; more than 80 firms applied. "Staff was charged with meticulously evaluating and rating the submittals, but finally a list of six finalists was decided upon," says Gillum. The six were invited for face-to-face interviews and presentations, and then a list of three finalists selected by staff was taken to city council, which awarded the contract.
Renton Highlands Library's request for proposal outlined the library's desire to represent what the residents wanted, says Smith. Interviews were conducted by a panel comprising Smith, the KCLS executive director, a representative from the Friends group, a KCLS trustee, the city manager, and two community members. The group focused on which architect team had the best design ideas for the community's needs and which mechanical, electrical, and plumbing teams it would bring to the project, says Smith.
Having never hired building consultants or architects before, Arment says she leaned heavily on city officials' expertise. Both were selected by a committee of library and city officials.
Arment, Gillum, and Smith say they consulted literature and even other libraries to assist in planning and design. "We visited every city with a new central library that we could—Vancouver, Seattle, Nashville, Salt Lake City, San Francisco, Minneapolis, Amsterdam—and endeavored to absorb every bit of information their staff members generously shared with us," says Gillum.
The role of Friends and trustees
"A revamped library commission," which Gillum says changed significantly with Austin's 1998 bond election, "proved to be critical for the new Central Library project." He credits the commission's "passionate advocacy" for getting the funding proposition on the 2006 ballot and rallying citizens to vote in support, while defending the project against accusations that it was unnecessary, off schedule, and over budget.
The Austin Public Library Foundation was also integral to the new construction. "The foundation initially thought it might be able to raise $2 to $3 million. They were better fundraisers than they knew," says Gillum. "Their consistent positivity ultimately resulted in $6 million in donations to support art, technology, and collection enhancements."
Meanwhile, Aberdeen's foundation board raised more than $2 million for the building.
Securing funding
Though Aberdeen residents approved a $6.5 million tax levy for the new library, that figure wasn't attractive to everyone. "A public vote was forced, triggered by referendum petitions filed by an opposition group," says Arment. Ultimately, library supporters prevailed.
"Our project estimate totaled $125 million, but because of a number of other worthwhile projects competing to be on the ballot, the proposition to fund the new Central Library only called for $90 million in voter-approved funding," says Gillum. Fortunately, he says, the city council approved a plan to cobble together the remaining $35 million from sale proceeds of a city-owned block once considered for the new Central Library, issuance of certificates of obligation, and transfers from the general fund.
Unique building features
Renton Highlands Library's decision to more than double its space—from about 6,000 to 15,000 square feet—allowed more flexibility to fulfill the community's vision of representing its ties to aircraft manufacturing. "The building truly does represent an airplane hangar. With its high, open reading area with lots of windows and lower areas that expand outward, it actually looks like you could park an airplane in it," Smith says. "It also has what looks like jet streams in the wood ceiling and carpet tile."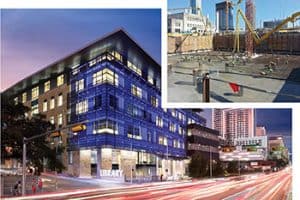 Aberdeen Public Library's 13,000-square-foot expansion allowed for a programming room in the children's section, an outdoor programming area, a separate teen space, lots of meeting and study rooms, and a kitchen for food-based programming—all while paying homage to the Craftsman and Prairie styles of the town's railroad depots.
Gillum says Austin Public Library users were most vocal about building as green as possible. "By city ordinance, we were required to achieve at least a Silver LEED certificate," says Gillum. "But everyone associated with the project was so committed to constructing the most sustainable building possible that we completely overshot the mark."
With its solar panel array and rainwater harvesting system, the new Central Library became Austin's first Platinum LEED–rated facility. "We are proud to have created such a sustainable building, but I think the community might be most proud of what a uniquely beautiful building was created," says Gillum, noting that the wood and stone architecture blends well with central Texas's natural elements.
Biggest obstacles
"Convincing the public that a new library was in the best interest of our community and that the new library would be relevant for a long time to come" was among Aberdeen Public Library's greatest challenges, says Arment.
For Austin Public Library, challenges came when workers began to dig. "The biggest obstacle encountered during construction was no doubt the underground river flowing beneath the site, discovered while we were excavating for the below-grade parking garage," says Gillum. "However, our excellent engineers successfully redesigned the foundation to be the largest floating slab ever poured in this part of the world."
Renton Highlands Library encountered a few hiccups on the way to opening. In 2016, the initial opening was delayed by vandalism and construction. It was then decided to postpone the dedication to 2018, because the public park being built across the street was causing accessibility issues. Further, the project was planned to be a joint development with attached retail and housing—but Smith says the developers for these amenities still have not broken ground.
Additional challenges included dealing with certain government jurisdictions for permitting, sticking to timeframes, and figuring out how to treat stormwater runoff. "Having a good architect team on board really helps you navigate this process," says Smith.
Lessons learned
What did each person wish they had known going into the process?
"The construction inflation during the design of this project was significant. By the time we got through design, we had to make some engineering changes to keep within budget," says Smith. "Another lesson learned was to always be ready for anything the fire marshals will ask you to do. You might have to install a lot more equipment than anticipated."
"Although we never took a cookie-cutter approach with any of our facilities, it would have served us well if some knowledgeable soul had advised us that every central library is a prototype—no one ever builds the same central library twice," says Gillum. "If we had fully grasped that, we might have been less surprised when encountering design and construction challenges seemingly every 15 minutes."
Arment's advice is simple and practical. "Have patience," she says. "All the stress is worth the outcome."
---
K. O. Lee Aberdeen (S.Dak.) Public Library
Town population: 28,562. The library serves approximately 45,000 people from Aberdeen, Brown County, and surrounding areas.
Total cost of project: $8.6 million
Funding sources: $6.5 million by tax levy, $2.1 million from fundraising campaign
Timeline
2007: Problem recognized
2008: Consultants hired
2011: Location selected
2014: Consultants hired
2015: Architects selected
2016: Schematic design completed; construction starts
2017: Construction ends; library opens
Renton Highlands Library, King County (Wash.) Library System
City population: 102,153. There are three public libraries within city limits; Renton Highlands Library has 37,150 cardholders.
Total cost of project: $11.4 million
Funding sources: $10.4 million from city of Renton, $1 million from KCLS
Timeline
2010: Problem recognized
2011: Location and architects selected
2013: Schematic design completed
2014: Construction starts
2016: Construction ends; library opens
Central Library, Austin (Texas) Public Library
City population: 964,254. Austin Public Library has 685,795 cardholders and Central Library sees about 101,000 monthly visits.
Total cost of project: $125 million
Funding sources: $90 million in general obligation bonds from 2006 election, $10 million from Austin's sale of Block 18, $19 million in certificates of obligation, $6 million from general fund transfer
Timeline
1990: Problem recognized
2007: Location selected
2008: Architects selected
2011: Schematic design completed
2013: Construction starts
2017: Construction ends; library opens