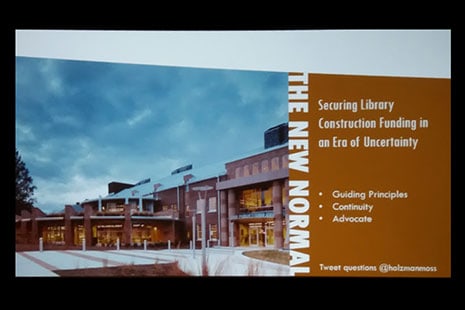 Dover (Del.) Public Library's path to constructing a new building was a winding one. "Our project actually began in 1998," says Director Margery Cyr. Instead of expanding its original facility, the library determined in 2003 that it would "wiser" to build a new structure in a different area of Delaware's capital. What followed was a failed referendum, the process of getting city advocates on board, narrowing location options from a list of 26 to one final city-owned site, shelving a joint-use concept in favor of moving to a county library system, and securing mixed methods of funding. Then the Great Recession struck in 2008.
"We had a dilemma," says Cyr. "It was a really hard pill for anyone to swallow as to why we would build new public building for $18 million." Still, champions of the library—both political and internal—pressed on and the new building finally opened in 2012, a full 14 years after it was first envisioned.
"The duration of a decade is not surprising these days for a project," Malcolm Holzman, founding partner of Holzman Moss Bottino Architecture in New York City, told attendees at the onset of "The New Normal: Securing Library Construction Funding in an Era of Uncertainty," a session cosponsored by the Association of College and Research Libraries and the Library Leadership and Management Association at Annual June 24.
Or as Joel Hartman, chief information officer and vice president for information technology and resources at University of Central Florida (UCF), says jokingly of his campus's two-decade construction plan: "It's like crossing the Grand Canyon in four leaps."
How libraries get built
Cyr, Hartman, and Mark Rozewski of Southern Connecticut State University (SCSU) each presented case studies of successful—completed or in-progress—library construction projects. What did the three have in common? Each relied on guiding principles, continuity, and advocates to sell their vision and take it to fruition.
"A wider audience needs to understand why the project is worthwhile," says Holzman. "This is more than spreadsheets and calculations."
Guiding principles is where many projects begin. "It's consensus building," says Holzman, "and really it's the first step." Planners might solicit public or stakeholder input through a series of workshops or brainstorms that ask what the end product should bring to the community. A list might start with 25–30 items that are funneled into six or seven basic concepts that convey the importance of the project. For example, "accommodate collaborative learning and individual study" and "promote health and wellness through active design" were two of the guiding principles for UCF's John C. Hitt Library.
Continuity is the idea that a project's expansion studies and research, documentation, and design and construction phases remain fairly stable over time. For SCSU's Buley Library, an 11-year project that sought to define "a level of aspiration for students and prospective students" through "the built environment," says Rozewski, that meant anticipating changes during long planning periods. "The future is happening during the life of the project," he says.
Advocacy can be what ultimately gets a project the green light. "An advocate plays an incredibly important role," says Holzman. He or she "guides the extended process through hills and valleys," provides enthusiasm, and moves the process forward. For Cyr and the Dover Public Library, that person was the city manager, who backed the plan from inception, created a steering committee, and is speculated to have lost his job because of his insistence on finishing the project during the recession.
And does Cyr have any tips on how to market a library in a recession? "There's a section of the community that we have never won support from," she admits. "The public has to want to come to those meetings."