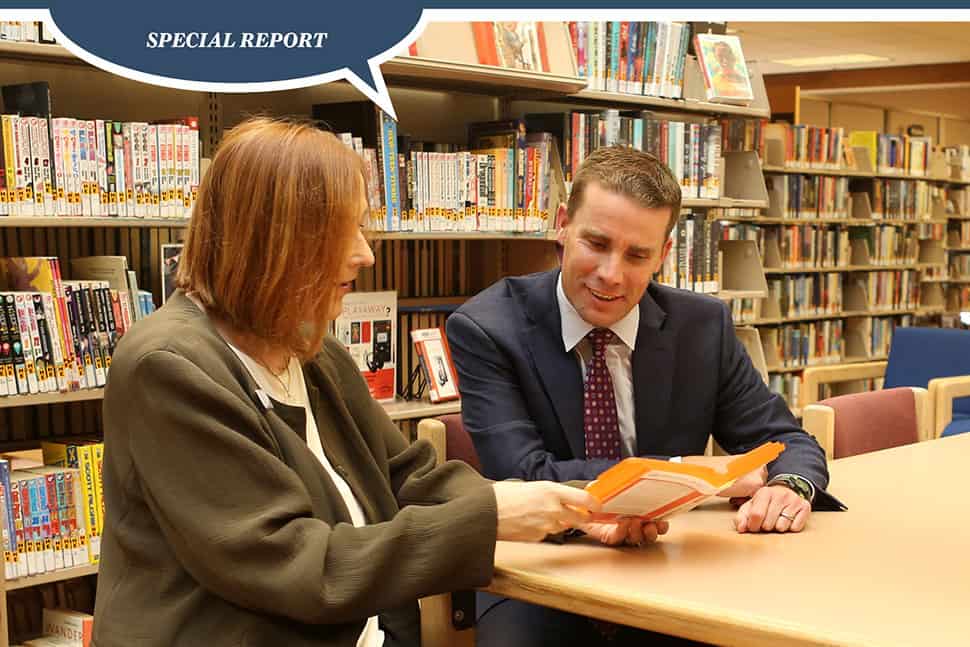 The idea of speaking to members of Congress may evoke images of idealistic, Jimmy Stewart–style theatrics, long bus trips to Capitol Hill, and frustrating—even fruitless—time spent away from library work. Plus an annual trip to Washington, D.C., can be prohibitively expensive for many librarians and library advocates. But making sure representatives in Congress keep library issues, budgets, and legislation in mind through year-round advocacy—in particular, with your elected officials' local and district offices—is vital.
"Building these relationships is one of the most important strategies for a successful advocacy program," says Bradford Fitch, president and CEO of the Congressional Management Foundation, a nonpartisan, nonprofit group that helps members of Congress and constituents communicate effectively with each other. "There's a general wall of cynicism that's been built up around government. But the reality is that representatives are hardwired to say yes."
Wendy Woodland, director of advocacy and communications for the Texas Library Association, says reaching out needn't be discomfiting. "Too often, people hear advocacy and they think it's intimidating," she says. "There's a reluctance, as if legislators are a separate entity. But they're just people, and they work for you. Regardless of what you see on 24-hour news cycles, they genuinely want to know what's going on, and they want to support their communities." She says the fact that libraries are so connected to their communities gives librarians authority with elected officials. "Librarians have a lot of knowledge to share," she notes.
Getting on the radar
The first step is knowing who to contact. "If you don't know who your representative is, look it up right now," says Deborah Doyle, vice chair of Sonoma County (Calif.) Library Commission, president of California Public Library Advocates, and United for Libraries Legislative Committee chair. And get to know the staffers in your member of Congress's local office, too. They're the ones who will get you on the legislator's schedule.
"One big thing is just reaching out," says Kathryn Roots Lewis, director of libraries and instructional technology for Norman (Okla.) Public Schools and immediate past president of the American Association of School Librarians. Lewis, whose district has 16,500 students and 1,200 teachers, says to save emails for follow-up, and that the initial contacts should be made by phone whenever possible.
Woodland notes that patience is key. "If you wait until it's a crisis, and you need something and don't have a relationship in place, your chances of success will go down," she says. And when you establish a relationship, "make sure you're not always asking for something," she advises. Give them the opportunity to engage with their community, which Woodland says they appreciate.
Get to know as much about your elected officials as possible. "Take the time to learn about their committee assignments and sponsored and cosponsored bills," says Missouri Library Association President Erin Gray, who is also manager of Springfield–Greene County Library District's Republic branch. Then you can reach out to their office staffers and highlight the ways in which a bill will have a positive impact on a community partnership for your library, she notes.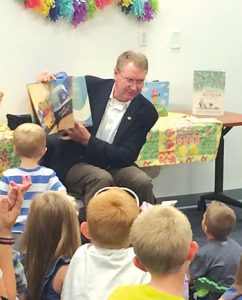 Woodland advises learning some personal information about your legislators as well. "Are they ex-military? Are they a small business owner? Maybe they have really young kids and they want to read for storytime," she says. "It's a place to start." For example, if your library is hosting a Veterans Day event and you know your legislator is retired military or has a family member on active duty, ask if they'd like to participate. "Then it's not a total cold call. You've found something that makes a connection."
A little help from your Friends
Another way to find those connections is through your board members, Friends groups, volunteers, and parents. Woodland recommends reaching out to your library's support network for advocacy assistance. "Find out who knows who, and ask if they'd mind introducing you," she says. If some of your board members have existing relationships with elected officials, make sure they leverage them on behalf of the library.
Recruiting nonlibrarian advocates to the cause also allows librarians to focus more on their primary library work. "The librarian is incredibly important, [but] the trustee can have 10 times the reach, and a Friend can have 100 times the reach," says Doyle. "I don't think librarians ask for help enough." She says part of the reason is because many librarians think they can do it all themselves, it's inconvenient, they don't think they can control the message, or they don't have the time. "But if we don't use the people who say 'I'm a Friend,' then we're just rearranging the deck chairs on the Titanic because the next recession is going to have a massive impact on libraries."
Visits, events, and photo ops
Once the connection with a legislator—or the legislator's staff members—has been made, get them involved. "Members of Congress love to have their pictures taken with kids, animals, and old people," Fitch says. "Service dogs and children's reading hours are gold to a politician, and it gets your library free publicity."
Make sure that there are multiple options, too. "It may take a few weeks or a month to get on someone's schedule, so plan ahead, and always have fallback events if they can't come to the event you have scheduled," Lewis advises. If senators and representatives can't visit, Lewis invites their staff. "It's very hard with senator and representative schedules," she says. "But their staff members talk to them, and when I'm in D.C., they know who I am."
Also, keep everyone on your staff in the loop. "You need to make sure that the people in your [library] are aware you did the reach out so they're not surprised by someone coming in," says Lewis.
Telling your library's story
Once you've done the prep work, built the relationship, and gotten on the lawmaker's schedule, now it's time for the meeting.
Advocacy work is about relationship building, not dry business-speak. To that end, stay away from extensive PowerPoint presentations and stacks of statistics, and use storytelling techniques to help paint a picture of the library's needs and community benefits. For example, Lewis describes students who participated in a Norman Public School maker program, supported by an Institute of Museum and Library Services grant.
"I can talk about students who made products via the makerspace to show their learning," she says. "People are fascinated by what a 2nd-grade child can ask, and what a 10th-grade child can ask—the questions are profound, and building that excitement gets people excited." And don't forget to bring visual aids. "Remember that your cellphone is your best tool because of the pictures you can take and share," she adds.
Telling these stories can even be a regular event. "We have an annual Legislator Storytime series," says Gray. "It's a great opportunity for us to welcome our legislator to our branches." The event features a tour, staff introductions, and stories about specific branches.
One thing librarians should never do, Fitch warns, is get angry during an ask. "Yelling 'I pay your salary' at someone doesn't work," he says. "I'm only half joking. Passions are running high nowadays, but that's not a persuasive tool. Impatience is not a good idea."
Lewis agrees that it's never a good idea to be negative. "This is not the time or place," she says. "Bring your ask in a straightforward, confident, positive manner. We all want more money, but you have to be upbeat and positive."
Lastly, make sure your representatives feel appreciated. "Give them an award, and tweak the ceremony so it's in their neighborhood," says Doyle. "And thank them, thank them, thank them."