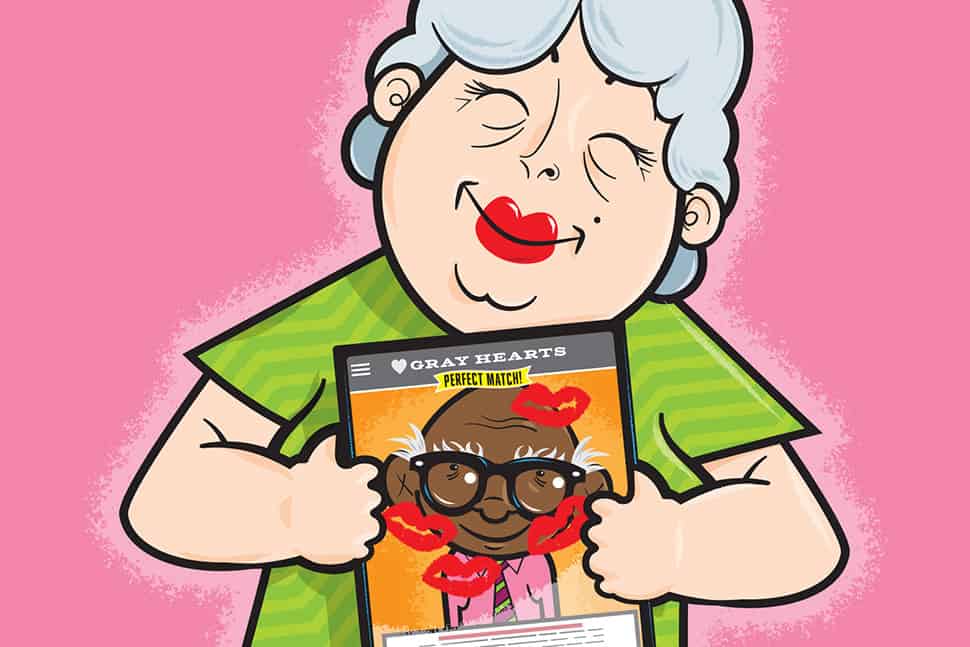 Finding love after 50 isn't always easy. Social norms change, life events like divorce and death leave emotional scars, and it sometimes feels as if the rest of the world has already paired off.
Fortunately, there's the library—not as a place to make romantic connections per se, but as a resource for older adults who want to learn how to navigate the world of online dating. Several public libraries have begun offering programs that help older patrons safely and effectively meet potential partners on the internet. Among those are Westport (Conn.) Public Library, Skokie (Ill.) Public Library, and Billings (Mont.) Public Library.
Darien (Conn.) Library has held online dating workshops for single older adults four times since 2015. "We were noticing older patrons using our computer lab and needing help with things such as uploading pictures and recognizing if dating sites were legitimate or not," says Mallory Arents, who was then the library's associate director of programs and services. "I can think of one gentleman in particular who would write a message [to send on a dating site], print it out, and ask for help proofreading it."
That led her to create an educational presentation about online dating, which begins with an overview of dating sites and apps from the general-interest (Match.com, Tinder) to the niche (FarmersOnly). "One of the things I want every participant to know is that no matter your interest, who you're looking to date, or what you're looking for in a relationship, there is something out there for you," Arents says. She includes apps that are inclusive and target specific communities, such as HER, an app for lesbian, queer, bisexual, and bicurious women, and nonbinary people.
She also occasionally cautions participants about the quality and usability of certain dating sites and apps. "I did some research, and right off the bat I was seeing [sites and apps with] a lot of unfinished profiles, a lot of profiles with no pictures. That's not something I can recommend as an information professional."
No matter your interest, who you're looking to date, or what you're looking for in a relationship, there is something out there for you.—Mallory Arents, former director of programs and services at Darien (Conn.) Library
Strategies for successful swiping
For the next section of the workshop, which covers how online daters can describe themselves most effectively in their profiles, Arents draws on something with which just about every public librarian will be familiar: résumé-building. "I use a lot of the same tips," she says. "What's not successful are empty adjectives: 'I'm smart.' 'I'm neat.' That doesn't mean much." Instead, she recommends, supply specifics such as "I enjoy spending Saturday mornings with the crossword."
Many older online daters are concerned about privacy and security issues. "That's where a librarian's job is super helpful because we know how to navigate different types of information," she points out. "We arm patrons with what to look out for, like messages from Americans living in other countries who ask you for money, or a message from someone who wants to leave the app and talk to you elsewhere right away. We talk about not inviting someone to pick you up from your home the first time you meet, and always making sure you tell a friend where you're going."
Arents's tips for other librarians who would like to offer their own online-dating workshops? First, bring a camera. Many participants don't have good photographs of themselves to post in their dating profiles and will appreciate the chance to have some taken. Second, don't post a sign-in sheet, and make sure signage directing people to the workshop is clear, so that no one needs to ask for directions. Some patrons might prefer not to broadcast the fact that they're attending this event. "One patron came to the front desk and wrote on a piece of paper, 'Where is the online dating workshop?' so she didn't have to say it out loud," Arents recalls.
Checking the boxes
At White Oak Library District, which serves the Illinois communities of Crest Hill, Lockport, and Romeoville, Outreach Manager Tina M. Williams formed the Dating Over 50 program series in 2017, as a response to patron interest. The first event in the series focused on online dating in particular; since then, subsequent monthly programs have added supporting topics, such as a recent one called "Oh, the Places You'll Go," which discussed the merits of several local date venues.
Williams has also created resources to help program participants consider their readiness to date. One of those is a bingo game in which players complete a square for each time they answer "yes" to a self-care question. "If they get five across, then it's like, 'Okay, you're a candidate to start dating,'" she explains.
Other topics have included sex for senior citizens. "Sex is a huge topic all the time," Williams says. "They all still feel like they're in high school. I say, 'If you can't have a conversation about it, then you shouldn't be doing it.'" Not to mention, "STDs are prolific in the older years, because [seniors] don't typically use condoms, so AARP has donated condoms that we give out [at the program]."
Happily, Williams has seen several program participants pair off, either at the programs themselves or as a result of online dating. "Once they find success, off they go, and they don't come back," she says—with at least one exception. "We had one lady who met a gentleman, and they're getting married. She brought him into the library to meet me."