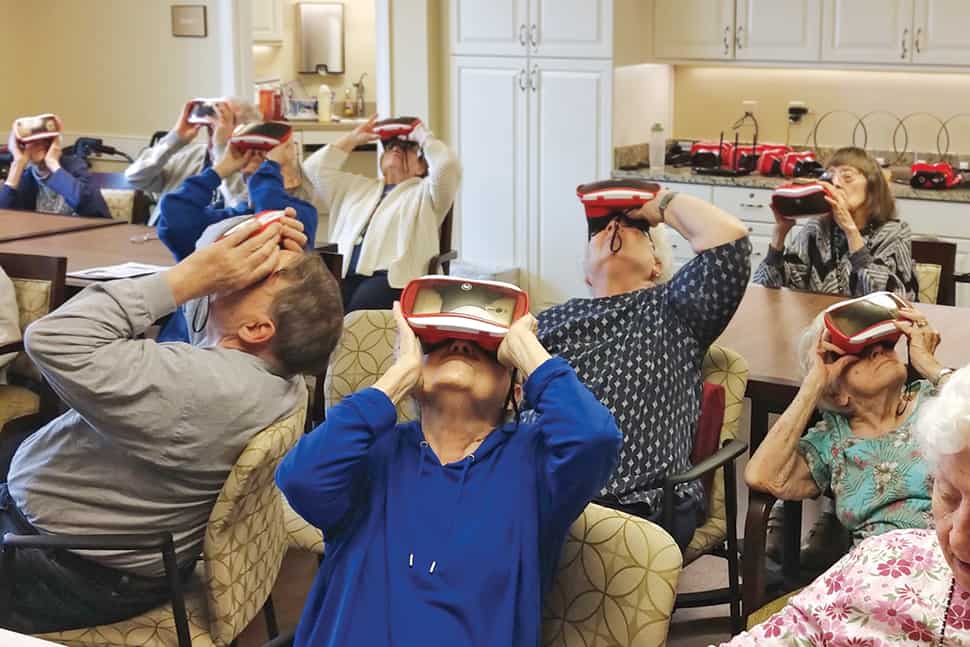 Many seniors are prevented from traveling the world—or even just taking a stroll outside—by limited physical or cognitive abilities. But now, thanks to virtual reality, older patrons of Arlington Heights (Ill.) Memorial Library don't have to feel homebound: The world is coming to them.
At first glance, the virtual-reality (VR) viewers at Arlington Heights Memorial Library look like old-school View-Masters, the kind that let kids in decades past insert a cardboard disk to stare at scenes of Scooby-Doo or The Beverly Hillbillies. But though the VR viewers operate on the same basic principle as a View-Master—hold to face, marvel at what you see—they provide much more than a few minutes of fun. They can open up the world.
Mary Jo Lepo, the library's senior and accessible services manager, first purchased the viewers in 2016 as part of a Google Expeditions kit. Google Expeditions is a VR tool that allows users to lead or join virtual trips to world locations; it's sometimes used in classrooms to give students the feeling of, say, walking up to the Eiffel Tower, tromping through the forests of Borneo, or even swimming in the ocean with sharks. But Lepo saw other possibilities.
"We are always looking for new ways to do programming with seniors," she says—especially innovative, creative programming. The Google Expeditions technology seemed perfect in that it lets an "expedition leader" (teacher, librarian, or the like) set up the VR viewers ahead of time, meaning users don't have to do anything except hold the viewers to their faces and enjoy the experience. In other words, it makes high-tech low-tech.
Lepo piloted the technology by offering a "virtual vacation" as part of a health and wellness program at the local senior center in May 2017. The response was overwhelmingly enthusiastic. "When I saw how people reacted, I realized, 'Oh, there's a lot more potential here,'" she recalls. "I just wanted to do it over and over again."
Since then, she's held Google Expeditions programs at nearly two dozen sites in the community, such as nursing homes and assisted-living facilities. Each program accommodates up to 30 participants; the only requirement is that they be physically able to hold one of the viewers. More-mobile participants can stand up and move around while using a viewer if they like, while the less mobile can stay seated at a table, resting their arm or taking a break whenever necessary.
"One of the most rewarding ones for me was one of the first that we did in a memory-care facility," Lepo says. "I know one of the gentlemen there because we've been visiting him with library materials for a while. He's not terribly verbal. We were doing a visit to Brazil, and we were on the beach, and I said, 'Hey, Jim, how's it going? How are you enjoying our trip?' And he said, 'I never thought this would happen to me again.' He meant he hadn't seen a beach in a long time. It was very moving."
Other popular excursions have included Monticello (home of Thomas Jefferson) and a trip under the sea. Sometimes Lepo and the hosting community partner make the experience more authentic by serving themed food, making and distributing excursion "tickets," and handing out souvenirs. "I always tell them, 'It wouldn't really be a trip if you didn't get a souvenir,'" she says. In the works are trips to Bristol, England; the Great Barrier Reef; and the Louvre in Paris.
"As easy as it sounds, you do have to plan," Lepo cautions. "You've got to rehearse each tour, you've got to know how to set up the equipment, and you do have to augment it with other things like music for ambiance, and talk about some fun facts for each location you're visiting." And then there's the cost: A Google Expeditions kit that accommodates up to 10 participants runs nearly $5,000.
But Lepo says the money and time have been more than worth it. "It's helped people look at the kinds of programs that can be offered to seniors in a different way," she says. "And it's increased awareness of the scope of things that the library can do."