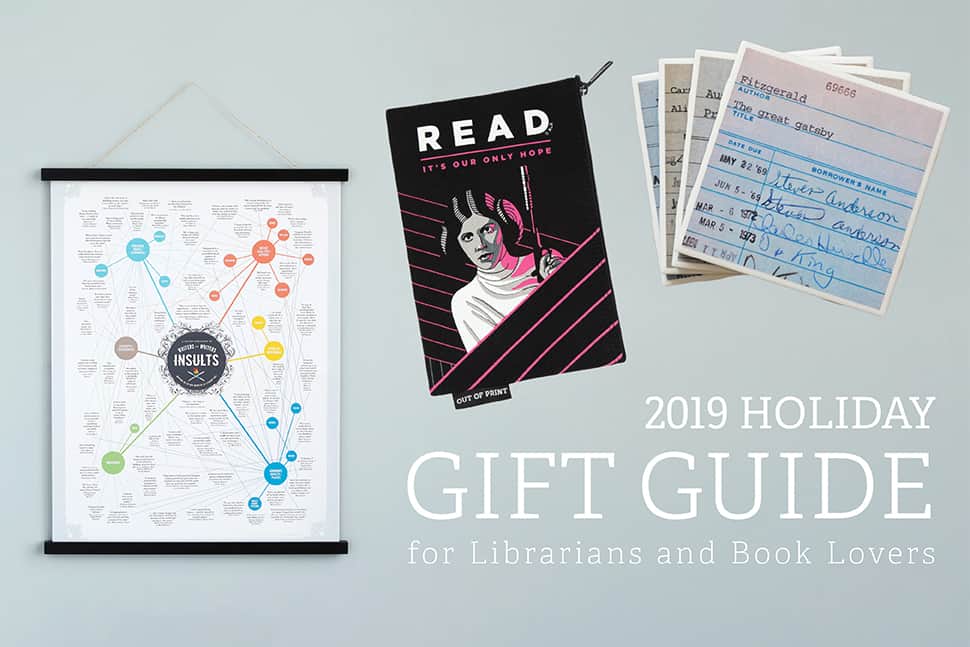 A cozy nook, a good book, and all the time in the world: What more could a bibliophile desire? This holiday season, help friends and loved ones indulge in their most bookish tendencies with a quirky assortment of reader-related accessories and accoutrements for every budget.
Gifts under $20
Great Writers Page Flags ($6.50)
Lost? Let world-renowned authors help you find your place. This set of 240 page flags from Girl of All Work features illustrations of Jane Austen, Emily Dickinson, Edgar Allan Poe, and Oscar Wilde.

Star Wars Princess Leia READ pouch ($12)
Princess Leia—or General Organa, if you prefer—encourages reading on this vintage-inspired cotton canvas pouch. The nine-by-six-inch zippered bag from Out of Print is made in the US, and each purchase helps fund literacy and book donation programs for communities in need.
Super Cool Librarian Mug ($13–$16)
Help boost the ego of your favorite librarian with this ceramic mug, which reads "I Never Dreamed I Would Be a Super Cool Librarian but Here I Am Killing It." Available in two sizes (11 or 15 ounces), the mug is dishwasher and microwave safe.
---
Gifts $20–$50
Inflatable Book Jacket ($20)
Perfect for the tub or the pool, Urban Outfitters' inflatable book jacket keeps pages dry and books afloat. The bright blue raft measures 16-by-11.5 inches, so it should fit even hardcover books.
Vintage Library Coasters ($25)
Serve up drinks without damaging your tables by using these Vintage Library Card coasters. The set of four coasters is handmade by iGotCrafts using four-by-four-inch ceramic tiles with cork backing.
Writers vs. Writers Insults Chart ($25)
Writers can be delightfully mean and bitingly funny, and with this artful insult chart, you can mine their wit for your own sharp comebacks. Noel Coward, George Bernard Shaw, Dorothy Parker, and others grace this full-color 18-by-24-inch poster from Uncommon Goods.
Book Blends Spices ($27 for a three-spice box to $99 for 12 jars)
Cook with books by flavoring your food with The Joy Luck Rub; A Wrinkle in Thyme; Are You There, God? It's Me, Marjoram; and Dried and Prejudice. Sales of Book Blends Spices benefit More Than Words, a job training and youth development program.
To Serve and Correct Throw Pillow ($30–$50)
Rest easy knowing you've prevented another grammatical tragedy. Anziehend's polyester Serve and Correct pillow is printed on both sides and includes a faux down insert. Available in four sizes, for either indoor or outdoor use.
Maya Angelou Litograph T-shirt ($34)
Keep 40,000 words from I Know Why the Caged Bird Sings close to your heart with a hand-pressed Litographs T-shirt. The 100% spun polyester shirts are available several colors, with or without illustration, in sizes XS to 3XL. Other texts and styles are also available.
---
Gifts $50–$100
Wholehearted Librarianship: Finding Hope, Inspiration, and Balance, by Michael Stephens ($50)
This collection of essays by Michael Stephens, associate professor at San José (Calif.) State University's iSchool, is designed to bring new perspectives to your library work, with advice for both experienced librarians and those new to the profession.
I Still Believe in 398.2 Necklace ($52)
If the folktales, fairytales, and fables section is your favorite, then this necklace by EclecticWendyDesigns is the perfect way to show your love. The 7/8-inch gold-filled, hand-stamped charm hangs from either a 16-inch or 18-inch chain.
Homer The Iliad Book Bag ($85–$165)
Carry your heart on your back with an oversized literary bag. Designer KrukruStudio offers a wide array of titles and sizes, and the fully lined and padded bags are available in either leather or faux leather.