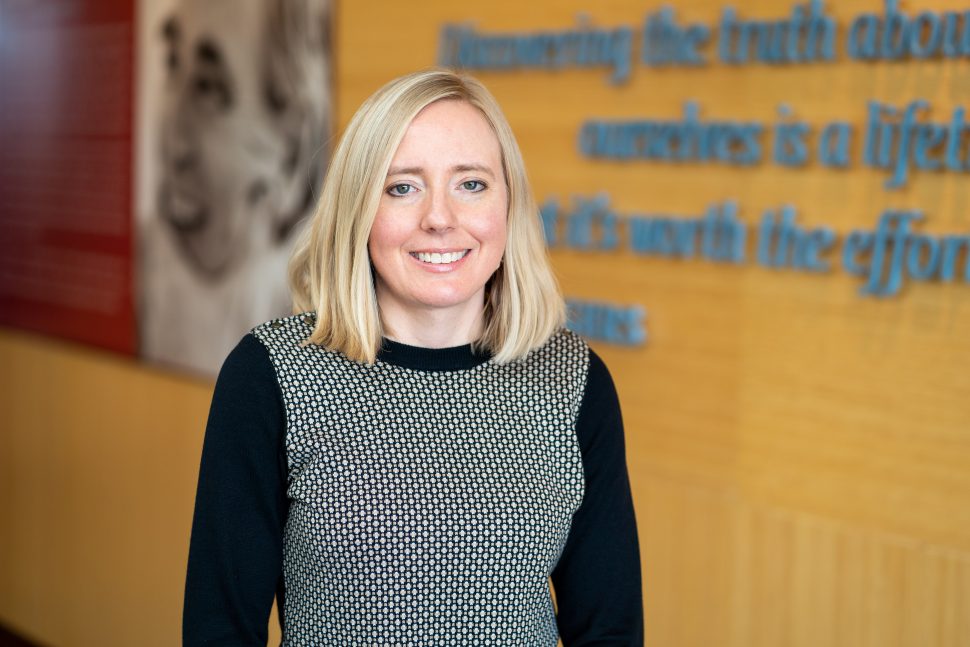 As a student at Saint Vincent College in Latrobe, Pennsylvania, Emily Uhrin didn't know much about Fred Rogers beyond her childhood memories of the television host and his long-running program, Mister Rogers' Neighborhood, except that he was a Latrobe native. His death in 2003 led to the establishment of the Fred Rogers Center for Early Learning and Children's Media at the college, where Uhrin now manages the Fred Rogers Archive and assists researchers drawing from his work.
With renewed attention on the pioneering host, including an Oscar-nominated Hollywood portrayal, Uhrin spoke with American Libraries about Rogers's legacy and coming to know him through his work.
Describe the holdings of the archive. Do you have a favorite?
We house Fred Rogers' personal and professional papers. The collection includes correspondence (he was a prolific letter-writer), newspaper and magazine articles, press releases, photographs, notes and drafts of writings, speeches, television scripts, music manuscripts, and memorabilia. A highlight of the collection is a draft of the opening and closing songs from Mister Rogers' Neighborhood.
The archive informs all the work done at the Fred Rogers Center; when staff members are beginning any projects, whether it's training educators or developing tech resources for young learners, they consult archival documents to learn about Fred's philosophy and share it in their work.
My favorite pieces are anything with Fred's handwriting. I never got to meet him but reading his words and cataloging everything he saved, I feel very connected to him. I've also gotten to know him by working with people he was close with. His wife is very involved in the center's work, and we've worked with the team at the Family Communications offices at WQED [the production company and broadcaster of Mister Rogers' Neighborhood]. All the people he worked with reflect his spirit and give me an idea of what it would have been like to work with Fred.
What has surprised or intrigued you about this work?
When I started working on the archive, I didn't have a great appreciation of Fred or his work. I didn't realize the impact he had beyond the television program and that he was more than just a television host. After cataloging his collection, I've come to realize that Fred was really a philosopher. He had this whole philosophy about childhood and storytelling and education—there is so much for people to study in his work. I don't have a background in early childhood education or television, but I feel like I've gotten masters' degrees through this experience.
Was anyone from the Fred Rogers Center involved in the production of the recent movies, the documentary Won't You Be My Neighbor? (2018) and A Beautiful Day in the Neighborhood (2019)?
With the documentary, the team contacted me with a list of subjects they wanted to study. They read hundreds of archival documents and relied on our archives for source material. Years ago, the screenwriters working on the other movie originally came to the archive looking for a story they could draw out and tell. Years later, when the movie was being produced, costume and set designers came here to study artifacts that they could authentically re-create for the movie.
The Fred Rogers Center is located in Latrobe, Pennsylvania, hometown of its namesake. Is he remembered differently there?
The people here seem to appreciate Fred as a person and not just a television host. Exhibits and monuments in Latrobe celebrate Fred's childhood and life, not just the success of the show. He chose the site of the Fred Rogers Center himself, and it was important to him that it be in his hometown.
I think the neighborhood he grew up in really inspired the neighborhood he imagined for the show. People from Latrobe are proud to be from here, and we're proud to have Fred represent our community. Mister Rogers' Neighborhood wouldn't have been the same place if he'd come from somewhere else.