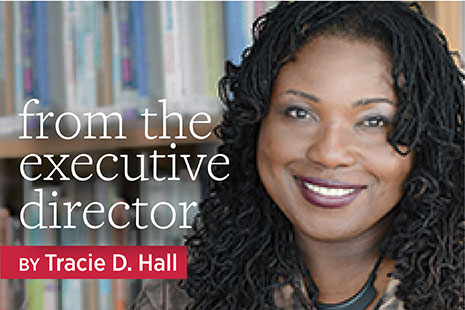 Recently, on my way to the ALA office here in Chicago, I—dressed in my mask and gloves—was greeted by my rideshare driver, an older African-American man who was surprisingly barefaced. I asked if he could use the extra mask in my pocket, and he accepted, thanking me. I added that there would be a mask and glove giveaway that weekend in my far South Side neighborhood.
"Wow," he exclaimed, asking where I had heard about it. I told him there were regular updates on the internet about supply distribution and, ­perhaps even more important, about the number of confirmed coronavirus cases by zip code.
To which he responded earnestly, "But how many people have the internet?"
I gestured toward his phone, and he laughed. "This? I only use this to call my wife and to find out where to meet people and where to drop them off. And I just learned how to do that."
Chicago—like Detroit, Milwaukee, New York City, and rural Louisiana and Georgia—is a place where African Americans, along with Latinos, are dying from COVID-19 at disproportionately higher rates, and the symbiotic relationship between information access and public safety has become abundantly clear from that interaction.
Lack of access to real-time information has been described as a source of community vulnerability by state and local leaders. When, for example, Chicago Public Schools moved to distribute 100,000 laptops to students without computers to support its new remote-learning plan, the district found the effort stymied by the lack of broadband access in the highest-need households.
Some municipal leaders have fixated on the physical reopening of libraries, even before they have assurances of safety for users and staff. They're missing the point.
This moment presents libraries with the opportunity—the mandate, really—to advance a new library service model, one that reaches far beyond the library building and becomes ubiquitous in public life. One that reaches the people on the front lines, those straddling the fault lines of who is—and isn't—informed and equipped to weather emergencies and public health crises.
The most urgent question now is, "Will libraries and their staff be supported to embark on the next great era of library services?" This includes digital information enfranchisement, or "data democracy," as Marie Østergård, director of Dokk1 and Aarhus Public Libraries in Denmark, calls it.
When I was community library manager at Hartford (Conn.) Public Library, my branch in a working-class Afro-Caribbean neighborhood was the first to offer intensive computer instruction. Because none of my users had computers at home, I partnered with a nonprofit to provide them with refurbished ones. With so many economic access points (jobs, government forms, portals to higher ed, housing resources) existing only online, they—restaurant staff, security guards, janitors, family business owners, home health aides—couldn't be left on the wrong side of the digital divide.
Today, digital access is neither universal nor equitable; neither is data literacy, the ability to find information sets and use them to make decisions.
Closing those gaps is the next great assignment for our field. Sadly, as I look across the country at the libraries that face the biggest cuts in staff and hours, I see an inordinate impact on those communities where a majority of residents work in service-sector jobs. The timing couldn't be worse.
Any COVID-19 recovery effort must be accompanied by the wide dissemination of information to the public. There are no institutions better equipped to do this than public, school, academic, state, federal, and other libraries, given the support to not just reopen our libraries but to place our services on the line—the front line.