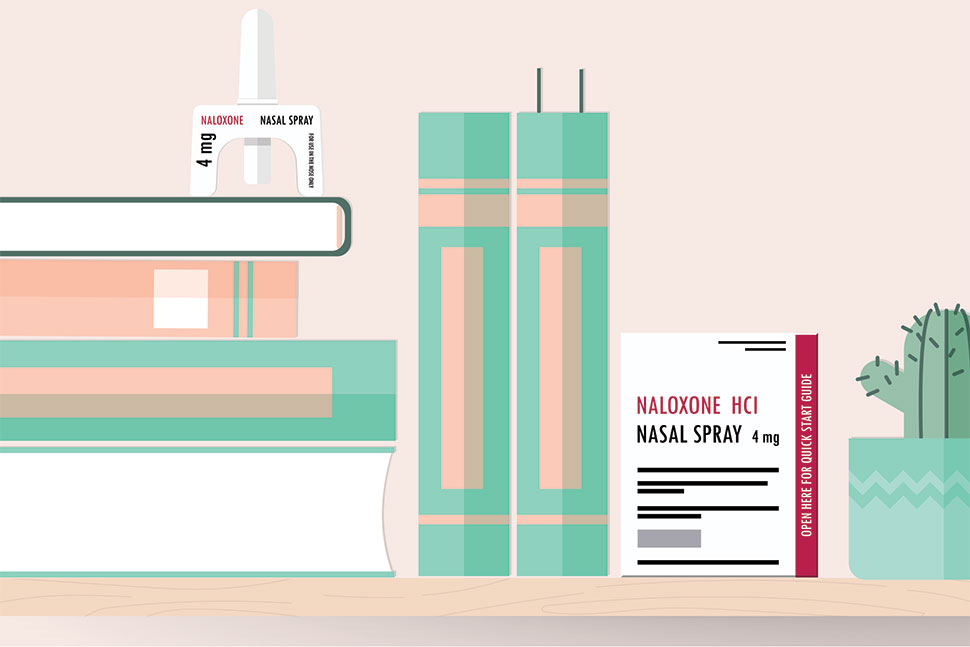 If your library were offered two chances to save a life, would it take them?
The response might seem like an obvious "yes." But for many public libraries the answer is more nuanced.
In October 2018, Emergent BioSolutions, the company that manufactures the opioid overdose reversal drug Narcan (generic name: naloxone), issued a press release offering two free doses of Narcan to every public library and YMCA in the US.
"The Philadelphia librarians were the ones that inspired us, because they were having people overdosing on their front lawn," says Thom Duddy, who until mid-March was vice president of communications for Emergent BioSolutions.
He's referring to the Free Library of Philadelphia's McPherson Square branch, whose experience administering naloxone to multiple overdose victims was widely reported by national media in 2017.
That was the year that public libraries' efforts to address the opioid overdose epidemic stepped into the spotlight. Since then, those efforts have been covered by American Libraries (Sept./Oct. 2017, p. 44) as well as in the 2019 OCLC–Public Library Association report Call to Action: Public Libraries and the Opioid Crisis. Of the eight public libraries profiled in the report's supplementary case studies, six of them report stocking Narcan and training staff in its use.
Still, response to Emergent BioSolutions' offer of free Narcan has been "lighter than we anticipated," Duddy says. Of the 16,568 individual central and branch library buildings in the country, only about 357, or 2.2%, have accepted.
Some may find the meager response especially surprising given that the company is offering the nasal-spray form of the drug, rather than the potentially more intimidating injectable version.
"I think some libraries are concerned about liability, even though most states have Good Samaritan laws around naloxone," Duddy says. "And I think some people feel there's not an [opioid overdose] issue where their library is located."
The libraries to which American Libraries spoke cited different reasons for not seeking the free Narcan.
Multiple suppliers
"Heroin has been a problem in our community for a long time," says Amy Grasmick, director of Kimball Public Library (KPL) in Randolph, Vermont. "We are close to the local hospital but not terribly close to the ambulance dispatch, and we really feel like the responsible thing to do is to be prepared if we see a patron who is potentially overdosing. We acquired Narcan in the summer of 2018, before Emergent BioSolutions made its plan known. Thankfully, we have not had to use it."
And if "we have a terrible day and do end up using a dose of Narcan," she says, "it's a pretty simple matter for us to drive up the street and restock." That's because the Vermont Department of Health has partnered with community-based organizations (such as behavioral health service providers and addiction recovery centers) to distribute overdose rescue kits that contain naloxone.
Grasmick is grateful that free Narcan is available, wherever it comes from: "When my board first directed me to get naloxone and train the staff, my first stop was the pharmacy, and out of pocket we would have been paying nearly $100 for Narcan. I thought that was an unacceptable cost. I'm grateful the state has opted to make it available as a matter of public health."
Like KPL, Peoria (Ill.) Public Library (PPL) did not accept Emergent BioSolutions' offer because it had already been able to access free Narcan elsewhere.
In May 2017, says PPL Deputy Director Roberta Koscielski, the library held overdose response training for library staff, during which a nurse educator from Peoria's Bradley University gave PPL supplies of injectable Narcan for its main location and each of its four branches.
More recently, thanks to the Peoria-based Jolt Foundation, an organization that provides harm reduction services for drug users, PPL has acquired the nasal-spray form of Narcan as well.
Also like KPL, Peoria librarians have not had to administer Narcan yet. However, PPL has had three onsite overdoses, to which emergency responders arrived so quickly that assistance from library staff was not necessary, Koscielski says.
Emphasizing preventive measures
And then there are the libraries that have opted not to stock Narcan at all, wherever it comes from.
Columbus (Ohio) Metropolitan Library has made what Chief Administrative Officer Charlie Hansen calls a "conscious decision" not to keep the drug on hand. First, he says, there's staff safety to consider.
"One of the things we've been aware of is the tendency for people who are revived using Narcan to be in an agitated or belligerent state," Hansen says. (Emergent BioSolutions says that Narcan can cause sudden opioid withdrawal symptoms including nervousness, restlessness, and irritability.) "We are thinking that having trained professionals who can get there quickly is the better alternative for us. What we've experienced here is relatively quick response from EMTs."
"The other thing we try to do," he adds, "is take a lot of steps to get out ahead of drug use. We've retrofitted older buildings with lower shelf heights for better visibility, we use airport-style bathrooms with no door, and in some locations, we've started locking restrooms. And we made a big investment in our security team, so we've got a lot of in-house officers."
Despite those measures, onsite overdoses do "happen from time to time," he says. "I can't give specific numbers."
'Peace of mind'
For at least one of the public libraries that has obtained free Narcan from Emergent BioSolutions, the offer has been something of a lifesaver—figuratively if not yet literally.
Dana Dillard, safety and security manager for Indianapolis Public Library (IPL), isn't sure where the system obtained its previous supply of Narcan, which was due to expire around the time that Emergent BioSolutions made its offer.
"I looked around online to see where we could order it; I figured we'd have to pay for it," she says. "I ran across Emergent online. I was thrilled because we don't have a lot of extra funds lying around."
IPL has 24 locations, and Emergent BioSolutions provided two doses for each location, plus two doses for each of the six floors of the central library building, she says.
Overdosing patrons are not uncommon at IPL, she adds. And while first responders are generally able to arrive quickly, "we really like having Narcan for the peace of mind."