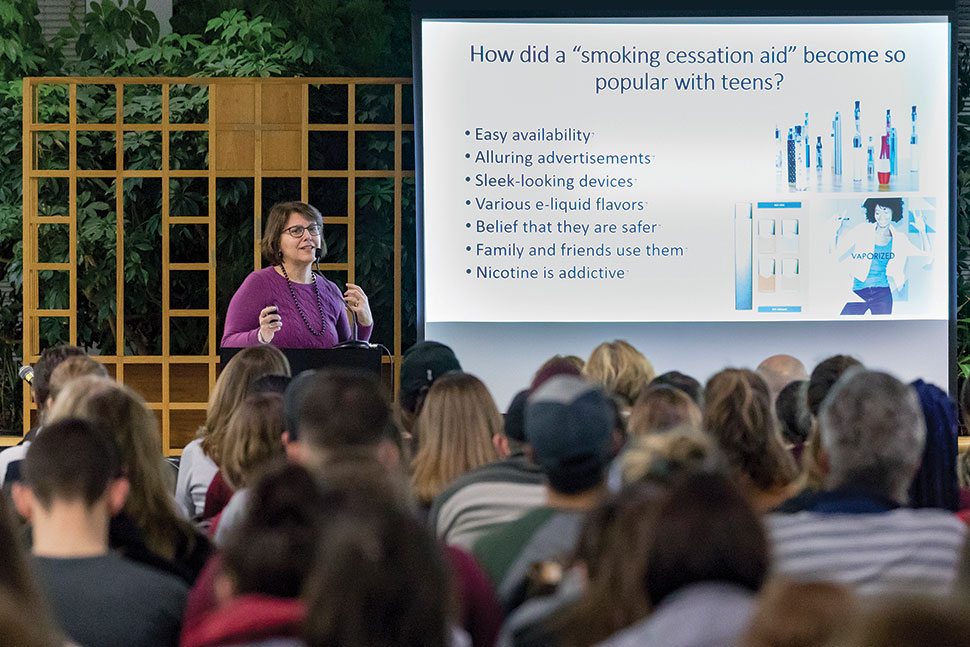 North Haven (Conn.) Memorial Library (NHML) hosted a program in October 2019 about health issues associated with e-cigarette use, but the library and community had become aware of the dangers much earlier. In fall 2018, e-cigarettes almost took the life of a local student.
"A friend of mine is a [high school] teacher," says NHML Library Technical Assistant Melinda Landino. "One of her students vaped in the bathroom, [then] flatlined in class. They had to bring in EMTs."
NHML is one of many libraries across the US addressing the vaping scare that gained momentum in summer 2019. As of December 27, 2,561 confirmed and probable lung-injury cases have been linked with the use of e-cigarettes—called vaping—as well as 55 deaths, according to the Centers for Disease Control and Prevention (CDC) in Atlanta.
Introduced in 2003 as a purportedly safer, cleaner method of nicotine inhalation, e-cigarettes have not been approved by the Food and Drug Administration as a smoking cessation aid. E-cigarettes are the most commonly used tobacco product among youth, having surpassed conventional cigarettes in 2014, according to a 2016 study from the Office of the US Surgeon General. In 2018, more than 3.6 million US middle and high school students used e-cigarettes, the CDC found.
E-cigarette manufacturers market their products by promoting different flavors—a 2018 report estimated there are 7,764 varieties—and employ the same marketing tactics that have been used in the past to sell cigarettes to young people. While vapor from e-cigarettes generally contains fewer toxic chemicals than tobacco smoke, it is not harmless. It can contain nicotine, heavy metals like lead, volatile organic compounds, and cancer-causing agents, according to the CDC. In January, the Trump administration announced plans to bans sales of flavored e-cigarette cartridges, except tobacco and menthol flavors.
NHML hosts STEM-themed programs once a month, usually in cooperation with nearby Yale University, so a vaping program already fit into the curriculum, says Library Director Susan Griffiths. The library booked a speaker from the Tobacco Research in Youth team at Yale School of Medicine soon after the 2018 incident and made a point to reach out to the high school as part of its promotional efforts.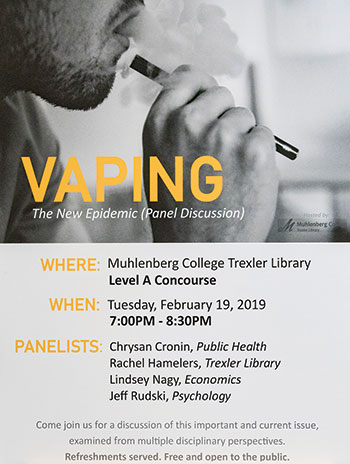 A single e-cigarette comprises a battery, a reservoir for holding an (often flavored) solution that contains nicotine and other chemicals, a heating element, and a mouthpiece, but those elements can be housed in seemingly ordinary containers. Teaching parents to identify e-cigarettes is a component of some libraries' antivaping programs.
Darien (Conn.) Library offered a multidisciplinary presentation for patrons and parents in October 2019, featuring a pulmonologist and a pediatrician from Stamford Health Medical Group and a detective with the Darien Police Department. Mia Orobona, teen services librarian at Darien Library, says the detective brought several types of e-cigarettes with him for the presentation.
"Sometimes these [e-cigarettes] can look pretty innocuous, like flash drives or pens," Orobona says. "The parents were appreciative of the visuals." As a follow-up to the presentation, the library is considering creating a display of e-cigarettes.
E-cigarette use has become a problem in higher education as well.
"It is a pressing issue," says Rachel Hamelers, teaching and learning librarian at Trexler Library at Muhlenberg College in Allentown, Pennsylvania. "We had noticed, anecdotally, an increase in vaping on campus. And the library was a great place to discuss it."
Trexler Library, which takes an interdisciplinary approach to its public health presentations, hosted instructors in public health, psychology, and economics to discuss vaping in February 2019. The library was packed for the presentation, Hamelers recalls: "We had to bring in extra chairs."
Involving the community in vaping education is a key component of many libraries' efforts. Ardis Missaukee District Library in Lake City, Michigan, decided to host its antivaping program in October 2019 after an area resident, who is a retired respiratory therapist and certified tobacco treatment specialist offered to speak. "It was Vaping 101," says Library Director Laura Marion. The program offered information on the health effects of vaping and how to handle a vaping habit (whether your own or someone else's).
Shawnee (Okla.) Public Library hosted its antivaping presentation in November 2019 in advance of the Great American Smokeout, an annual American Cancer Society event held the third Thursday of November that encourages people to stop smoking.
"Oklahoma ranks very low in some key health markers," says Lisa Lempges, information services manager at Shawnee Public Library. "In our community, the vape shops have increased. It's a real crisis in our schools. We wanted a way to educate people about the dangers of this and let them distinguish myth from fact."