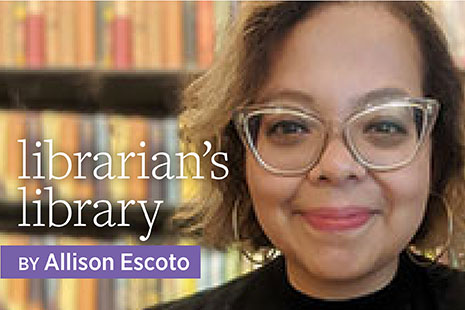 Recent years have seen a resurgence in widespread activism throughout the country. These titles are helpful resources for librarians seeking to understand—in both theory and practice—the role of libraries in a time of increased social activism.
Social Justice and Activism in Libraries: Essays on Diversity and Change
Edited by Su Epstein, Carol Smallwood, and Vera Gubnitskaia
For a holistic look at the role libraries can play in the realm of social activism, Social Justice and Activism in Libraries is a comprehensive collection of essays that covers a range of issues—including the rights of prisoners, trans Americans, Black Americans, Americans with disabilities, and many more. These essays not only introduce the theoretical aspects of how activism intersects with libraries but also provide practical, real-world ways that libraries can participate in the changing social landscape, whether through building community, reflecting diversity in teaching, or providing vital support. McFarland, 2019. 228 p. $55. 978-1-4766-7203-8. (Also available as an ebook.)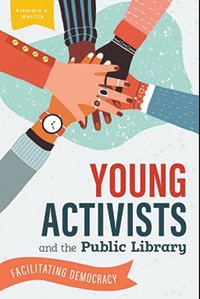 Young Activists and the Public Library: Facilitating Democracy
By Virginia A. Walter
Activism is often a youth-driven enterprise, and this book offers a wealth of information, case studies, interviews, and resources on the role public libraries can play in fostering civic engagement in young people. This wide-ranging volume provides a solid overview of prevalent social issues and the ways public libraries can offer reliable information, safe gathering spaces for open discussion, and programming ideas that can be used when serving a variety of patrons. Drawing parallels between the foundational values of the profession and the principal philosophies of engaging in a democracy, this is an excellent manual for stewarding youth through responsible and effective activism. ALA Editions, 2020. 128 p. $45.99. PBK. 978-0-8389-4738-8.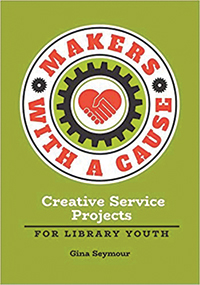 Makers with a Cause: Creating Service Projects for Library Youth
By Gina Seymour
The purpose of activism is to effect change and make a difference. Makers with a Cause makes a case for empowering young people to bring about change through tangible, hands-on activities that raise their awareness of key issues and provide opportunities to create end products. Using library makerspaces for real-world benefit by partnering with community organizations introduces youth to the value of service-oriented projects and collaboration. Accessible, practical, informative, and resourceful, this book is for librarians who want to encourage young people to engage in activities that enhance their compassion, empathy, and knowledge of the world around them—and their place in it. Libraries Unlimited, 2018. 147 p. $45. PBK. 978-1-4408-5728-7. (Also available as an ebook.)
Libraries Promoting Reflective Dialogue in a Time of Political Polarization
Edited by Andrea Baer, Ellysa Stern Cahoy, and Robert Schroeder
Communication is the foundation of activism. This book presents a rich examination of what reflective dialogue is, why it is important to understand and put into practice in library communities, and how library work is affected by its use or absence. Less of a practical, hands-on guide and more of an exhaustively researched selection of academic essays, this collection delves into various aspects of communication facilitation that apply to patrons as well as the library profession. Positing that reflective dialogue is essential to healthy communities and empathy-building, the editors offer 16 chapters that argue libraries can be active participants in dialogue during these divisive times. ACRL, 2019. 404 p. $80. PBK. 978-0-8389-4652-7. (Also available as an ebook.)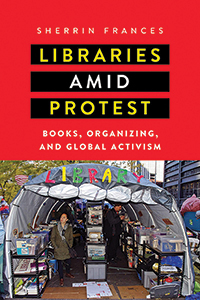 Libraries amid Protest: Books, Organizing, and Global Activism
By Sherrin Frances
In Libraries amid Protest, Frances looks at protest libraries: temporary libraries that form during political protest movements. Inspired by the People's Library that formed during Occupy Wall Street in 2011, the author began researching the proliferation of these often quickly assembled and organized collections within the scope of different movements around the world. This book discusses the nature of these libraries and compares them with the American public library as an institution. By outlining the political history of libraries, Frances turns a critical eye on the modern library's relationship to capitalism, the influence of Andrew Carnegie on contemporary ideas of what constitutes a library, and how "outsider" libraries fit into the future of library interactions with movement members. University of Massachusetts Press, 2020. 216 p. $90. 978-1-6253-4490-8.
Activist: Portraits of Courage
By K K Ottesen
One way libraries can foster and support activists among patrons and staff is by providing access to inspirational stories like the ones contained in this book of photographs and first-person narratives. Featuring the portraits of 41 activists involved in a variety of movements— including gender equality, Black Lives Matter, environmental preservation, labor reform, and gun control—this beautifully arranged tome also details the issues that roused these individuals to action. The hard work of activism, whether as a leader or as a participant, requires a mixture of motivation and stamina; this elegant collection is an asset to libraries, one that will inspire and challenge socially engaged readers. Chronicle Books, 2019. 300 p. $35. 978-1-4521-8277-3.