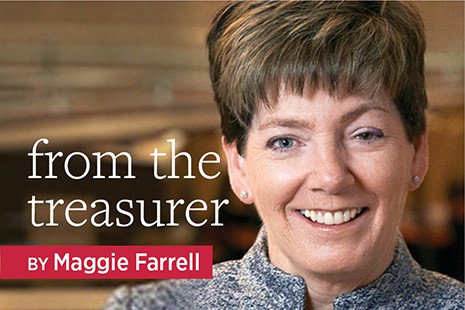 Last year started off as a productive but worrisome one for ALA finances, as evidenced by critical conversations held at the 2020 Midwinter Meeting in Philadelphia. Since then, additional circumstances—including the pandemic—have aggravated ALA finances as libraries struggle with their own budget declines. Despite everything, member leaders remain committed to addressing ALA's ongoing budget concerns and to creating a path toward a healthy financial future.
In 2020, the Executive Board, Budget Analysis and Review Committee, Finance and Audit Subcommittee, and member leaders extensively reviewed and discussed the Association's fiscal management practices and the changes that have exacerbated past revenue gaps and declines.
We are fortunate to have our new executive director, Tracie D. Hall, steer operational and staffing decisions as well as envision a new five-year Pivot Strategy to help increase revenue and balance expenditures. The plan presents an energizing path forward, offers a series of indicators by which to chart ALA's growth over the next five years, and is designed to increase the tangible value ALA delivers to members, stakeholders, partners, and the public at large. It also calls for the doubling of ALA revenue streams by charting three new prospective markets through 2025: continuing education, contributed revenue, and data and research, all areas that currently exhibit revenue potential.
To get to that stable financial future, several actions have been planned or implemented to contain costs and mitigate revenue declines for fiscal years 2020 and 2021. These include:
retaining members and recruiting new ones
increasing private giving and grants
reducing spending by 5% across all ALA units
instituting a hiring freeze across many
employment classifications
reducing professional services
reducing travel
reducing meeting and hosting expenses
Additionally, the FY2021 budget includes 23 furlough days for all ALA staff as well as the layoffs of four staff members (in August 2020) rather than severe cuts to specific units. While furloughs and layoffs are a last resort, the ALA personnel budget comprises approximately 52% of ALA expenditures, and any substantial budget reduction will impact ALA staffing. These furloughs represent an 8.8% pay reduction for ALA staff, saving the Association $1.5 million. This pay reduction is temporary and does not affect health and retirement benefits. The use of furloughs avoids permanent staff layoffs. Staff vacancies are also being critically analyzed for possible streamlining and consolidation. ALA is committed to reducing furlough periods should revenues outperform projections.
ALA employs talented and dedicated professionals who advance the mission of libraries and librarianship. Their commitment is deeply appreciated, and we are grateful for their many contributions during the pandemic and economic decline. Like you, ALA staff members have demonstrated flexibility, resilience, and adaptability in delivering member support, continuing education, and responsive services in a virtual environment. Combined with our new executive director, dedicated members, and a vision for the future, ALA can and will come out stronger.
While 2020 is not the year any of us planned, it has shown us how critical libraries are to our communities. As we work on today's financial structure, we continue to focus on the future, and on making ALA even more relevant for librarians, library workers, and partners.