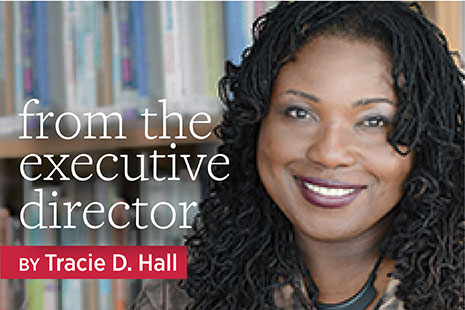 I have reflected in past columns on the pervasiveness of information poverty and called on libraries and information professionals to intervene. In my last column, for example, I wrote about how the pandemic continues to expose the degree to which societal inequities are linked. I focus here on that final link: the relationship between the justice system, incarceration inequities, and information disparity.
The US has the highest incarceration rate in the world. About 698 per 100,000 of the national population are in some form of detention. According to a March 2020 report from the Prison Policy Initiative, the US criminal justice system detains almost 2.3 million people in various facilities in the US and its territories.
Chief contributors to this prison pipeline? Low literacy and limited access to information-rich networks (social, educational, and infrastructural). Research has also shown that increasing literacy rates and strengthening information networks of detained and formerly detained individuals correlates to successful rehabilitation and reentry.
Ironically, these critical inputs are continuously underfunded—and even contested—in our correctional system. The nonprofit PEN America says "the most extensive book ban in America is happening in the prison system."
This problem has worsened over the past several years. For instance, according to the Illinois Newsroom, a regional journalism collaboration, in 2017 the state's prison system spent $276 on nonlegal books for 28 correctional facilities, compared with $750,000 nearly two decades earlier.
What's more, detention facilities are signing contracts with communications providers that often charge exploitative rates—sometimes up to 5 cents per minute for reading and accessing information via digital devices.
ALA Council decried these exorbitant charges in a January 2020 resolution: "These per-minute charges are particularly unfair to imprisoned people who are emergent readers or who have print disabilities like dyslexia or low vision."
Last spring, ALA joined PEN America and more than 45 organizations in calling on tablet companies to waive all fees on prison e-readers and tablets, especially at a time when those fees can exacerbate the isolation detainees are experiencing during the heightened confinement of the COVID-19 crisis.
In September 2020, correctional facilities accounted for the top 16 cluster sites of COVID- 19 infection—at a time when public health officials were calling out the correlation between the virus's rise and inequitable access to information about symptoms and modes of prevention.
The most chilling aspects of incarceration are the egregious invisibility of the detained and the indiscernibility of the attendant and repeated violation of their human rights, like the right to read.
In a 1963 essay, librarian and civil rights activist E. J. Josey referenced President Franklin D. Roosevelt's "four freedoms": freedom of speech, freedom of worship, freedom from want, and freedom from fear. In the essay, Josey introduced "reading" as the fifth freedom, presciently calling on libraries to connect reading to emergent technology.
In carrying out ALA's mission "to enhance learning and ensure access to information for all," the Association's membership is called on to interrupt the systemic information poverty in our nation's detention facilities.
As stated in the Prisoners' Right to Read: An Interpretation of the Library Bill of Rights, "Suppression of ideas does not prepare people of any age who are incarcerated for life in a free society. Even those individuals who are incarcerated for life require access to information, to literature, and to a window on the world."