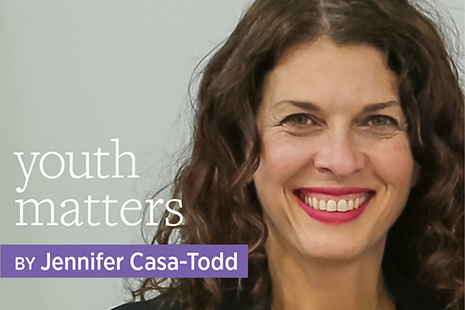 As the global pandemic continues, I worry about the mental health and well-being of those in libraries and schools. Instructors at my school, who have been juggling in-person classes and remote-learning cohorts since September, are struggling—myself included. But it's not just educators. We are watching as students who opted for face-to-face learning realize that sitting in spaced-out rows with no peer contact is not necessarily what they anticipated.
We're in a crisis unlike any other, so we must make time to check in with our students. Similar to the way we hold icebreakers and getting-to-know-you activities in our classrooms at the beginning of each school year to familiarize ourselves with our students, we can find ways to gauge wellness and build connection amid this new reality. Here are five practices to try:
Visual check-in. Asking students to reveal their feelings with quick, daily bell-ringer questions can be an effective way to size up your class. One strategy I've been using is the "meme check-in," a spectrum of four to nine images representing moods to which students can relate. My favorite is the Rubber Ducky Check-In, which asks students to rate their day on a scale of 1–9 by identifying with an image of a duck; an inflated, upright duck ranks 1, while a deflated, submerged duck ranks 9. This check-in is endlessly adaptable (see these examples from fellow Ontarian teacher-librarian Jen Giffen) and can be used in both face-to-face and remote environments.
Written feedback. A survey can give you a better sense of the aspects of a course that work well for your students and what they might like you to do differently. This involves an element of risk, but if students see that you care about their opinions and are committed to implementing at least some of the feedback, it will strengthen your relationship. I created a template in Google Forms that can be modified for different groups or contexts. If you are a school or library leader, you might also want to check in with staffers via a survey. Applying conditional formatting to responses in Google Sheets can help you visualize problem areas (see my video tutorial).
Pandemic stories. Empathy comes from understanding the journey of others, and stories can provide release and catharsis. Students might benefit from reading the accounts of other young people at Stories from the Pandemic or writing one of their own. If conducting a writing assignment, give students the option of making their stories fictional or submitting them anonymously, in case relaying real-life events is painful. You can create a document that links to all stories or use a class blog for feedback.
Empathy comes from understanding the journey of others.
Meditation and mindfulness. My colleague Jessica Ceci makes time for her students to meditate regularly—especially before an assessment. Many students are not familiar with the experience of meditation, recognizing emotional triggers in themselves, or knowing when they need additional support. Here is a body-scan meditation she created for her 9th-graders.
Hellos and good-byes. Have students take turns sharing a song to welcome their peers to the space and end the class, as my colleague Lisa Craveiro does. It's a great way to add student voice and positivity to the lesson, even for just a few moments. In my classroom and the extracurricular clubs that I run, I insist on saying hello and good-bye and greeting students by name, which is proven to have great benefits. I would argue that greeting students by name in a virtual setting is equally important. Just as I say good-bye to in-person learners who leave the room, I ask remote learners to unmute their microphones and say their good-byes. It is mayhem—and I love it.
We're living in circumstances where very few people are doing okay. These simple strategies can strengthen communication and interpersonal ties at a time when connection is everything.
Adapted from "How Are You Doing? Making Time to Check In" (Jennifer Casa-Todd's blog, Sept. 8, 2020).