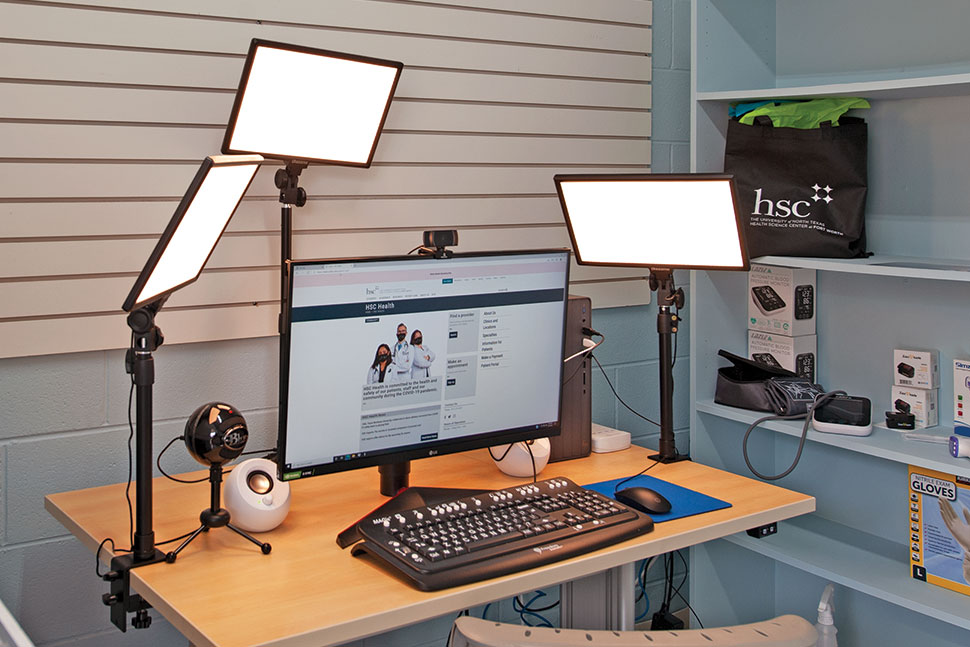 In spring 2020, when the coronavirus pandemic hit the small town of Pottsboro, Texas, local doctors switched from in-person to telemedicine appointments with patients. But many of the town's 2,500 residents don't have internet access at home, or lack the bandwidth for video calls. So they went to Pottsboro Area Library, where Director Dianne Connery let patrons use her office—the only private space in the one-room building—for their telehealth visits.
The pandemic has thrown digital disparities into sharp relief. Between Zoom classrooms, working from home, and costly data plans, even people with reliable online access can be stretched thin. Now, as virtual doctor visits have become more common, inequitable online access has become a public health issue, too.
Pam DeGuzman, associate professor for the Department of Family, Community, and Mental Health Systems at University of Virginia School of Nursing, says access issues are only the beginning of a looming problem: "The digital health divide is just widening." That's why DeGuzman is working to help rural libraries provide telemedicine access. "The core of the library's mission today is information access," she says.
Library workers at Dayton (Ohio) Metro Library (DML) agreed. In July 2020, Diane Farrell, director of external relations and development, learned about the shift to telehealth from Montgomery County Alcohol, Drug Addiction, and Mental Health Services (ADAMHS), which works with several agencies to provide services. "A lot of their [partner agencies] were having problems connecting with their most vulnerable clients," she says, "so we began to work with them on a stopgap solution."
ADAMHS identified four agencies that had the staff to manage scheduling, and clients who needed help. Farrell designated a spare room at DML's main branch, and the IT department set up a computer and printed out instructions for using software such as Zoom. She says each agency gets to use the room one day a week. "For example, Goodwill Easter Seals has the room on Fridays, so all of their patients and schedulers know that and can set up appointments through the agency," Farrell says. Library staffers clear the laptop and sanitize the room after each appointment. The overall cost was minimal—including a new laptop and a dedicated landline for patients who didn't want to be on camera—and covered in part by funds repurposed from library programs put on hold because of the pandemic. Staff labor for the initial setup and printing costs added another $1,000.
Making space
Pottsboro Area Library, which stayed open during the pandemic, received a $20,000 COVID-19 outreach grant from the Network of the National Library of Medicine's South Central Region to develop programs designed to improve health literacy and information access related to the pandemic. To supplement the grant money and the library's limited budget, she also sent out a community appeal, which raised an additional $5,000.
With the funding, the library was able to convert a former junk room with its own outdoor entrance into the new private telehealth space, complete with ventilation, lighting, and a doorbell. "We have an outdoor iPad kiosk, so if they haven't completed their preregistration, they can complete that," Connery says. The grant also pays for health resources like books.
DeGuzman says that creating similar telemedicine programs is mainly a question of money and enthusiasm. "The biggest surprise I had speaking to rural libraries around the country was how receptive librarians are to this idea," she says. "It's just a matter of having the wherewithal to get it done."
Farrell says the program at DML provides more than internet access. "Some clients and patients, even if they do have a stable phone line, may not have space in their house to have a confidential conversation," she says. "Just having the space to say, 'I'm going to the library,' with no stigma, gives patients the freedom to get the counseling and therapy they need." Farrell says the location also makes it accessible for families: "When they come with children, the kids can hop on computers and check out their books."
In Pottsboro, feedback has been positive. One patient emailed Connery after an appointment to say, "I just had the Zoom meeting with [my doctor]. She is sending a new med to the drugstore. This makes me so happy. I did not think it would happen."
Increasing reach
Still, Connery says, despite outreach efforts about the new services, "I have not had much response so far. I think part of the issue is that many people don't understand what telehealth is."
Looking ahead, Farrell says she hopes the reach of DML's program will increase. "The staff is very proud of this," she says. "My only complaint is that we can't do this more."
For Connery, library telehealth is just one part of a larger push to bring wellness into her community. "Even before COVID-19, we started focusing more on health. We have a community garden, and we're teaching classes on how to cook and feed a family on a SNAP budget," she says, referring to the federal Supplemental Nutrition Assistance Program. She hopes to eventually expand the telehealth program and even make it mobile, assuming she can raise funding and support. "If we're able, I want to help people age in place," Connery says. "So I have to make the case that what I'm doing is as essential as police and fire."