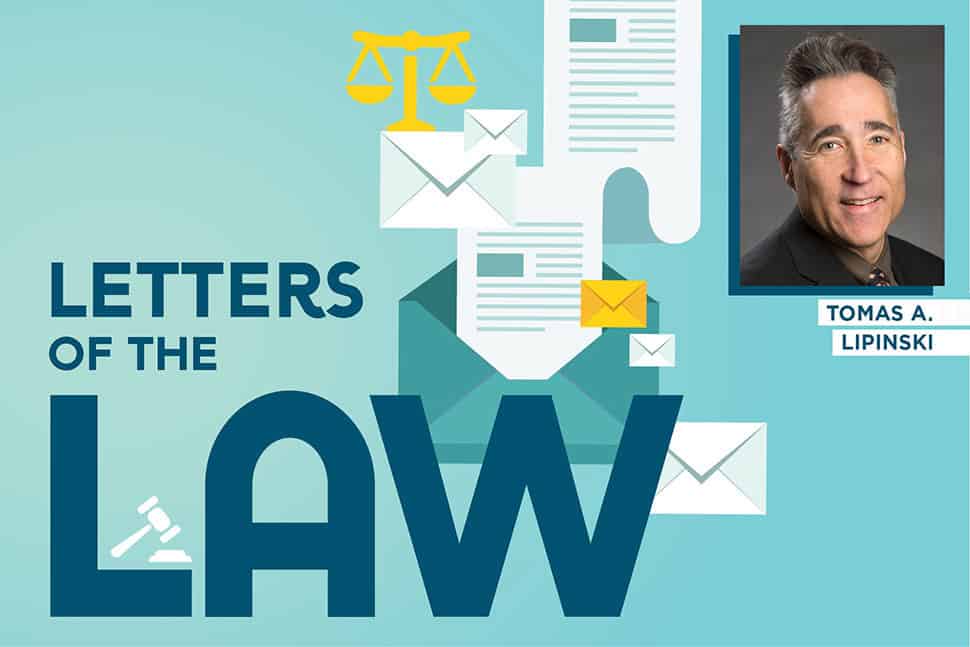 Our online column Letters of the Law explores a wide range of legal issues that arise in libraries, with the help of a pair of leading authorities: Mary Minow, a librarian who became a lawyer, and Tomas A. Lipinski, a lawyer who became a librarian. Together they have authored four books on the subject, including The Library's Legal Answer Book (ALA Editions, 2003, with a new edition forthcoming in 2022), and led forums at American Library Association (ALA) conferences in collaboration with the Public Library Association (PLA).
In this edition, Lipinski explores copyright issues related to recent legislation and community archives and concerns about patron codes of conduct when reopening or expanding services.
What is the CASE (Copyright Alternative in Small-Claims Enforcement) Act, and what does it have to do with copyright? Are copyright trolls a real threat to libraries?
The CASE Act provides a process for settling certain disputes under the copyright law short of litigation in federal court. Enacted in December 2020, it will take effect in December of this year, with the possibility of a six-month delay because of the pandemic.
CASE Act claims will be heard by a three-judge tribunal called the Copyright Claims Board (CCB). Three types of claims can be heard by the CCB: creators bringing infringement claims, users seeking a declaration of noninfringement, and challenges under a specific provision of federal law that governs takedown/disabling notices and restoration of content.
The CASE Act does not create new copyright law, as the CCB is required to follow existing judicial precedent and apply the law in federal jurisdiction. Lawyers and in-person appearances are not necessary, providing a less formal and costly procedure than going to court, although there is still a filing fee.
It is too early to say whether the CASE Act will encourage copyright trolling—the opportunistic over-litigation of copyright-protected material—though certain built-in protections should minimize these fears.
Foremost is that participation in the CCB process is not mandatory for respondents. Once served, a respondent has 60 days to opt out, and the claimant cannot recover the filing fee if this happens. This makes filing claims risky for trolls, especially if they are looking to file a large number of them. Additional guidance is forthcoming from the US Copyright Office as to the number of claims one person can bring in a single year.
And the rewards of trolling are limited. Unlike the exorbitant statutory damages allowed under current litigation, recovery in CCB cases is capped. Moreover, unless the claim/counterclaim or defense is brought in bad faith, the CCB cannot award attorney fees.
In addition, there is a special mechanism in the law for qualifying libraries and archives to participate in a registry indicating preemptively that they do not wish to participate in such proceedings. That registry is still in development, and ALA representatives are working with the Copyright Office on its structure and operation.
Finally, should a public library ever be sued and found liable under the CASE Act, the court must waive any damages if the liability resulted from the conduct of an employee "acting within scope of [their] employment" if that employee "believed and had reason to believe" that their reproduction of copyright-protected materials fell under fair use (which I've written about in a previous column).
The theme of this year's Preservation Week was preserving community archives. What aspects of copyright law can help libraries in these efforts?
The most significant provision in the copyright law affecting preservation activities in libraries is Section 108, titled "Limitations on exclusive rights: Reproduction by libraries and archives," which also addresses public distribution.
To take advantage of Section 108 and make up to three copies of an unpublished work, duplicated solely for purposes of preservation, a library must meet three requirements:
The reproduction or distribution must be made without any purpose of direct or indirect commercial advantage (though cost-recovery charges, to cover related expenses like printing supplies, are acceptable).
The reproduced or distributed item must contain a notice of copyright.
The library must be open to the public.
There are two additional requirements. First, the work must be in your collections, a condition meant to prevent a library from borrowing items from other libraries to make copies to build its own collections. Second, if something is reproduced in digital format, the item may not be otherwise distributed in that format and may not be made available to the public in that format offsite. And digital copies made and retained by your library cannot be made available outside the premises of the library; this means no remote access—a major limitation of Section 108.
Relevant to the second condition is fair use, which I have previously written about in relation to storytimes and other library programming. Courts have ruled that mass digitization of books in order to create a full-text search system was a fair use, because the ability to search the full text was a transformative function, and that digitizing books to make them available to the print-disabled is also a fair use, even though it is not transformative (Authors Guild Inc. v. HathiTrust, 2014). However, this case did not specifically address preservation and fair use.
Since online access to digitized works under Section 108 is limited to library premises only, an alternative strategy would be to use fair use to digitize archival collections and make the items searchable in a full-text retrieval system, as in the HathtiTrust decision and others.
Section 108 also holds that libraries can reproduce an entire work or a substantial part of a work for patrons directly or through interlibrary loan but that they must first determine that a copy or recording of the copyrighted work cannot be obtained at a fair price. As items in your community archive are likely one-of-a-kind and not elsewhere available for sale, passing the market check test should be easy.
Lastly, Section 108 requires that the reproduced item become the property of the user and that the library or archives uses it only for private study, scholarship, or research. The library must also display a copyright warning notice.
Libraries across the country are now making plans to reopen or increase capacity. Let's brush up on the laws surrounding patron codes of conduct as libraries open their doors.
Most courts have designated public libraries as limited public forums for a specific purpose: the acquisition of knowledge through reading, writing, and quiet contemplation (Kreimer v. Bureau of Police for Town of Morristown, 1992). This means that public libraries may establish reasonable rules regulating any patron conduct that is inconsistent with the nature of the library. Libraries can also prohibit behavior that interferes with another patron's use of the library. (Read more about this case on the OIF Blog.)
Prohibitions on conduct that is not consistent with the nature of the library as a public forum or interferes with another patron's use of the library have been challenged in the courts, which apply a test to determine how reasonable the prohibition is. In the Kreimer case, the court notes, "Prohibiting disruptive behavior is perhaps the clearest and most direct way to achieve maximum library use. Accordingly, we find that this rule is fundamentally reasonable, and we reject the attack on it."
Kreimer also found a policy regarding body odor to be permissible, if the odor was so offensive as to constitute a nuisance to other patrons, though the standard of review is heightened when patrons are using the library for permissible First Amendment activities within established guidelines and not disruptive (meaning the standard of review is intermediate scrutiny rather than reasonableness). Shoe requirements have been upheld in libraries as well, mainly thanks to records of barefoot-patron injuries and the library's interest in averting preventable litigation (Neinast v. Board of Trustees of the Columbus Metropolitan Library, 2003).
Library policies tend to get into trouble when they use the word "objectionable," as demonstrated in Armstrong v. District of Columbia Public Library (2001), which found that the library's regulations around personal appearance depended only upon subjective interpretations of what is or is not objectionable. The court concluded that the regulation, as written, was too vague and broad to satisfy First Amendment standards. Policy language should be as specific and evidence-based as possible.
The information in this column does not constitute legal advice, nor does it necessarily reflect the views of ALA or PLA. It is meant to serve as a starting point for librarians and library lawyers who wish to research the law and consider its applications. Different jurisdictions will have different laws and may even apply the same laws differently. If you require legal advice or expert assistance, we urge you to seek the services of a competent legal professional.
Look for a new column by Minow in the summer. Send questions or ideas to Associate Editor Sallyann Price at sprice@ala.org.