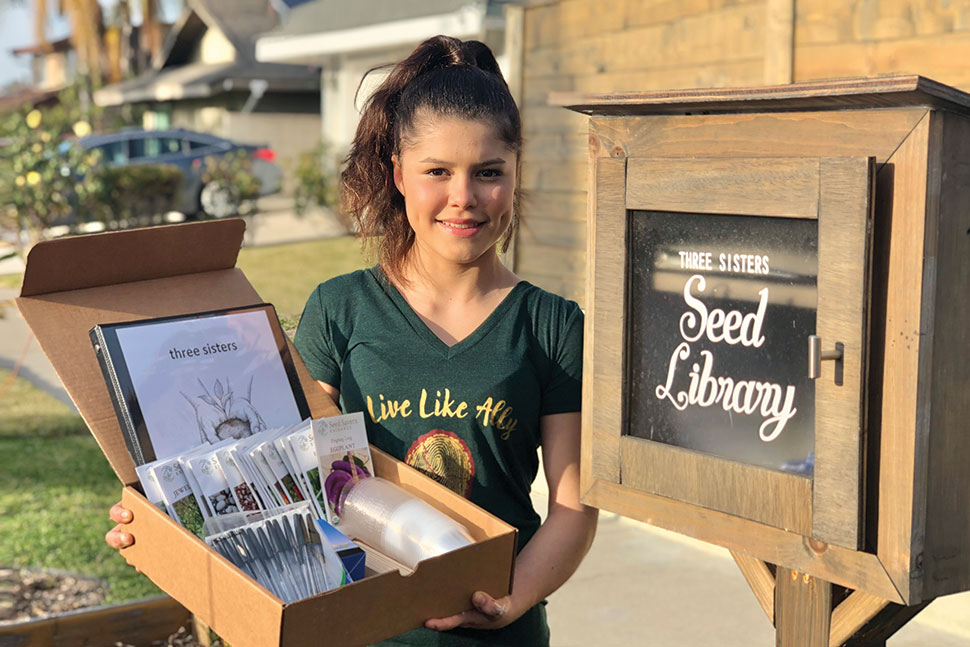 Gardening has become more popular during the COVID-19 pandemic, with seed companies seeing unprecedented demand and some popular seed varieties selling out. Seed libraries have been popping up across the US since the early 2000s, and one Girl Scout, Alicia Serratos, has helped start more than 100 such libraries in the past year. Serratos, 14, is an environmental activist and founder of Three Sisters Seed Box, a program that mails free seed library starter kits with instructions, organic vegetable seed packets, label sticks, and envelopes to return new seeds at the end of the season.
Serratos started her first seed library in 2014 at her elementary school in Mission Viejo, California, after learning about healthy eating, gardening, and sustainability. Through Three Sisters Seed Box, she has now helped place seed libraries in all 50 states and has filled requests from as far away as India. American Libraries talked with Serratos about her activism, environmental stewardship, and why libraries are a great place to share seeds.
Why did you start Three Sisters Seed Box? How has it grown?
I originally started seed libraries in schools, but I was trying to come up with an idea for how to get them all over the country. I made the Three Sisters Seed Box so that communities could also get involved. I sent them on to each state, and people were able to set them up at home or in schools.
Some of your seed libraries have been set up at public libraries. What makes libraries good collaborators for this project?
They're pretty much the same concept, and when you have two things that are the same concept in the same environment, it makes it easier for people to realize how they work. A seed library is just like a regular library, but instead of checking out books, you're checking out seeds. People go in [to the regular library] and understand you can also get seeds and go home and plant them in your backyard.
Your projects are local, in that they get seeds into the ground, as well as national, in that you're sending seed libraries to every state. How do you balance the big picture with small actions?
Every small action I take motivates me to take more small actions. Then, when the big picture does come [into focus], I can see everything I did that made that big difference. When you look at the whole community, it's not just you making all those changes—you get to help others make a change, and all the changes a community can make together make a bigger impact on the world.
You've been an activist since you were very young. Have your ideas about environmental activism changed as you've gotten older?
I'm not just focusing on seeds and healthy eating now. Fast fashion has been one of my passions lately. People are sacrificing so much just so you can have a $5 T-shirt versus a $20 T-shirt. You don't know what you're doing to others by buying that piece of clothing. I'm working on Repurpose, my small business, where I take secondhand clothing and give it a new life by customizing it so we're not wasting as much clothing and damaging the planet.
What role have libraries played in your life?
Libraries have not just educated me for school, they have also taught me that there are ways to be responsible with things. They've shown me that you can learn so much, not just from reading books but from planting a seed.
Do you have a favorite plant you like to grow in the garden?
My favorite is passion fruit. When I was in elementary school, we had a passion fruit vine across one of our fences, and we got to watch it grow and produce fruit. There were always caterpillars on the vine. Passion fruit is my favorite food, so it was cool.